ScamSmart
A profession united against scams
We are calling on Personal Finance Society members to commit 15 minutes per month to help identify and report potential scams. 
Your 15 minute commitment
For personal finance professionals, scams are easier and quicker to spot than unsuspecting members of the public. We are calling on all Personal Finance Society members to commit 15 minutes per month to help identify and report potential scams. Members are also being asked to help raise awareness of scams amongst their clients, professional network and other connections.
As a profession we have the opportunity to make a huge impact in smoking out and helping close down investment scams before they do too much damage.
Endorse the ScamSmart campaign by signing up to the 15 minute commitment
Where to look
Unsolicited phone calls
Hardly a day goes past without at least one telephone call from someone offering to 'unlock' a pension or carry out a 'free pension review'. Most of these calls are from organisations that are not authorised. If you receive such a call try to get the following information:
Company name and address
Website address
FCA authorisation number
Try to get them to send you literature in the post (or by email)
If you get such information and are still suspicious then report it via the FCA's website.
Texts and emails
Similarly, many of those that are scammed respond to unsolicited text messages or emails promising 'too-good-to-be-true' investment opportunities. Again, if you receive one of these try to dig a little deeper. However, proceed with caution as emails have the potential to carry viruses. It goes without saying that you should reveal no personal information.

Press adverts
Many victims of scams are lured by the promise of high returns or unmissable investment opportunities, sometimes through advertisements in national and local press. If you are reading a newspaper pay closer attention to the adverts to see if anything strikes you as being potentially untoward. Are the returns on offer unusually high? Is a high risk scheme being promoted as low risk? Report anything suspicious.

Websites
Why not spend ten minutes browsing online in search of suspicious investment or pension opportunities? Your expertise will help you sniff out anything that seems odd. You will notice that it is usually the ads in search results that are most suspicious, so start here and see what you unearth... a little digging may well unearth something suspicious that a member of the general public might not spot. Again, don't be afraid to report it no matter how trivial it seems.
Scammers tactics
Scammers use a range of tactics to secure the trust of those they intend to scam. They may use flattery and emotional manipulation to get them onside. They then typically push a time limited offer to get people to invest immediately and without consultation. Their 'unique investment opportunities' usually offer 'guaranteed' returns at 'little' or 'no risk' to capital (which is usually not the case).
Many are investments in shares, foreign exchange, commodities and overseas schemes, such as hotel developments.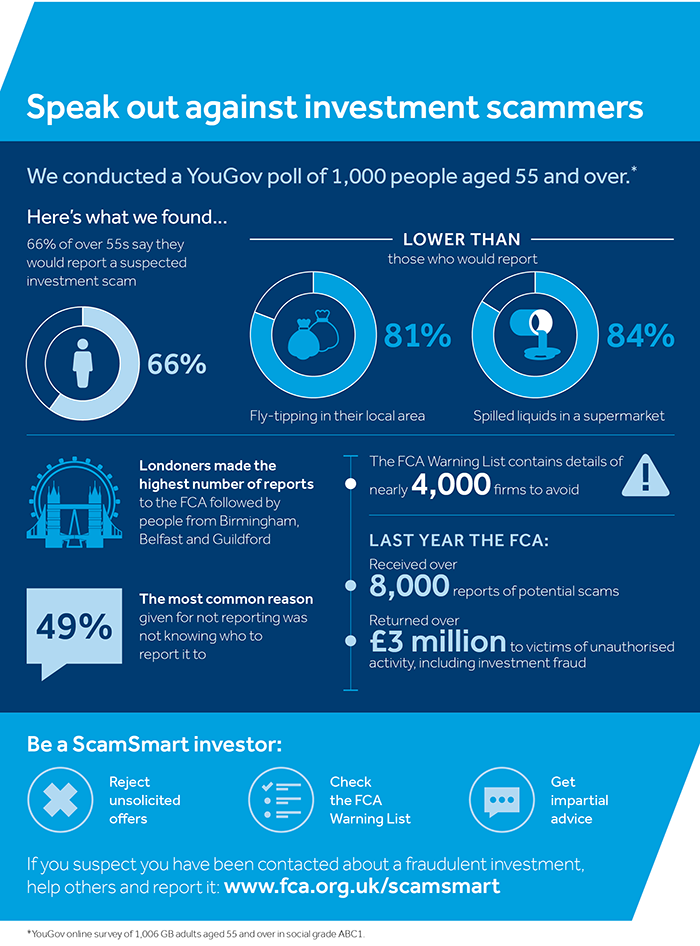 Reporting a suspected scam
If you suspect an individual or firm may be operating a scam, first visit the FCA list of unauthorised firms to check they aren't already known to the FCA.
If they aren't already on this list you should report suspected scams to the FCA.
Further information
To find out more about the campaign or how you or your firm can raise awareness visit ScamSmart.