Which insurers offer the best support during claims?
News Article
How providers can provide support during and after a claim.

Protection policy holders will hope that they or their family never have to make a claim on their protection plan(s). Should they ever need to however, it is important that the claims process is quick and simple to support them through what is likely to be a very difficult time. In this week's insight we explore how providers can employ a number of methods to achieve this, not only during the claims process, but also post claim.
Having to explain the reason for a claim can be a tough task. It is therefore important that providers make sure a claimant does not have to repeat their explanation to different members of the claims team. Assigning a single dedicated claims handler to each claimant can help; it will also provide familiarity to the end client making it easier for them to discuss the specifics of their case. The chart below shows which providers apply this in their claims process: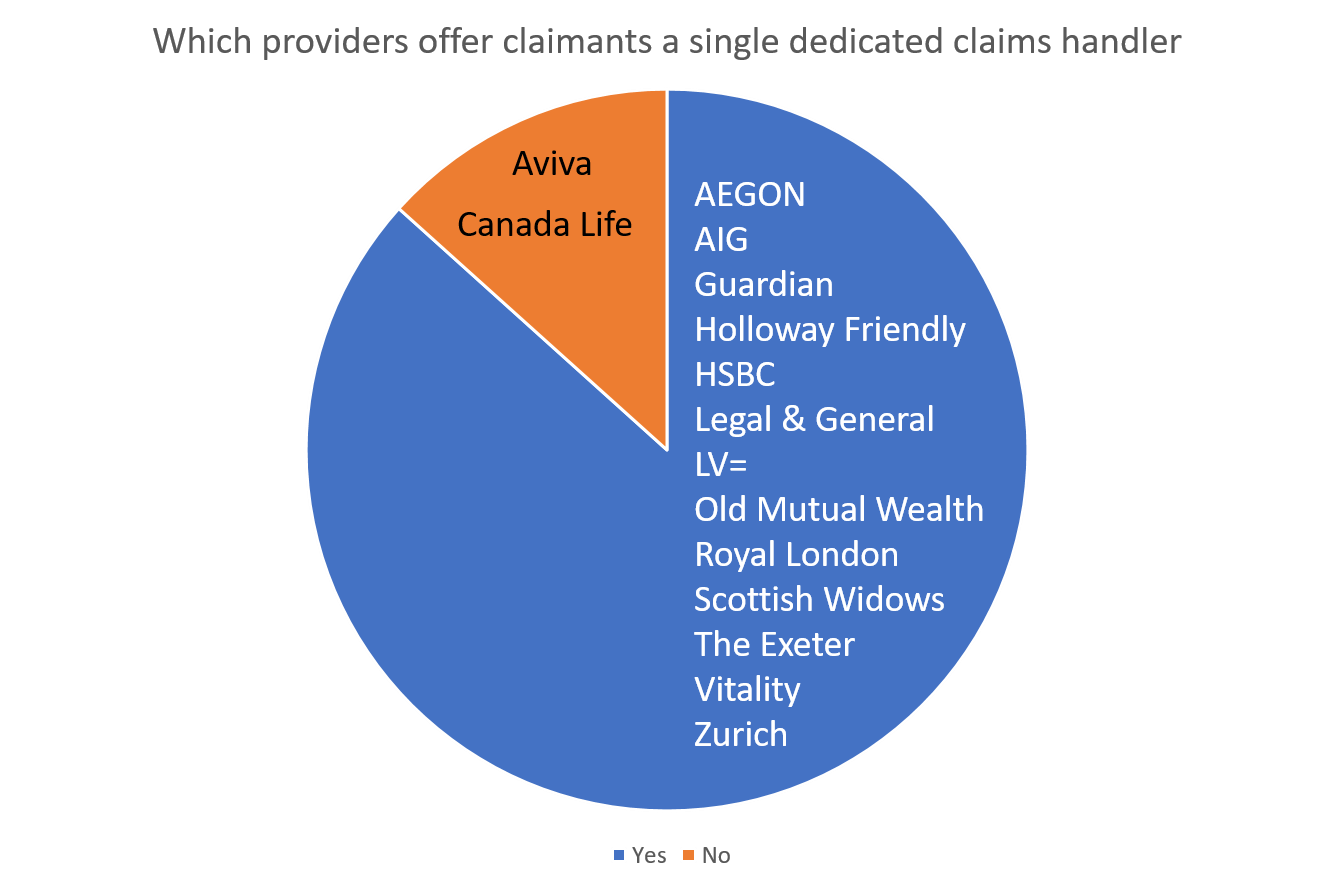 The unfortunate point at which a client or their loved ones need to make a claim will, by definition, be an extremely difficult point in their life. It is therefore important that insurers treat them with compassion. In addition, claims handlers should have a good understanding of the incapacity and illness definitions relating to plans so they can have an informed conversation with the claimant. This can avoid any unnecessary delays in the process, reducing any further stress. Fortunately, most providers deliver training to their claims handlers in both these areas, often with the help of third parties such as The Samaritans.
As different people will have different preferences on how they would want to contact the insurer it is beneficial for providers to offer claimants different options for when they need to make a claim. While all providers will allow claimants to notify them of a claim via post, e-mail or telephone, some also have the functionality for claims to be submitted via their website. Where a claim is made over the phone some insurers may still require a claim form to be submitted. Clearly this is something claimants are likely to want to avoid as they will have to repeat the information they have already provided via the phone in writing and it can lead to the insurer requesting more information if not completed correctly.
The graph below details how claims can be made with different providers: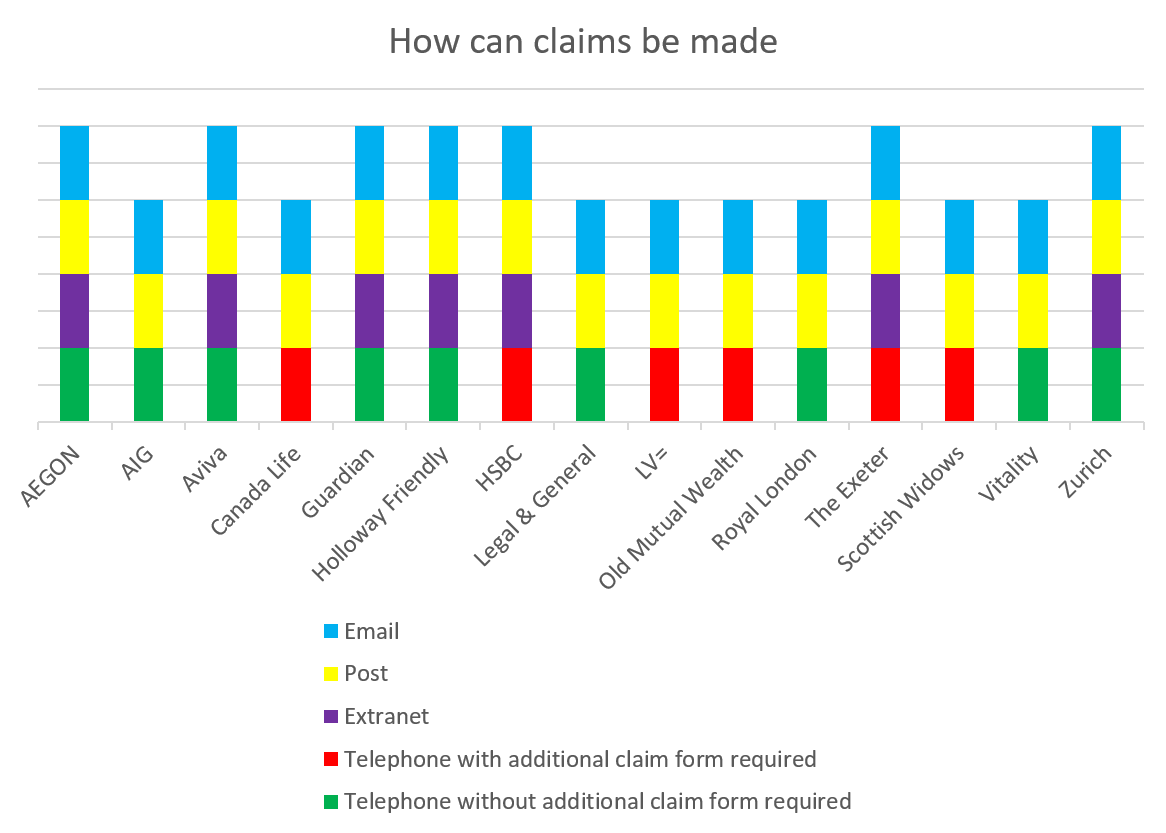 When a claim is made, providers will request relevant documentation from the claimant. Each provider will have their own stance on what documentation is required and in what form it needs to be sent. Naturally, claimants will prefer minimal requests as well as not having to provide original documents as this will delay the process and could cause additional stress.
For a Critical Illness or Income Protection claim, providers will generally request the medical consultant's diagnosis from the claimant.  AIG, HSBC and Old Mutual will obtain this themselves, reducing the burden on the claimant going directly to the doctor.
If there has been a change of name during the term of a policy it is likely that the provider will request sight of a marriage certificate or evidence of the change of name. Not all providers however, require the original. AEGON, Aviva, Canada Life, Guardian, Holloway Friendly, HSBC, Legal & General, The Exeter, Royal London, Vitality and Zurich will accept copies of the certificate.
Where copies of documentation are accepted, providers may require these to be certified by a relevant professional. Obtaining this can be equally as challenging for the claimant as finding originals. Therefore, providers who accept uncertified documents can significantly reduce friction in their claims processes. Some providers make it even easier for claimants by allowing them to send photographs of the documentation requested.
The graph below highlights in which form providers will accept documents where originals are not required: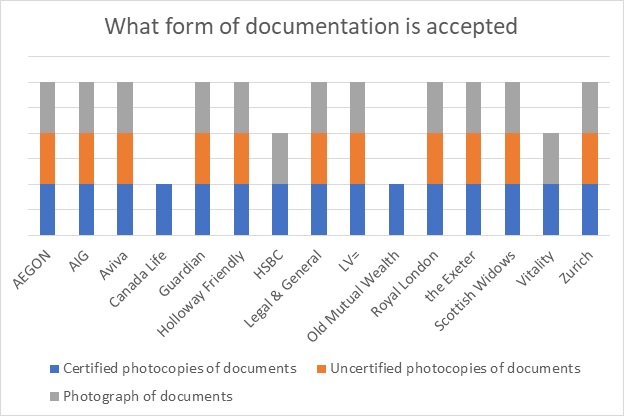 It is important for providers to consider not only how they can deliver a better claims process but also how they can offer better support post claim. An example of this would be offering a follow up call to check on the progress of the insured person's recovery and to ensure they are aware of any added value benefits they may have access to. Small gestures such as this can go a long way in helping consumers through hard times and, more broadly, can help improve public perception of the industry.
With some claims being a substantial amount, investment advice may be required once the money is received. Therefore, when necessary, directing claimants to their adviser to aid in investing the money can be another valuable post claim service. The table below shows which providers offer ongoing support in the form of follow up calls post a claim being settled and who supports clients looking to invest money: 
 

AEGON

AIG

Aviva

Canada Life

Guardian

HSBC

Holloway Friendly

Legal & General

LV=

Old Mutual wealth

Royal London

The Exeter

 

Scottish Widows

Vitality

Zurich

Ongoing support

Y

Y

Y

N

Y

Y

Y

N

Y

Y

Y

Y

Y

N

Y

Investment support

Y

Y

N

N

Y

Y

N

N

N

Y

Y

N

N

N

Y
In conclusion, our research has highlighted the strength of Guardian's and Zurich's claims processes. Both providers allow claims to be made through all the main channels and will assign claimants with a dedicated claims handler. Moreover, if a claim is made over the phone they will ensure the necessary information is gathered to remove the need for a claimant to fill out a form separately. The providers' claims processes are made smoother by not requiring original copies of marriage certificates, policy schedules or doctor diagnoses; both providers will accept uncertified photocopies and photographs. In addition, both providers offer ongoing support post claim including support with investment needs.
To sign up to the Protection Guru mailing list you can register your details HERE
This document is believed to be accurate but is not intended as a basis of knowledge upon which advice can be given. Neither the author (personal or corporate), the CII group, local institute or Society, or any of the officers or employees of those organisations accept any responsibility for any loss occasioned to any person acting or refraining from action as a result of the data or opinions included in this material. Opinions expressed are those of the author or authors and not necessarily those of the CII group, local institutes, or Societies.