NextWealth and the PFS publish landmark benchmarking study
Report
NextWealth and the Personal Finance Society (PFS) have published a comprehensive benchmarking study for financial-advice businesses that quantifies the structure and make up of financial advice businesses.
The report, based on an online survey of 482 PFS members conducted between 11 and 24 July 2019, shows that 20% of financial planners are female, 39% of firms have recruited in the past year and most financial planners have more active clients than last year.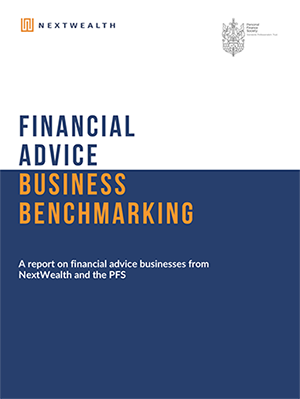 Heather Hopkins, Managing Director of NextWealth that conducted the study, said:
"The most dramatic finding is the inefficiencies at the heart of retail investing. Our research shows that customers wait an average of three to four weeks from the first point of contact with a financial planner before receiving the first piece of advice. The lengthiest step in the process is waiting for providers to release information on existing policies. This inefficiency is not only a huge source of frustration for financial planners, but it drives up the cost of advice and damages the customer experience."
"The study also shows that we have not attracted enough women or young people to the profession. Only one fifth of financial planners are female and the average age of a financial planner is 49. Only 39% of financial advice businesses have recruited a financial planner in the past year. We will be repeating the study next year and look to the profession to think of ways to attract more people from different backgrounds to financial planning."
Keith Richards, chief executive of the Personal Finance Society, said:
"This research gives an insight into the make-up of the financial advice profession in 2019.
"It is vital that our profession reflects the diversity of the clients that they serve in an ever-changing society where expectations of inclusivity are the norm. With changing demographics our perspectives are growing, and it requires a broad range of people to understand the intricacies of individuals, their different lifestyles, and therefore their different needs."
Key findings from the research include:
Profile of planners
The average age of a financial planner is 49 and 20% are female
The median number of staff working in a financial advice business is eight people
The proportion of employees giving financial advice remains steady at just over one-third of employees across firms with 10 or more employees. The number of people in support and operations roles also remains constant, at about one-quarter of staff
Investment proposition
Among the 44% of financial planners who use outsourced discretionary managers, Brewin Dolphin, Brooks Macdonald and LGT Vestra are most used. Financial planners use an average of 2.3 discretionary managers
Some 82% of financial planners use ethical funds or portfolios for an average of 7% of client assets. Ethical investing comes up in fewer than one-in-ten client conversations
Recruitment
Larger restricted financial planning firms are more likely to have recruited financial planners in the past year. Some 48% of restricted firms and 88% of firms with 50 or more employees have recruited financial planners in the last year
Client on-boarding
Financial planners report that the time between making first contact with a client and delivering advice is between three and four weeks on average. Yet for 38% of businesses, four or more weeks elapse before a client is given advice
Some 72% of financial planners say that the lengthiest step is waiting for providers to release details on client policies
Among the 30% of financial planners who have calculated the cost of on-boarding a new client, the average cost is just over £1,500
Only 5% of financial planners have incorporated some sort of online or robo-advice proposition into their businesses or are referring clients to a digital advice service
Support services
Compliance is the support service that financial planners most often outsource. 60% of independent financial planners outsource compliance support
Outsourced paraplanning services are most often used by small, appointed representative firms. While about a quarter of firms with six or fewer employees outsource paraplanning, this compares to just 1% of firms with 20 or more staff
SimplyBiz is the most commonly cited compliance services provider. Firms with over 20 staff are more likely to use threesixty
Read the Financial Advice Business Benchmarking report (PDF)
This document is believed to be accurate but is not intended as a basis of knowledge upon which advice can be given. Neither the author (personal or corporate), the CII group, local institute or Society, or any of the officers or employees of those organisations accept any responsibility for any loss occasioned to any person acting or refraining from action as a result of the data or opinions included in this material. Opinions expressed are those of the author or authors and not necessarily those of the CII group, local institutes, or Societies.