Covid-19 leads to changes in non-medical underwriting limits
News article
Across the market, insurers provide Non-Medical Underwriting limits that show at what benefit level they would request medical evidence for different age groups. In this insight, we take a look at what the non-medical underwriting limits are for Income Protection policies 

In one of the latest amendments to new business practices, Aviva announced last Thursday that they have added a new question to their application, changed some of their ratings and reduced their non-medical underwriting limits for certain age groups. It is our understanding that the changes took immediate effect, however, to date they have not released the new limits. Clearly in these difficult times applications that require medical evidence will be difficult, if not impossible, to get through in a short time frame and in this insight, we take a look at what the non-medical underwriting limits are for Income Protection policies.
The COVID-19 pandemic is clearly putting a strain on the NHS that is only going to get worse as the virus spreads across the UK. As such any application that is referred to underwriting and requires medical evidence is likely to take much longer to progress. Where a client has underlying health issues or previous medical issues this may be unavoidable, however where the client has a clean bill of health and no disclosures are made on the application it is worth understanding the point at which medical evidence will be automatically requested.
The Protection Guru are updating their information regularly. Therefore, to read the full, up to date article please click here:
https://protectionguru.co.uk/2020/03/23/covid-19-leads-to-changes-in-non-medical-underwriting-limits/
Across the market, insurers provide Non-Medical Underwriting limits that show at what benefit level they would request medical evidence for different age groups. The exceptions to this are British Friendly, Cirencester Friendly and Holloway Friendly who do not provide non medical underwriting limits. As highlighted in our previous insights on life (click here) and critical illness (click here) non-medical underwriting limits there are two ways in which an insurer might display age in these documents. These are age attained and age next birthday. Advisers should be particularly careful if their clients' age falls in the last year of an age bracket (i.e. an age bracket of 45-49 and the client is 49) as if the insurer uses age next birthday they will actually be in the later bracket (50-54). Below we highlight which insurers use which age basis.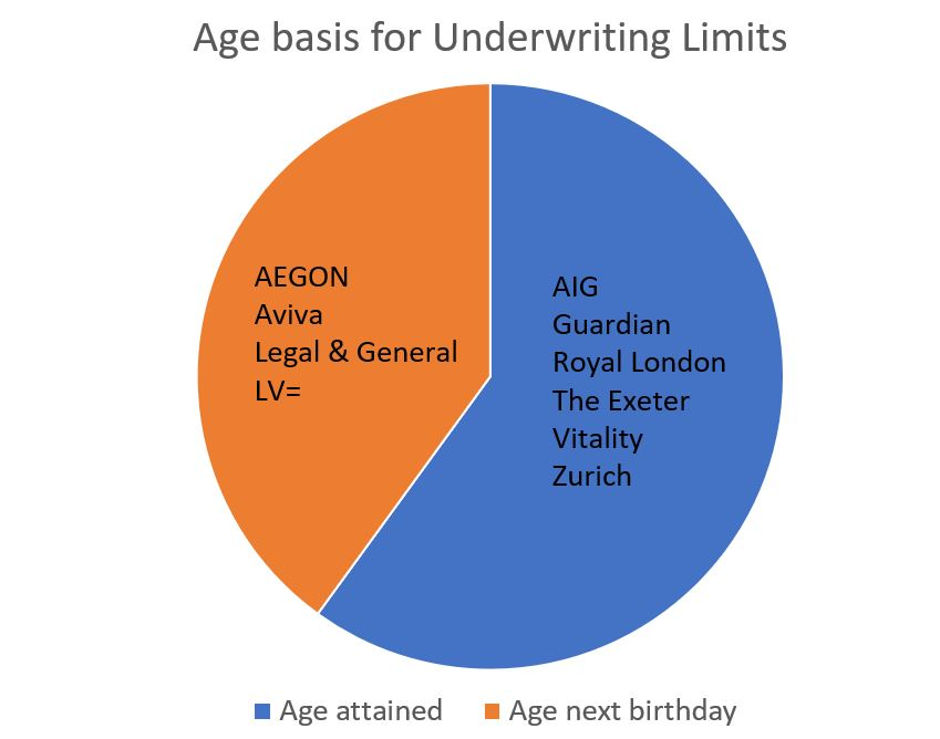 When submitting an application, the ideal scenario would be where terms are offered straight away without the need for medical evidence or underwriting. Where the benefit level is high this will not always be the case. The limits for medical underwriting often depend on a number of factors. Most common will be the age of the client with younger clients having high limits and these reducing the older the client is. If an insurer offers shorter deferred periods then they may also apply lower medical underwriting limits for the shorter deferred periods with higher limits on the longer deferred periods.
Below we have highlighted the benefit levels at which insurers will automatically request any medical evidence. As we have not yet received Aviva's new limits, we have shown their limits up until 20th March and will update these once the new limits are received. The limits are shown over four age ranges which we have chosen as they will fall in the middle of the age brackets and as such highlight the same age bracket for all insurers regardless of whether an age attained or age next birthday basis is used.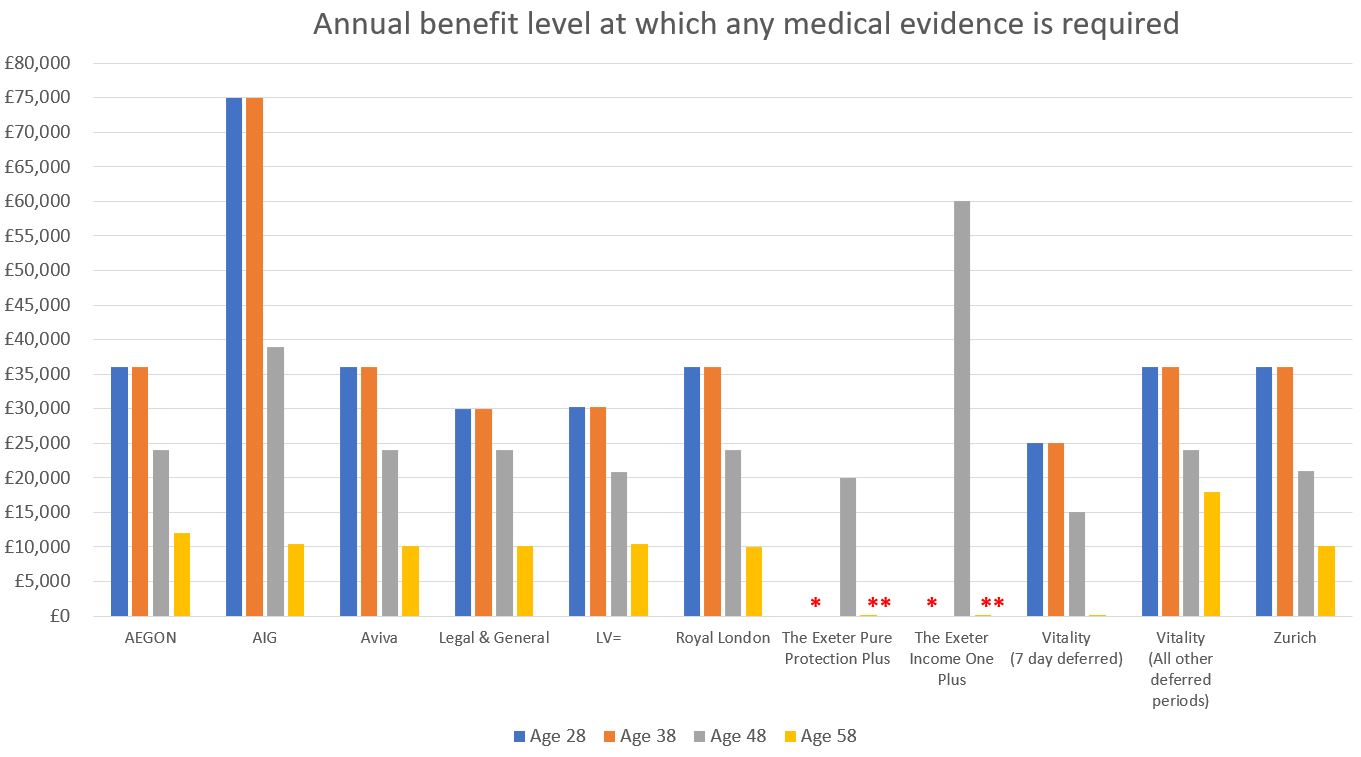 *The Exeter do not automatically request medical evidence for clients age 41 and below
**The Exeter will automatically request a GP report for clients age 56 and over
When medical evidence is required there are generally four ways that this can be obtained:
A Telephone Medical
A Nurses Medical
A General Practitioners Report
A Doctors Medical
A telephone medical is the least intrusive as no physical tests will be conducted, however only two insurers currently conduct these. A telephone medical can be conducted by the insurers own team of underwriters and as such does not depend on the medical profession. In the current environment this is clearly a preferred method of providing medical evidence and we would expect more insurers to start taking this approach in the near future. Below we highlight the benefit levels at which both Legal & General and LV= would request this.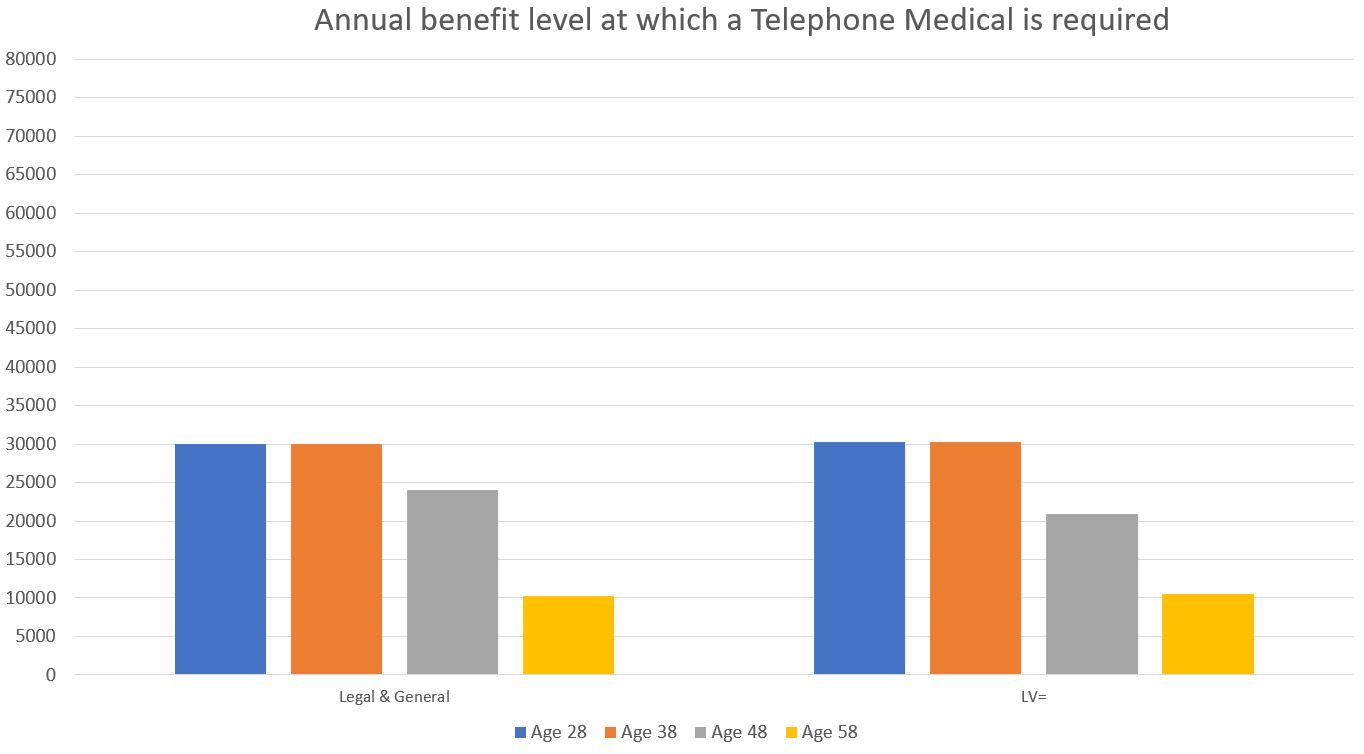 The next most requested medical evidence is a mini or nurses medical. Generally this would include basic medical tests along with a cotinine if the client is a non-smoker and any additional blood tests that may be required. In most cases the nurses will come to the client in order to carry out the medical, however in the current environment this may be difficult especially if the client has symptoms of COVID-19 or is in self isolation. For those that do not offer telephone medicals this will generally be the medical evidence requested at the lowest benefit levels as highlighted below: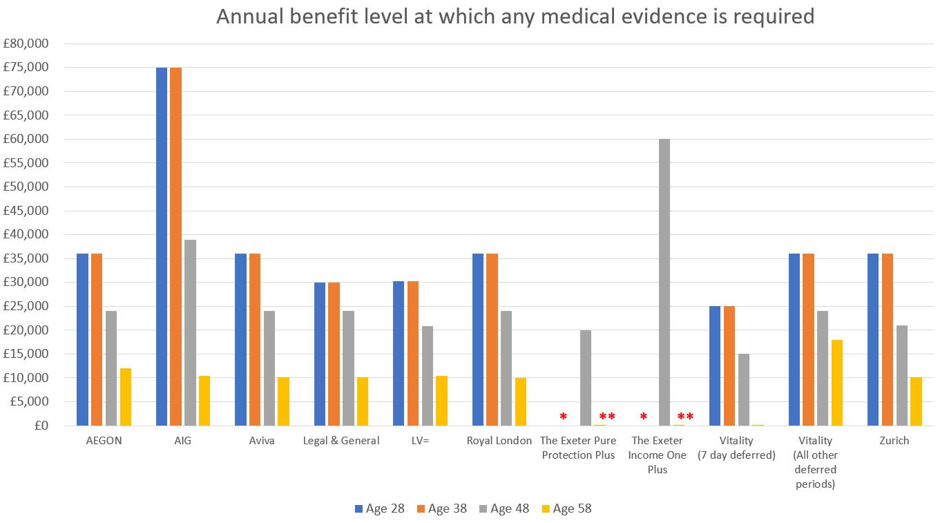 *The Exeter do not automatically request medical evidence for clients age 41 and below
At higher benefit levels an insurer may ask for a General Practitioners Report. Where this can be shared electronically this is much easier, however in a large number of cases GPs continue to take a manual approach which means the return of a GPR can take weeks and in some cases months. As the strain of COVID-19 takes hold of the NHS this is likely to become even longer if the GP has the time to complete such a report at all. For younger clients, the high benefit levels at which a GPR will be automatically requested means that very few will be needed unless there is some kind of disclosure on the application. At older ages however, the benefit level required to trigger a GPR request is far lower and as such this is more likely for those with relatively high benefit levels: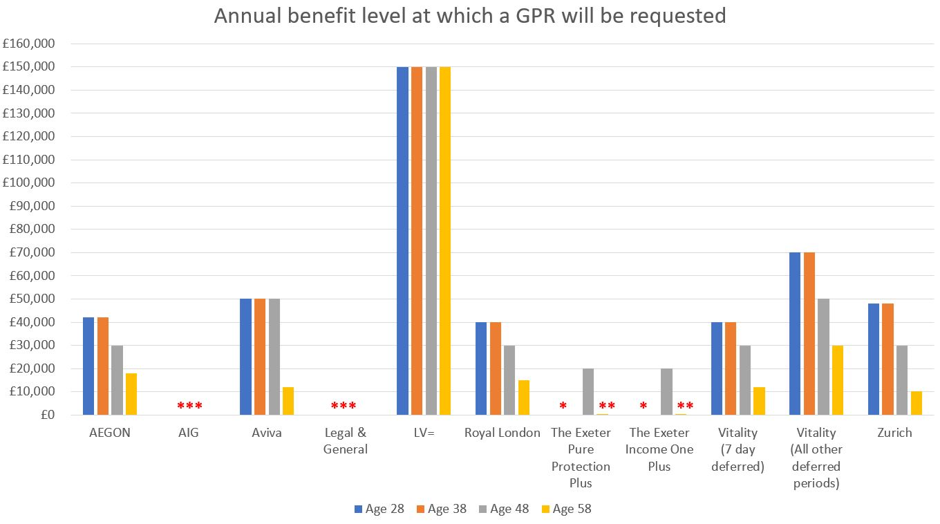 *The Exeter do not automatically request medical evidence for clients age 41 and below
**The Exeter will automatically request a GP report for clients age 56 and over
***AIG and Legal & General will not automatically request a GPR based on the benefit level
A doctor's exam or medical examiners report, like a GPR is requested at higher benefit levels and requires more intensive medical testing of the client by a doctor (usually a GP). In the current direction of travel it looks like GPs will be required to take a more active role in hospitals regardless of whether they are working for the NHS or private practice. As such the ability to obtain a medical examiner's report is likely to diminish as COVID-19 spreads.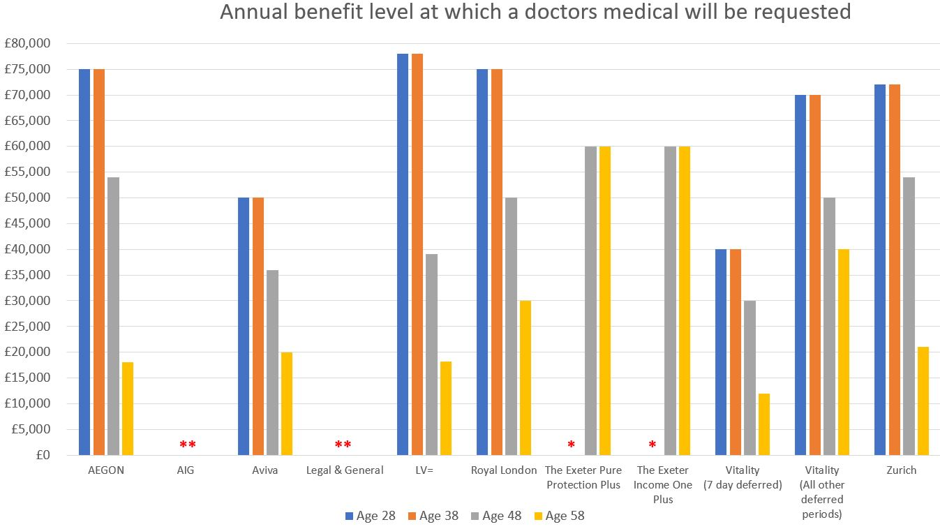 *The Exeter do not automatically request medical evidence for clients age 41 and below
**AIG and Legal & General will not automatically request a Medical Examiner's Report based on the benefit level
The world we live in has changed immeasurably in the last few weeks and it is a shame that such a pandemic has opened many consumers eyes to the benefits of income protection. Where someone has symptoms or has been diagnosed they are likely to be postponed until a period of time after they have been given the all clear. Where they have no symptoms it is worth understanding the benefit levels at which medical evidence will be requested as in the current environment the request of any medical evidence is likely to extend the time it takes to put a policy in force quite considerably.
For younger clients, The Exeter are particularly strong as they will not automatically request medical evidence for clients aged 41 and below. AIG will not automatically request a GPR at any age and have high limits across the board and although they request a telephone medical at relatively low benefit levels, LV= have high limits for nurses' medicals, GPRs and doctors medicals. Legal & General should also be mentioned for not automatically requesting a GPR or medical examiners report at any age and having high limits for older clients.
 To sign up to the Protection Guru mailing list you can register your details HERE
This document is believed to be accurate but is not intended as a basis of knowledge upon which advice can be given. Neither the author (personal or corporate), the CII group, local institute or Society, or any of the officers or employees of those organisations accept any responsibility for any loss occasioned to any person acting or refraining from action as a result of the data or opinions included in this material. Opinions expressed are those of the author or authors and not necessarily those of the CII group, local institutes, or Societies.