My PFS Technical news - 26/06/18
Personal Finance Society news update from 7th to 21st June 2018.
Quick Links
Taxation and Trusts
Investment planning
Retirement planning
TAXATION AND TRUSTS
Disguised remuneration: settling tax affairs
(AF1, RO3)
Registration for the disguised remuneration final settlement opportunity was due to end on 31 May 2018.  However HMRC has extended this deadline and the guidance has now been updated to reflect this;
'To start settling your tax affairs, you should register your interest with HMRC as soon as possible and provide all of the required information by 30 September 2018.'
This means that all the relevant information has to be provided to HMRC by 30 September 2018 to enable completion of the settlement process before the new disguised remuneration loan charge falls due on 5 April 2019.
The settlement opportunity is open to employees, employers and contractors who have used disguised remuneration schemes.
Failure to provide information within the time period may result in a fixed £300 penalty. If the failure continues after the date on which the initial penalty is imposed, further penalties of £60 per day up to a maximum of 90 days may result.
Source:  HMRC document 'Disguising remuneration : settling your tax affairs' dated 1 June 2018
Finance bill draft clauses
(AF1, AF2, AF3, AF4, ER1, FA2, FA4, FA5, FA7, JO2, JO3, JO5, LP2, RO2, RO3,RO4, RO5, RO7, RO8)
In a written statement, issued on 11 June, the Financial Secretary to the Treasury announced that draft legislation for Finance (No 3) Bill will be published on 6 July 2018. It will be accompanied by "explanatory notes, tax information and impact notes, responses to consultations and other supporting documents".
The timing of this latest legislative tsunami is in line with the new Autumn Budget timetable which the government issued last year. The idea of early publication of draft clauses is to give time for "technical consultation" before the Finance Bill proper is presented to Parliament, probably in December.
The ministerial statement gave no clue about what might be in the draft clauses. The timetable referred to above suggests that it will cover areas where consultation was initiated in the Autumn 2017 Budget. One clue can be gained by looking at the "Future tax changes" section of last Autumn's OOTLAR. This lists topics for the Finance Bill 2018/19, including:
Corporate interest restriction (already partly legislated for in Finance Act 2018);
Simplification of Gift Aid donor benefits rules for charities;
Royalties withholding tax;
Tax exemption for employer-provided electricity for an electric car;
Widening the tax exemption for employer premiums paid into life assurance and overseas pension schemes;
Extension of security deposit legislation; and
Taxing non-residents' gains on commercial property.
The draft clauses will not cover all the legislation that will appear in the Finance Bill after the Autumn Budget, so there could still be surprises. For example, it is unclear whether the OTS report on IHT Simplification, due to be published in "Autumn 2018", will prompt anything beyond the announcement of a formal consultation.
Source:  Draft legislation for Finance (No. 3) Bill : Written Statement – HEWS757
Charity tax commission call for evidence
The Charity Tax Commission is currently undertaking a full review of the tax system for charities. The 'Charity Tax Commission – call for evidence' has recently been published on 15 March to assist with the review.
The last comprehensive review of charity taxation took place over 20 years ago. Since then, the voluntary sector and the environment in which it operates has changed significantly – the sector has grown in scale and charities now do far more.
Tax reliefs for charities are estimated to be worth £3.77bn a year, the main ones being business rates, Gift Aid and VAT relief, while reliefs for individuals are worth £1.47bn.
The call for evidence welcomes general comments but, in particular, asks for opinions on how the current system benefits charities and what could be changed.
Areas for consideration include:
Business rates
Charities receive a mandatory 80% relief on their business rates bill.
Local authorities are able to grant discretionary relief for some or all of the remaining 20% that charities have to pay – on average they only receive a further 2.5% relief.
Gift Aid
Individuals with sufficient income can benefit from an increased basic rate band for Gift Aid donations.
The charity can recover basic rate tax from HMRC on the Gift Aid donations received from individuals.
The charity can also make use of the Gift Aid Small Donations Scheme where it is not feasible to collect Gift Aid Declarations.
VAT
While there is no general relief for charities there are various special reliefs, exemptions, zero-ratings and concessions which cover many supplies to and made by charities.
The current regime treats charities differently depending on the types of service they provide and whether or not they charge for their services. Despite these advantages, many charities still suffer irrecoverable VAT.
Capital Gains Tax
Charities are exempt from capital gains tax if the gain is applicable to and applied for charitable purposes.
Inheritance Tax
A legacy to a charity is exempt for inheritance tax purposes.
Leaving part of the estate to a charity can also result in a lower inheritance tax rate applying to the estate.
Social Investment Tax Relief
Individuals who invest in charities or make loans to charities can claim an income tax reduction under the Social Investment Tax Relief regime.
The relief is up to 30% of the amount invested in shares in a Community Interest Company (CIC), or the amount of a loan to a CIC or charity.
Stamp Duty Land Tax
Charities are eligible for relief from stamp duty land tax when they buy property for charitable purposes.
A charity can claim some relief where there is a joint purchase with a non-charity buyer.
The consultation closes on 6th July 2018, and it will be interesting to see the outcome.
Source:  Charity Tax Commission Call For Evidence
Taxpayer numbers
(AF1, AF2, JO3, RO3)
The number of taxpayers in each tax band, and how much tax they pay, is one of the more interesting statistics regularly published by HMRC. Journalists usually leap on them to highlight how many higher rate taxpayers there are, a number made more complicated by the gap that now exists between the threshold in Scotland and the rest of the UK. But there is more to the data than just the number of 40%/41% taxpayers.
The total number of taxpayers at all rates helps explain some of Mr Hammond's reluctance on funding increased NHS spending. In 2018/19 the figure is estimated to be 31m. That is the same number as three years ago and 300,000 less than in 2010/11. Neither a growing population nor historically low unemployment have broadened the Chancellor's tax base. The main cause of this stasis has been the relentless rise in the personal allowance, far outpacing the minimal real growth in earnings. No wonder we are now hearing suggestions of frozen allowances (once the election pledge of £12,500 is reached in 2020/21). This would raise revenue and start expanding the income taxpayer base.
While the overall taxpayer population has been largely unchanged, the numbers of higher rate and additional rate taxpayers have increased by 42% and 67% respectively since 2010/11 (the first year of the additional rate, then at 50%). The rise is primarily due to another political decision. While ramping up the personal allowance, until the past couple of years the government has kept down the higher rate threshold (ie personal allowance + basic rate band), which has grown by little more than 5% since 2010/11. The £150,000 threshold for additional rate tax has been left as a victim of fiscal drag, unaltered since its introduction.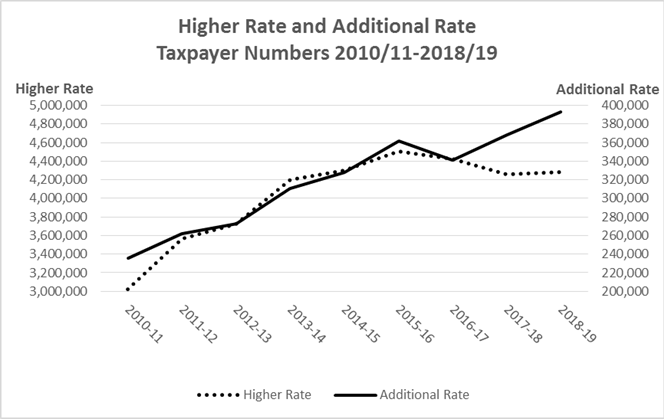 The inevitable result in this pattern of taxpayer numbers is a growing concentration of tax on those with the highest income. In 2018/19, the Treasury expects the top 1% of taxpayers (income at least £177,000 in 2018/19) to deliver just short of 28% of all income tax. Back in 2010/11 the corresponding figure was 25.0%.
At the top 10% level (income £57,500+) the share has moved out from 53.5% to 59.7% over the same period. 50% of taxpayers - the lower half with income of up to £25,000 in 2018/19- supply just 9.5% of total income tax, 1.8% less than in 2010/11.
The manipulation of tax bands does not tell the whole story. For example, the tapering of the annual allowance will have pushed up the number of additional rate taxpayers. Then there are all those non-taxpayers who still pay NICs which, as any Chancellor will know, is not a tax.
Source:       UK Income Tax Liabilities Statistics – 2015-6 Survey of Personal Incomes, with projections to 2018-19.
INVESTMENT PLANNING
Fixed rate bond investment limit slashed
(AF4, FA7, LP2, RO2)
Last December National Savings & Investments (NS&I) relaunched 1-year and 3-year Guaranteed Growth Bonds and Guaranteed Income Bonds.  At the time we suggested that the relatively attractive return on the bonds may have had something to do with NS&I meeting its fund-raising target for 2017/18.
Three months later, the rates on the 3-year bonds were cut by 0.25%. As we remarked at the time, this was probably designed to cut the inflow to NS&I, as the 2.2% on offer was unusually competitive.
Now, with its net financing target cut from £10.2bn in 2017/18 to £6bn (±£3bn) for 2018/19, NS&I has taken further action to reduce the attractiveness of their guaranteed bond offerings and stem inflows. The rates on offer are unchanged (see table below), but crucially NS&I has announced that the maximum investment limit has been cut from £1m per person, per issue to just £10,000.
| | | |
| --- | --- | --- |
| Product | Term | Interest Rate |
| Guaranteed Growth Bond Issue 63 | 1 Year | 1.50% gross/AER |
| Guaranteed Income Bond Issue 63 | 1 Year | 1.45% gross/1.46% AER |
| Guaranteed Growth Bond Issue 58 | 3 Years | 1.95% gross/AER |
| Guaranteed Income Bond Issue 58 | 3 Years | 1.90% gross/1.92% AER |

For investors in previous issues, maturity proceeds can be reinvested using the investment limit which applied at the original purchase date.
NS&I say their rates "present a fair offer to savers", but that is now more questionable, given that the new investment limit is well within the FSCS £85,000 deposit compensation limit. At the time of writing the best 1-year bond was offering 2.05%, while the best 3-year bond was paying 2.31%.
NS&I has traditionally provided a bolthole for those cautious and wealthy savers who wanted to hold large sums of cash without having to open accounts across a range of institutions to keep within the FSCS limit. Those individuals can now only look to NS&I's lower-paying variable rate products (Direct Saver paying 0.95%, maximum investment £2m, Income Bonds paying 1.0%, maximum investment £1m and Investment Account paying 0.7%, maximum investment £1m).
Source:  Announcement from NS&I on 11 June 2018
US interest rates raised again
(AF4, FA7, LP2, RO2)
On13 June, the US central bank, the Federal Reserve (aka the Fed), announced another 0.25% increase in its target Fed funds interest rate to 1.75%-2.00%. It was the seventh rise in rates since the Fed started the current round of rate increases at the end of 2015.
As is the current way with central bank interest rate changes, the move was so widely expected that by the time that it arrived it counted as a non-event. Also, in line with present market conditions, the main interest focused on the Fed's statements and actions surrounding the increase, the more so because we are still in the early stages of a new Fed chairperson, Jay Powell. There was plenty to digest:
The so-called dot plot, showing rate-setters' assessments of future rates, changed subtly, tipping the odds in favour of two more rate rises in 2018, making a total of four. Looking further out, next year is currently due three further rate rises, taking the 2019 year-end Fed funds rate to 3.00%-3.25%.
The arcane wording of the formal Fed statement changed from that used in February, with Powell stripping out some of the economic jargon (he is not an economist, unlike his recent predecessors). The statement that "...the federal funds rate is likely to remain, for some time, below levels that are expected to prevail in the longer run" has disappeared. This makes sense as the US now has short-term interest rates that exceed inflation, based on the Fed's preferred inflation measure, the core personal consumption expenditure price index (currently running at 1.8%).
From January 2019, the Fed will hold a press conference after each interest rate meeting, rather than every other meeting as at present. It has been generally thought that the Fed would only change rates at a meeting when a press conference was due to follow, so this reform gives the bank more flexibility. However, Powell cautioned that "…having twice as many press conferences does not signal anything."
The Fed's latest announcement is not the only reason why US interest rates are expected to keep rising. Less in the spotlight were three other significant drivers to higher bond yields:
the $1.5trn of Trump tax cuts;
the $300bn increase in US government spending; and
the Fed's unwinding of QE, which is set to reach $50bn a month in October.
The first two are pushing up US government borrowing and hence the supply of US government bonds, while the third is gradually removing a major buyer of US Treasuries.
Source:  Federal Reserve FOMC statement dated 13 June 2018.
PENSIONS
Possible prison sentence for employer who impersonated workers and opted them out of the AE scheme
(AF3, FA2, JO5, RO4, RO8)
Senior staff at a national recruitment agency tried to save money by impersonating their temporary workers to opt them out of their workplace pension scheme.
Workchain Ltd owners and directors Phil Tong and Adam Hinkley encouraged five senior staff at the company to get the temporary workers out of the scheme so the company could avoid making pension payments on their behalf.
Financial controller Hannah Armson, HR and compliance officer Lisa Neal and branch managers Martin West, Robert Tomlinson and Andrew Thorpe then worked together to opt workers out of the NEST pension scheme using its online system.
Derby-based Workchain (formerly known as Smart Recruitment UK Ltd), which has offices in towns and cities across the Midlands and the neighbouring counties, would have been able to avoid paying pension contributions if the offence had not been detected.
A joint investigation into Workchain involving The Pensions Regulator (TPR), the Employment Agency Standards Inspectorate, Derbyshire Constabulary and Nottinghamshire Constabulary was launched after NEST reported its concerns about Workchain to TPR in May 2014.
Darren Ryder, TPR's Director of Automatic Enrolment, said:
"Workchain's directors saw denying their temporary workers pensions as a quick and easy way to save the company money.
"Both they and their senior staff thought nothing of misusing NEST's online portal. Thanks to the vigilance of NEST, their attempt to cheat the automatic enrolment system failed.
"Automatic enrolment is not an option, it's the law and the law is clear - no one can opt a worker out of a pension scheme, even if the worker agrees. Those who try to avoid their pension responsibilities in this way face prosecution."
TPR prosecuted Workchain, the two directors and five senior staff for an offence of unauthorised access to computer data, contrary to section 1(1) of the Computer Misuse Act 1990. This is the first time that TPR has launched prosecutions for this offence.
All of the defendants pleaded guilty to the offence when they appeared for the first time at Derby Magistrates' Court today (7 June). District Judge Jonathan Taaffe committed the case to Derby Crown Court for a sentencing hearing on 28 June 2018. A conviction for computer misuse carries a maximum sentence of six months' imprisonment and/or an unlimited fine in a magistrates' court, or two years' imprisonment and/or an unlimited fine if the case is committed to the Crown Court.
Source: TPR website
PPF publishes guidance on company voluntary arrangements
(AF3, FA2, JO5, RO4, RO8)
The Pension Protection Fund has published its guidance on Company Voluntary Arrangements (CVA).
The guidance has been issued following a number of high profile cases of CVAs where the PPF has exercised creditor rights for the company's DB pension scheme, the updated guidance explains the approach employers and their advisers should take when presenting a CVA proposal to the PPF. It highlights the issues that should be considered so that the PPF can decide whether it is appropriate to vote in favour of the proposal or not.
The guidance aims to ensure that the company can address all areas of concern that the PPF will have at outset to make sure the process is as efficient as possible.
Source: PPF website
HMRC publishes countdown bulletin issue no.34
(AF3, FA2, JO5, RO4, RO8)
HM Revenue & Customs (HMRC) has published the 34th edition of its 'Countdown Bulletin'.
This issue confirms that HMRC piloted the Scheme Reconciliation Service (SRS) automated solutions for ceased schemes and the pilot showed that the SRS automated solutions are fit for purpose and that a high percentage of automation can be achieved. This should speed up the processing of the files in order that they meet the deadline to resolves scheme cessation by December 2018. As a consequence of the success of the automation, there a few reminders about file content and submission to ensure files are not rejected at HMRC.
Source: HMRC website
This document is believed to be accurate but is not intended as a basis of knowledge upon which advice can be given. Neither the author (personal or corporate), the CII group, local institute or Society, or any of the officers or employees of those organisations accept any responsibility for any loss occasioned to any person acting or refraining from action as a result of the data or opinions included in this material. Opinions expressed are those of the author or authors and not necessarily those of the CII group, local institutes, or Societies.