My PFS Technical news 17/04/18
Personal Finance Society news update from 29 March to 11 April 2018 providing the latest information on taxation and trusts, investment planning and pensions.
Taxation and Trusts
Investment planning
Pensions
TAXATION AND TRUSTS
The disclosure of tax avoidance schemes: Inheritance Tax
(AF1, RO3)
Updated guidance on the new IHT hallmark, which came into effect on 1 April 2018, is now available. This will be incorporated into HMRC's main guidance on the DOTAS regime and will replace the guidance currently in chapters 12 and 13.
The revised guidance:
gives some background to the changes to the IHT hallmark;
describes the new hallmark and explains how it works;
provides details of the two conditions that have to be met for an arrangement to be notifiable;
explains how the established practice exception applies; and
gives examples of arrangements which are not notifiable, that might be notifiable, and that are notifiable
In this article we examine the notification requirements in the fourth and fifth bullet points above.
The 'established practice' exception
As mentioned above the new hallmark took effect from 1 April 2018 so a proposal made before then would not have been notifiable at that time. However, where that proposal is implemented again on or after 1 April 2018 a duty to notify would arise under section 308(3) of Finance Act 2004. The established practice exception is intended to ensure that such a duty does not arise if the conditions in the exception are met.
Arrangements are excepted from being prescribed, i.e they will not be notifiable, if they:
implement a proposal which has been implemented by related arrangements, and
are substantially the same as the related arrangements.
'Related arrangements' are defined as arrangements which:
were entered into before 1 April 2018, and
at the time they were entered into, accorded with established practice of which HMRC has indicated its acceptance.
Interestingly, in the guidance HMRC refers to Discounted Gift Trusts stating that if an insurance company offered the arrangement under what was deemed to be acceptable in accordance with HMRC practice and clients set up the trust before 1 April 2018, and the trust continues to be offered on the same basis then it would seem likely not to be notifiable under the new IHT hallmark.
However, if the insurance company decided that they want to make changes to the elements of the steps which are required to achieve the intended tax advantage, this would be a new proposal which, even though it may be 'substantially the same', this proposal and any arrangement that implements it are not excepted and must be tested against the new IHT hallmark. It is important to note that changes to a proposal or scheme which do not affect the elements or steps that are required to achieve the intended tax advantage would not result in this being a new proposal.
Examples of arrangements which are not notifiable:
Lifetime gifts to a spouse or civil partner
Regular gifts out of income, i.e using the normal expenditure out of income exemption
Transfers of value equal to the available nil rate band
Making a lifetime gift to a bare trust for a minor beneficiary
Gift and loan trusts/loan trusts
Excluded property trusts set up by a non-domiciled individual
Bequeathing property to an exempt beneficiary under a will
Entering into a deed of variation
Disclaiming an entitlement under a will
Purchasing shares which qualify for business relief once they have been owned for two years
Gifting land and paying a full market rent to use the land
Examples of arrangements which might be notifiable:
Arrangements to gift shares which qualify for business property relief into trust followed by a subsequent sale of those shares back to the transferor
Creation of a reversionary lease
While it was reasonable to expect that schemes which were previously available were unlikely to be caught, the updated guidance goes one step further and provides welcome news to those who have long been marketing trusts, such as the discounted gift trust and loan trust.
As mentioned above, provided these arrangements continue to be offered on the same basis they are unlikely to be subject to the new IHT hallmark rules. In addition, introduction of the new hallmark has not affected many of the popular IHT planning strategies, such as deeds of variation and use of the normal expenditure out of income exemption, which continue to be available.
HMRC trusts and estates newsletter
(AF1, JO2, RO3)
The March 2018 edition of HM Revenue & Customs' Trusts and Estates Newsletter includes a number of important aspects relating to trusts and estates – in particular with reference to the trust registration service as well as other important matters.
Trusts Registration Service
The Trusts Registration Service (TRS) allows trustees and personal representatives to register their trust and complex estates online and provide information on the beneficial owners of the trust. This is a single online service which will enable HMRC to collect, hold and retrieve up-to-date information in a central register as well as to ensure that trustees and personal representatives are complying with their registration obligations. This will help streamline and modernise the use of trust data, in line with the government's wider digital and transparency agenda.
By collecting the information through the TRS, both HMRC and other law enforcement agencies will be able to draw links between all parties related to assets held in a trust. This will help prevent the use of trusts for money laundering and terrorist financing.
The TRS is now the only way that trusts and complex estates can request their Self Assessment Unique Taxpayer Reference (SA UTR).
Registration deadlines
For the 2016/17 tax year, while the 31 January 2018 deadline for making a TRS return remained in place HMRC announced that it would not charge a penalty if trustees, or an agent acting on behalf of the trustee, failed to register their trust on the TRS before 31 January 2018 but no later than 5 March 2018.
Trusts and complex estates that have incurred a liability to income tax or capital gains tax for the first time in the tax year 2017/18 will need to complete registration on the TRS by no later than 5 October 2018.
The trustees of an existing trust that have incurred a liability to tax in the tax year 2017/18 must register accurate and up-to-date beneficial ownership information about the trust, using the TRS by 31 January 2019.
Penalty framework
HMRC has published the details of the penalties framework for TRS and confirmed that penalties won't be charged automatically for late TRS returns. Instead, it will take a pragmatic and risk-based approach to charging penalties, particularly where it is clear that trustees or their agents have made every reasonable effort to meet their obligations under the regulations.
Updating the TRS
HMRC is implementing the TRS in a number of phases. Currently, it is not possible for lead trustees and their agents to update their registered information or to declare that there have not been any changes to their registered information on the TRS. Further updates on this will be provided in due course. In the meantime, if you need to inform HMRC that the lead trustee or trust correspondence address has changed, you can do so by writing to HMRC at: Trusts, HM Revenue and Customs, BX9 1EL.
Further guidance
More information about the TRS can be found here
Agent toolkits
HMRC has compiled a trusts and estates toolkit to help and support agents who do not complete a large number of trust and estate returns. The toolkit may also be helpful to others if they are completing a Trust and Estate Tax Return.
There is also a capital gains tax for trusts and estates supplementary toolkit addressing areas of possible error that HMRC identify as key regarding capital gains tax risks for trusts and estates, in cases where form SA905 [Trust and Estate Capital Gains supplementary pages] has to be completed.
There is also an inheritance tax (IHT) toolkit to assist with completing IHT Account form IHT400. The toolkit may also be helpful when completing the excepted estate form IHT205, or C5 for Scotland, as many of the considerations, such as valuation, also apply to these.
IHT payment reference numbers
In order for HMRC to correctly allocate IHT payments, customers need to apply for and provide an IHT reference number before sending in the form IHT400.
It is possible to apply for a reference number in two ways:
Apply for a reference number online by visiting Pay your Inheritance Tax bill and selecting the 'online' option.
Complete schedule Application for an Inheritance Tax reference (IHT422) and send it to the address shown on that form.
Using the online service will result in reference number requests being picked-up more quickly by HMRC, meaning fewer delays for customers.
Changes to forms R185 for 2017/18
The main changes are to the guidance notes for box 3 on the form R185 (trust income) and the addition of a box in relation to the property finance restriction on all of the R185 series – details of which are fully explained in the Newsletter.
IHT Disclosure of Tax Avoidance Schemes (DOTAS) guidance
Updated guidance on the new IHT hallmark, which came into effect on 1 April 2018, is now available. We cover this in the preceding article.
New guidance for non-dom deeming rules
The new legislation covering the deeming rules for long-term UK resident non-domiciles came into force from 6 April 2017. HMRC has now published new guidance to accompany and explain the new legislation.
Updated guidance on errors relating to trusts: rectification, mistake and Hastings-Bass
The December 2016 trusts and estates newsletter contained guidance for agents on how to contact HMRC where a taxpayer is considering seeking the trust law remedy of rectification, mistake or under Hastings-Bass, in a court of equity for an error relating to trusts.
See Errors relating to trusts: rectification, mistake and Hastings-Bass for more information.
Please note that the revised address for applications relating to mistake is:
Trusts and Estates Technical
HM Revenue and Customs
S0842
Fitzroy House, First Floor
Inheritance Tax Technical
Central Mail Unit
Newcastle
NE98 1ZZ
The Newsletter provides useful guidance in areas where we have seen recent changes and is a useful reference point for advisers dealing in aspects relating to trusts and estates. 
UK property transaction statistics and stamp duty
(AF1, AF2, JO3, RO3)
HMRC has recently updated its UK property transaction statistics.
Interestingly, the total number of property transactions has decreased for 2016/17 compared with 2015/16. This could be as a result of the higher rates of stamp duty land tax (SDLT) that are payable in cases where one or more residential properties are owned.
We have recently received a number of questions on the higher rates of stamp duty even though these relate to transactions completed on or after 1 April 2016. Broadly, the position is that the new higher rates of SDLT apply to the entire consideration for the transaction where, at the end of the day of completion of the transaction, an individual owns more than two properties and is not replacing their main residence.
The higher rates are 3% above the standard SDLT tax rates, but they do not apply to:
purchases of property where exchange of contracts was before 26 November 2015 and completion was after 1 April 2016;
purchases of property below £40,000;
purchases of caravans, mobile homes or houseboats;
purchases of leasehold interests originally granted for a period of less than seven years;
purchases of freehold or leasehold interests that are reversionary on leases with more than 21 years remaining as the date of purchase.
 As a reminder, the rates of stamp duty on residential property in England and Northern Ireland are as follows:
On slice of value

Rate

£125,000 or less

Nil

£125,001 to £250,000

2%

£250,001 to £925,000*

5%

£925,001 to £1,500,000*

10%

Over £1,500,000*

12%

* 15% for purchases over £500,000 by certain non-natural persons

§For first-time buyers of property up to £500,000 there is no SDLT on the first £300,000

All rates increased by 3% for purchase of additional residential property if value is £40,000 or more
Tax changes in Wales
(AF1, AF2, JO3, RO3)
HMRC has issued a reminder that three taxes in Wales are changing:
SDLT was replaced with LTT on 1 April 2018;
Landfill Disposals Tax (LDT) replaced landfill tax in Wales on 1 April 2018;
Welsh rates of income tax will be introduced on 1 April 2019.
HMRC has issued guidance on LTT for situations where the land or property being bought falls into more than one tax jurisdiction on or after 1 April 2018. Further guidance on LTT is also available on the Welsh Revenue Authority(WRA) website including a dedicated tax calculator.
Welsh income tax will be collected by HMRC, based on the taxpayer's address. Revenue from the Welsh rates of income tax will go to the Welsh Government.
Income tax and Nics - the treatment of termination payments
(AF1, RO3)
HMRC has recently updated its guidance to take account of the treatment of termination payments.
From 6 April 2018, employers must calculate the part of a termination payment that represents post-employment notice pay. This is intended to reflect earnings that the individual would have received had their notice period been worked in full.
Employers will be required to operate PAYE on the post-employment notice pay, and account for both employee's and employer's NIC. The part of a termination payment that is not post-employment notice pay will be subject to income tax if, and to the extent that, it exceeds £30,000.  This means that the legislation ensures that redundancy payments remain exempt from income tax up to the £30,000 threshold.
Foreign Service Relief on termination payments will also be withdrawn from 6 April 2018 for most UK resident employees – but will be retained for seafarers. 
Finally, the introduction of employer-only NICs on termination payments above £30,000 will now take effect from 6 April 2019 rather than 6 April 2018.
EMI tax relief warning
(AF1, AF2, JO3, RO3)
HMRC has published a warning in its 4 April 2018 Employment related securities bulletin No 27 for employers, and their advisers, who may currently be in the process of establishing Enterprise Management Incentives (EMI) schemes, that they should consider temporarily deferring any action. This is because EU State Aid approval hasn't yet been extended beyond 6 April 2018.
Tax relief for EMI options granted up to and including 6 April 2018 won't be affected. However, tax relief may not be available for options granted in the period from 7 April 2018 until EU State Aid approval is received.
EMIs

EMIs are a tax-advantaged employee share option scheme. There's no tax charge for the employee on the exercise of an EMI option provided it was granted at market value. If the company's share price has increased in value between the time of grant and exercise the uplift is not charged to income tax. However, there will be a capital gains tax charge on the difference between the disposal proceeds and their market value at the date of the grant of the option, when the employee disposes of their shares.
HMRC's warning in full
'EU State Aid approval for the EMI scheme, expires on 6 April 2018. The government has, since last year, been following the process of applying to the European Commission for fresh approval and we await the Commission's final response. We won't receive this before 6 April 2018 and so those involved in the establishment of EMI schemes and grant of EMI share options need to be aware that there will be a period between the lapse of the existing approval on 6 April and a decision by the EU Commission on a fresh approval. The government is working hard to ensure this period is as short as possible.
HMRC considers that the State Aid approval applies to the granting of share options and therefore that share options granted up to and including 6 April 2018 won't be affected by this lapse of the approval.
EMI share options granted in the period from 7 April 2018 until EU State Aid approval is received may not be eligible for the tax advantages presently afforded to option holders, and accordingly share options granted in that period as EMI share options may necessarily fall to be treated as non-tax advantaged employment-related securities options.
Companies may wish to consider delaying the grant of employee share options intended to qualify as EMI share options until fresh EU State Aid approval has been given.
HMRC will continue to apply its current guidance and practice, in relation to employment-related securities options validly granted as EMI share options up to and including 6 April 2018.
A further update will be provided in due course.'
HMRC also recently published updated guidance on share valuations under the EMI and the Share Incentive Plan schemes to provide more clarity on the length of any extension period for how long valuations are valid for.
The FCA reveals it has no immediate plans to turn off pre-RDR trail commission
(AF1, RO3)
It has now been reported that the Financial Conduct Authority (FCA), after due consideration, has no immediate plans to introduce a ban on trail commission paid to advisers on legacy products.  
The FCA had considered whether it would be possible to 'switch off' trail commission for legacy products. However, the FCA said that turning off trail commission could have a 'significant impact on the advisory market', with a particular hit on self-employed advisers who rely on trail commission for future income and 'is an important element of the value of a business when an adviser retires or sells their business'. The FCA said it may have the biggest impact on small advice firms but added: 'We are still considering the issue and have no immediate plans to bring forward proposals for policy change at this point.'
The FCA said the interim report of its asset management study found that some people were paying more to invest because they were in pre-RDR products, and thus a phased 'sunset clause' for legacy trail commission may be necessary to give investors value for money. 
It will be interesting to see how this develops, if at all, over the coming months.
Extra-statutory concessions that are still available
An Extra-Statutory Concession (ESC) is a relaxation which gives taxpayers a reduction in a tax liability to which they would not be entitled under the strict letter of the law.
Whilst the Concessions described in HMRC's summary are of general application, special circumstances may need to be taken into account on a case-by-case basis and a Concession will not be given in any case where an attempt is made to use it for tax avoidance.
A large number of ESCs have been re-written into legislation over recent years. However, some have had their scope restricted or have been withdrawn altogether.
HMRC has issued an updated summary of Concessions that remain in force as at 6 April 2018. This summary helpfully includes the wording of each of these Concessions, as well as information about the fate of those Concessions that are no longer available or that have been superseded.
An example of a Concession that is still available is ESC D49, Private residence relief: Short delay by owner occupier in taking up residence. It applies where:
-           'an individual acquires land on which he has a house built, which he then uses as his only or main residence
-           where an individual purchases an existing house and, before using it as his only or main residence, arranges for alterations or redecorations or completes the necessary steps for disposing of his previous residence.
In these circumstances, the period before the individual uses the house as his only or main residence will be treated as a period in which he so used it for the purposes of TCGA 1992 s223(1), 2(a) [ie. a period of ownership during which the dwelling-house was the individual's only or main residence – our words in italics], provided that this period is not more than one year. If there are good reasons for this period exceeding one year, which are outside the individual's control, it will be extended up to a maximum of two years…..'
HMRC's summary uses bold italic type to show which Concessions have been superseded by legislation, superseded by a later Concession, withdrawn, or contain a time-limit which has now expired, or refer to a tax or duty which no longer applies. And the titles and text of concessions where the number of potential beneficiaries cannot now increase, and will diminish over time, are printed in italic type.
Student loans
(AF1, RO3)
Among the reasons suggested for the Conservatives' loss of seats at the last election were the various pledges and hints about scrapping student loans made by the Labour Party. It was thus not altogether surprising that at last October's Conservative Party conference Theresa May revealed an increase in the income threshold at which student loans in England start to be repaid. Alongside the move, a freezing of tuition fees at £9,250 until 2019 was also announced.
The loan repayment threshold has now taken effect:
The income threshold has risen by £4,000 to £25,000 a year (£2,083 a month) for English (and Welsh) students who started their undergraduate course after 31 August 2012.
The maximum saving, for those with income above the new threshold is £30 per month ([£4,000 x 9%/12]).
For English (and Welsh) students who started their undergraduate course on or before 31 August 2012 (and for all Scottish and Northern Irish students), their threshold has risen by £555 to £18,330, but they have benefited from regular threshold increases since 2012 and generally pay lower interest (1.5% currently).
There has been a technical change in one of the rates of interest for 2012 students:
During study the rate remains at RPI+3% (a total of 6.1% for the current year); and
Once the course is finished, the rate is on a sliding scale rising from RPI at £25,000 of income to RPI+3% at £45,000 of income, both thresholds having been increased by £4,000.
As the Institute for Fiscal Studies noted at the time of the Prime Minister's announcement:
This seemingly minor technical change "will save middle earning graduates a lot of money - up to £15,700 over their lifetimes".
The change raises the long-run taxpayer cost of providing Higher Education by £2.3bn per year, a 41% increase. The big jump reflects the ongoing decrease in payments from nearly all graduates affected.
The lowest earning 40% of graduates are better off under the revised system than they would have been under the pre-September 2012 system. The higher repayment threshold only applies for loans from September 2012, so despite having larger debts, the low-earning graduate will make smaller repayments under the revised regime.
The Resource Accounting and Budgeting (RAB) charge – broadly speaking the proportion of student debt that the government believes is likely to be written off – will rise from 31% to 45%.
This change looks like good news for graduates. However, it comes at a time when many will be seeing their auto-enrolment contributions triple, enough to wipe out all the loan repayment savings at an income level of about £28,500 or more. It must also be recognised that, as with any loan, lower repayments mean a longer period of making payments, albeit subject to a maximum period of 30 years.
INVESTMENT PLANNING
First quarter 2018 investment returns
(AF4, FA7, LP2, RO2)
The first quarter of 2018 has ended and, unlike most of 2017, it was far from a smooth, upwards-only ride. However, as the table below shows, across the entire quarter market losses were generally limited outside the UK:
| | | | |
| --- | --- | --- | --- |
|   | 29/12/2017 | 30/03/2018 | Q1 Change |
| FTSE 100 | 7,687.77 | 7,056.61 | -8.21% |
| FTSE 250 | 20,726.26 | 19,460.67 | -6.11% |
| FTSE 350 Higher Yield | 3,938.35 | 3,576.02 | -9.20% |
| FTSE 350 Lower Yield | 4,212.72 | 3,944.25 | -6.37% |
| FTSE All-Share | 4,221.82 | 3,894.17 | -7.76% |
| S&P 500 | 2,673.61 | 2,640.87 | -1.22% |
| Dow Jones Industrial | 24719.22 | 24103.11 | -2.49% |
| Euro Stoxx 50 (€) | 3,503.96 | 3,361.50 | -4.07% |
| Nikkei 225 | 22,764.94 | 21,454.30 | -5.76% |
| MSCI Em Markets (£) | 1,602.28 | 1,561.68 | -2.53% |
| MSCI All World AC (£) | 1,940.01 | 1,846.19 | -4.84% |
| 2 yr UK Gilt yield | 0.49% | 0.82% |   |
| 10 yr UK Gilt yield | 1.24% | 1.39% |   |
| 2 yr US T-bond yield | 1.89% | 2.26% |   |
| 10 yr US T-bond yield | 2.42% | 2.75% |   |
| 2 yr German Bund Yield | -0.53% | -0.65% |   |
| 10 yr German Bund Yield | 0.42% | 0.43% |   |
| £/$ | 1.3528 | 1.4028 | 3.70% |
| £/€ | 1.1266 | 1.1406 | 1.24% |
| £/¥ | 152.3883 | 149.1878 | -2.10% |
| UK Bank base rate | 0.50% | 0.50% |   |
| US Fed funds rate | 1.25%-1.50% | 1.50%-1.75% |   |
| ECB base rate | 0.00% | 0.00% |   |

A few points to note from this table are:
The FTSE 100 is now trading back at the level it first reached about two years ago and not that far off its end 1999 peak (6933.2). For the FTSE All-Share the picture is rosier – the market is back at end-2016 levels and about 20% above the millennium-end level.
The FTSE 250, regarded as a better yardstick for UK plc (although still with about a 50% weighting of overseas revenues), outperformed its large cap counterpart, as it did in 2017.
Value investing, at least as measured by the FTSE Higher Yield, is now outperforming growth (in the guise of the FTSE Lower Yield) after being trounced in 2017.
One corollary of the dismal UK market performance is that dividend yields look appealing: the FTSE 100 now yields 4.1%, while the All Share is 3.85%, both with two times dividend cover. 4%ish income from equities is attractive when compared with long-dated conventional gilts offering about 1.7% and long-dated index-linked stock returning a real -1.6%.
The figures for the US market may be a surprise. For all the Trump-induced drama of the past three month, over the complete quarter declines were small. However, most non-US investors would have seen these magnified by the continued weakness of the Dollar. What has been forgotten in the tumult since the start of February is that, in the first month of 2018, US markets rose by about 10%. By the end of a rollercoaster March, they were marginally above the 2018 lows hit on February 8.
Bond yields in the UK and USA moved upwards over the quarter, thanks to rumblings from the Old Lady and a 0.25% base rate increase from the Federal Reserve. In the Eurozone rates were little changed: the ECB is still pointing to no rate increase before mid-2019, although QE, already phased down, may end in September.
Sterling was relatively strong over the quarter, although it still lost ground to the Yen, which is becoming more popular as a 'safe haven' currency.
The last week of March witnessed some vicious volatility on Wall Street. With trade wars worries circulating, Q2 is unlikely to see much calmer waters, witness Wall Street's Easter Monday performance.
PENSIONS
CP18/7 improving the quality of pension transfer advice
(AF3, FA2, JO5, RO4, RO8)
This Consultation Paper follows on from other recent FCA publications on advising on pension transfers: in particular, CP17/16 and PS18/6. In CP17/16 they asked a number of discussion questions on a variety of topics, including qualification requirements for advisers and the responsibilities for advisers working together. They set out our responses to the feedback received in both this document and PS18/6 and they are now consulting on some of the areas discussed. In addition to the areas originally discussed, a number of new issues were raised during the consultation.
The FCA are seeking views on the following proposals:
amending the Pension Transfer Specialist (PTS) qualification and the exam qualification standards;
amending the definition of a pension transfer;
introducing guidance on how a PTS should work with another adviser in a two adviser model;
introducing guidance for firms on the advice boundary when providing triage services to prospective clients;
introducing guidance on assessing clients' attitude to transfer risk;
introducing rules requiring firms to provide suitability reports on a negative recommendation to transfer; and
amending the assumptions for valuing limited inflationary pension increases within a DB scheme.
In addition to the above the FCA are also seeking views (but not proposing rule changes at this time) on charging structures associated with advising on pension transfers.
Standards to meet before giving advice
Qualifications
The FCA are proposing a PTS must hold the Level 4 Retail Distribution Review (RDR) qualifications for advising on investments before they can advise on or check pension transfer advice.
The FCA are proposing that existing PTSs must acquire the additional qualification by October 2020. There will be no grandfathering. They will not prevent PTSs without the investment advice qualification from practising prior to October 2020. However, firms should ensure that they are meeting their responsibilities for assessing and maintaining the competence of employees.
Exam standards
The FCA propose to change the exam standard for ApEx 21 to take account of developments in the pensions landscape following the introduction of the freedoms and the mandatory advice requirement, as well as the rules and guidance in PS18/6 and proposed in this CP. The exam standard will, therefore, cover personal recommendations and advice boundary issues, appropriate pension transfer analysis (APTA) and transfer value comparator (TVC), overseas advice and taxation.
Definition of Pension Transfers
The definition of Pension Transfers is proposed to be amended to only cover advice on transactions where flexible benefits are given up when the cancellation rules apply, ie in the same way as other pension switches. Where such switches involve an FCA regulated pension scheme (either ceding or receiving), personal recommendations will still need to meet the FCA suitability requirements in COBS 9. They have created a new definition to incorporate FCA-regulated pension schemes just for the purpose of the pension transfer definition. In addition they have also amended the existing references to an 'individual pension contract providing fixed or guaranteed benefits' and to a 'deferred annuity policy' with an overarching term of 'deferred annuity contract'
Preparing to give advice
To draw conclusions on the suitability of the pension transfer, a PTS:
Should review the proposed scheme and investment relative to both the client's attitude to transfer risk and their attitude to investment risk.
Needs to ensure that the potential returns and all relevant charges for the proposed scheme and investments, have been appropriately taken into account in the APTA.
Should consider whether there are alternative solutions that could meet the client's needs and objectives, either with less risk or without giving up the safeguarded benefit.
Advisers working together
When two advisers are working together the FCA state that the above should still apply have expectations that where one firm (or employee) advises on the transfer and another firm (or employee) advises on the proposed investments. The intent of the proposed guidance confirms the FCA expect all parties to work together to:
collect necessary information, to inform both the pension transfer advice and the associated investment advice;
undertake risk profiling, which assesses both the client's attitude to transfer risk and attitude to investment risk; and
recognise that the investment advice should take into account the impact of the loss of any safeguarded benefits on the retail client's ability to take on investment risk.
Self-investors
The FCA looked specifically at those clients who would be self-investing. The FCA make it clear that advisers are to advise on a pension transfer taking into account the proposed destination of the funds. Where the destination is put forward by the client themselves, the situation is no different except that the adviser will have to make clear that the client needs to provide the necessary information about the scheme and its underlying investments.
Where a transfer is unsuitable in principle, but not specifically in relation to the proposed destination, the adviser should explain the basis for the recommendation. Where the transfer is unsuitable specifically as a result of the proposed destination, the adviser should explain that a transfer may be suitable if a different destination for the funds was selected.
Triage services
Many advisers operate a triage service as part of their DB transfer advice process.
Triage is where firms have an initial conversation with potential customers. The purpose of triage is to give the customer sufficient information about safeguarded and flexible benefits to enable them to make a decision about whether to take advice on the transfer or conversion of their pension benefits.
The FCA consider that triage can be useful to educate consumers on some of the basic features of different types of pensions and the transfer process, including the costs involved. They also agree that, when used appropriately, it can prevent consumers from paying advice charges unnecessarily. It may also address some of the advice supply issues in this market, as it enables advisers to focus on clients with a realistic prospect of transferring.
In the FCA's view, if triage is to be a non-advised service, it should be an educational process so that consumers can decide whether to proceed to regulated advice. Firms can achieve this by providing generic, balanced information on the advantages and disadvantages of pension transfers. The FCA make it clear that if an opinion on a transfer is given in the triage meeting the adviser is likely to be straying into regulated advice. The firm should keep records of all triage that has been provided. To help ascertain what is suitable the FCA has given examples of what they would consider triage.
Providing advice
Assessing a client's attitude to transfer risk
There was some concern that attitude to risk was focussed on investments and in particular investments after a transfer. Updated guidance has been published to deal with this issue.
The intent of the new guidance is that when firms are considering the client's attitude and understanding of giving up safeguarded benefits for flexible benefits, they should take into account:
the risks and benefits of staying in the safeguarded benefit scheme
the risks and benefits of transferring to a flexible benefits scheme
the client's attitude to certainty of income throughout retirement
whether the client is likely to access funds in flexible benefits in an unplanned way, and the impact of that on the sustainability of the funds over time
the client's attitude to any restrictions on their ability to access funds in a safeguarded benefits scheme
the client's attitude to and experience of managing investments themselves or paying for them to be managed in a flexible benefit scheme
The proposed guidance also sets out that the FCA expect firms to consider the client's attitude to transfer risk:
in a way which is fair, clear and not misleading, and
irrespective of whether or not relevant factors are included within risk profiling tools or software.
Suitability reports for negative recommendations
Rules do not currently require firms to provide suitability reports when they give a recommendation not to transfer. The FCA are now proposing that firms provide a suitability report regardless of the outcome of advice. This proposal applies to transfers and conversions.
Pension increase assumptions
Following discussion from CP17/16 the FCA propose a change to the existing assumption. They propose that firms should use fixed rate increases at the collar for collars above the relevant RPI/CPI rate, and at the cap for caps below the RPI/CPI rate. All other increases should be valued at RPI/CPI.
Discussion: Charging structures associated with advising on pension transfers
In this section the FCA discuss the different charging options for advising on pension transfers and the benefits or harm for each. They discuss if the pension transfers are different in any way from other forms of advice, such as investment advice and if this impacts on the type of charging that is suitable.
The FCA believe that pension transfers differ because:
in most cases, unlike investment advice, the right outcome will be for the customer not to take any action (ie not to transfer)
most pension transfer advice is mandatory, rather than sought voluntarily • it involves an irreversible decision to give up a valuable benefit
as a result, it often involves consumers with little financial expertise, rather than those actively seeking to engage with the investment and advice process
the potential for longer-term harm is particularly great, as the advice will directly affect the client's income throughout their retirement.
Given the potential harm to consumers, the FCA are considering if it is necessary to intervene in the way charges are levied for pension transfer advice. This could mean a ban on contingent charging although alternative options are also proposed. These alternatives take account of the changes that are currently proposed in this document and changes to guidance already published. One other area that is considered is that of adviser remuneration packages that encourage transfers to be recommended. 
List of questions
Do you agree with the proposed changes to the qualifications for a PTS? If not, how would you suggest we amend it?
Do you agree with our proposed arrangements for the transition period?
Do you agree with the proposed changes to the exam qualification standard, ApEx 21? If not, how would you suggest we amend it?
Do you agree with the proposed changes to the pension transfer definition? Please indicate if you consider there are any other consequences that have not been identified.
Do you agree with our proposed guidance for advisers working together? If not, how should we amend it?
Do you have any comments on our explanation for advising self-investors?
Do you agree with our proposed guidance on triage? If not, how could we approach it differently?
Do you agree with our proposed guidance on assessing attitude to transfer or convert risk?
Do you agree with our proposals to modify the Handbook rules and guidance in respect of suitability reports and the advice confirmation?
Do you agree with our proposal on pension increase assumptions?
Do you think that contingent charging increases the likelihood of unsuitable advice? If so, can you provide any evidence to support intervening in the way pension transfer advice is charged, or would another approach be more effective?
If we proceeded to restrict the way in which pension transfer advice can be charged, do you have views on how this should be implemented? In particular, how could we avoid different forms of restriction from being 'gamed'?
How would different forms of restriction on pension charging impact consumers and firms? Are there any ways in which we would mitigate any negative impact? For example, to address concerns about reduced access to advice (due to increased advice costs for consumers who do not transfer), could we require firms to 'signpost' consumers to internal or external guidance/triage services, including The Pensions Advisory Service?
Do you have any comments on our cost benefit analysis?
ONS publishes membership and contributions to workplace pension arrangements for UK employees
(AF3, FA2, JO5, RO4, RO8)
In the article the ONS looks at membership and contributions to workplace pension arrangements for UK employees by type, age, industry, public and private sector, occupation and size of company. The publication gives updated figures for 2016 and provisional data for 2017.
The main points are as follows.
Employee workplace pension scheme membership has increased to 73% in 2017, from 67% in 2016, driven predominantly by increases in membership of occupational defined contribution schemes (including National Employment Savings Trust) within the private sector.
In 2017, there were 89% of public sector employees who were members of a workplace pension scheme compared with 67% of private sector employees, this gap continues to narrow following the introduction of automatic enrolment in 2012.
Those aged 22 to 29 years had the largest growth in pension membership from 65% in 2016 to 73% in 2017.
In 2017, full-time employees in both the public and private sectors had almost equal proportions of workplace pension scheme membership for men and women (92% in public sector, 78% in private sector).
In 2017, there were 94% of full-time employees with the highest gross weekly earnings (£600 and over) and 81% of lower earners (£100 to £200) in the public sector who were pension scheme members compared with 87% and 27% respectively in the private sector.
Workplace pension scheme membership for private sector employers with 1 to 99 employees increased from 35% in 2016 to 52% in 2017, yet this group still had the lowest proportion of employees with a workplace pension scheme within the private and public sectors.
Nearly half (48%) of private sector pension members in 2017 contributed greater than zero and under 2% of their earnings, an increase from 42% in 2016, this increase is likely to be driven by current minimum contribution levels for automatic enrolment.
Over the allowance?
(AF3, FA2, JO5, RO4, RO8)
What do you do when you run out of lifetime allowance?
A typical situation might be a 67 year old with a SIPP that, despite recent market jitters, is worth £1.2m and no transitional protection. They have no need to draw upon the SIPP because of sufficient income from other sources. Their main concern is estate planning and the question arises as to whether to crystallise funds on the SIPP to mitigate the age 75 BCE(s) or to just do nothing.
The judgement is not an easy one and involves many variables:
The lifetime allowance is now CPI-linked, hence its increase on 6 April. Thus, unless the SIPP investments produce a return greater than CPI inflation, the proportion of the fund, if not the absolute amount, potentially liable to an LTA charge will fall over time. For example, if CPI rises at 3% for the next 8 years, but the investment return is 2% a year, then if nothing is done, at age 75 the BCE5B charge is based on £101,000 (£1.406m – £1.305m) rather than the £170,000 that would apply if the entire fund was crystallised today with a BCE1/BCE6 charge and the full standard LTA was available.
Immediate full crystallisation means an immediate tax charge. This could be avoided by crystallising no more than the available lifetime allowance.
Immediate crystallisation has the advantage until age 75 is reached the crystallised fund suffers no BCE test on death (see 6 below). The downside is the freezing effect on the amount of LTA used: if it is 100%, then all the remaining uncrystallised fund is exposed to a LTA charge on death before age 75.
If funds are to be crystallised, then in theory it is possible to draw the maximum PCLS and use it to make a lifetime gift. This creates another potential tax charge for the following seven years, if only in the form of a reduced nil rate band.
If regular income is drawn down after crystallisation, this will reduce or eliminate the risk of a BCE5A at age 75, but at the cost of an immediate income tax charge, probably at a 40% or 45% marginal rate. If the income is gifted as it is received, this should avoid any IHT liability under the normal expenditure rules. However, the net income gifted is then outside the pension tax shelter.
The date of death is a crucial factor in three ways:
Death before age 75 avoids the BCE5A and BCE5B charges. Instead the potential charges (for uncrystallised funds only) are BCE5C, BCE5D and BCE7. As we have often said, for most people the chances of dying before age 75 are relatively small. The ONS cohort mortality figures suggest the odds are about 14% for a man aged 67 and 10% for a woman. In practice those with an LTA problem will typically have lighter mortality than the general population. However, there is no substitute for a potentially awkward client conversation about mortality. If a client's health and their family history suggest they will not make 75, then crystallising funds as soon as possible up to the available LTA should be considered.
It is possible to sidestep the BCE7 LTA charge by paying up to the available LTA within the "relevant period" (normally two years from notification of death) but leaving the excess to be paid after that time. The excess will then attract an income tax charge when paid, which means a maximum tax rate of 45% will apply rather than the 55% applicable to the BCE7.
Death on or after age 75 carries two potential tax penalties. Firstly, there are BCE5A and/or BCE5B charges on reaching age 75 which carry a LTA charge rate of 25%. Next comes an income tax charge at death on all death benefits, whether drawn as a lump sum or nominee's and/or dependant's drawdown. This duo results in a marked downward kink effect at age 75 on any plot of net death benefits against age.
The longer the survival period after age 75, the greater the benefit of gross roll up within a pension fund, as the eventual tax liability is being deferred. For example, a 67 year old man has an ONS life expectancy of 20 years, with a 25% probability this will extend to 27 years. For a woman the corresponding figures are two years greater.
Ironically the focus on maximising death benefit can run counter to the beneficiaries' interests. A classic example is when the 'solution' to maximising death benefits will be to draw nothing, even if funds are crystallised. Harking back to the mortality point in 6, this may mean the beneficiaries have to wait nearly 30 years for the pension inheritance to arise. By then it might be more appropriate to skip to the next generation. The current beneficiary generation may well be prepared to sacrifice distant tax optimisation for real cash in their hands today, when it may be most needed.
Politics is a major known unknown in any comparison of benefits. The treatment of pension death benefits has already undergone several revisions since A-Day and could be revamped again. Both income tax and IHT could be restructured significantly after the next election. Equally, the future of the entirety of the current pension tax regime is by no means certain.
Numerical comparisons of death benefits are complicated by several factors. For example, if for sums that are drawn and gifted in lifetime, how are these allowed for on later death? Is it appropriate to simply roll up the amounts at the assumed SIPP return rate, less tax at the marginal rate of the gift's recipient? What assumptions are to be made about investment return and inflation?
In the final analysis, there is no substitute for undertaking individual calculations – rules of thumb are dangerous given all the variables. In the case of the 67 year old with which we started this Bulletin, the graph below shows the effect of three different strategies:
Crystallisation: No Income. The assumes that £1.03m (the LTA) is put into drawdown immediately, but no income (or PCLS) is withdrawn.
No Crystallisation This simply leaves the fund uncrystallised until BCE5B hits at age 75.
Crystallisation: Income Taken. This assumes the same starting point as strategy as 1, but with income taken at a level to maintain the crystallised fund at no more than £1.03m until age 75. As a consequence, at age 75 the BCE5A is effectively nil, leaving the entire crystallised fund subject to a (25%) lifetime allowance charge.
Crystallisation: Income & PCLS Taken. This assumes the same starting point as strategy as 3, but with a maximum PCLS drawn and immediately gifted and income then taken at a level to maintain the crystallised fund at no more than the original BCE amount (£ 772,500) until age 75. As a consequence, at age 75 the BCE5A is effectively nil, leaving the entire crystallised fund subject to a (25%) lifetime allowance charge.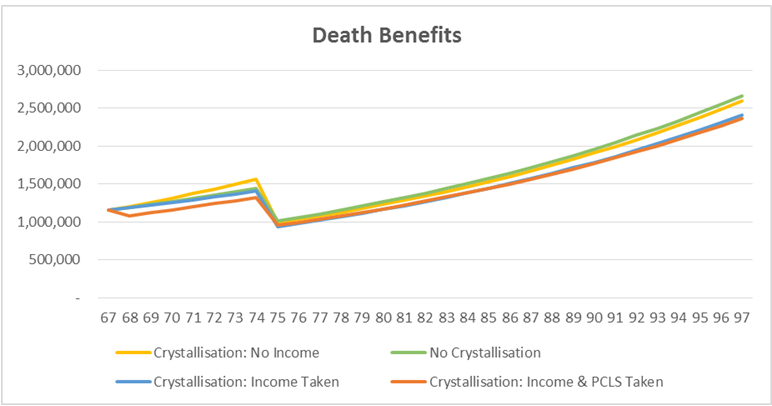 This is an originally produced graph by Technical Connection.
The assumptions are:
| | | | | | |
| --- | --- | --- | --- | --- | --- |
| Age | 67 | Crystallisation age | 67 | Tax on Income Drawn | 40% |
| Fund | £1,300,000 | Crystallised Fund | £1,030,000 | Beneficiary income tax on gift returns | 20% |
| Net Fund Growth | 4.50% | Income Drawn | Matching growth on crystallised fund | IHT Rate | 40% |
| CPI | 2% | PCLS drawn | 25% | Tax on Death Benefits from 75 | 40% |

Strategy 1 wins until age 75 because the growth in the crystallised fund is not subject to any tax on death. At age 75 the strategy takes a bigger BCE hit (BCE5A for the crystallised fund and BCE5B for the residual uncrystallised amount) because, in effect, the LTA available was fixed at £1.03m when the original crystallisation occurred.
Strategy 3 suffers the same frozen LTA problem, exacerbated by the income tax paid on withdrawals and further income tax paid on the gifted payments outside of the tax-sheltered pension.
Strategy 4 produces very similar results to strategy 3 from age 75, but suffers initially because the PCLS gift carries a potential IHT liability for seven years in terms of eroding the available nil rate band on death.
This document is believed to be accurate but is not intended as a basis of knowledge upon which advice can be given. Neither the author (personal or corporate), the CII group, local institute or Society, or any of the officers or employees of those organisations accept any responsibility for any loss occasioned to any person acting or refraining from action as a result of the data or opinions included in this material. Opinions expressed are those of the author or authors and not necessarily those of the CII group, local institutes, or Societies.