My PFS - Technical news - 13/11/18
Personal Finance Society news update from the 25th October to 7th November 2018.
Quick Links
Taxation and trusts
Investments
Pensions
TAXATION AND TRUSTS
Finance Bill 2018/19 published
(AF1, AF2, AF3, AF4, ER1, FA2, FA4, FA5, FA7, JO2, JO3, JO5, LP2, RO2, RO3,RO4, RO5, RO7, RO8)
The Finance Bill 2018/19 was published on 7 November.
Explanatory notes and guidance to this Finance Bill can be found here.  Further supporting documents, including tax information and impact notes, can be found on the Budget 2018: tax related documents page.
Source: HMRC Policy paper: Finance Bill 2018/19 legislation and explanatory notes – 7 November 2018
Up to 30,000 2016/17 online self-assessment returns to be reworked by HMRC
(AF1, RO3)
According to the Association of Taxation Technicians (ATT) HMRC has confirmed that, from 19 November 2018, up to 30,000 self-assessment tax returns for 2016/17 will be reviewed and reworked where they were filed online. These will be returns where HMRC considers that there is a risk that its tax calculator has incorrectly computed the individual's tax liability.
HMRC's software was not working properly for many taxpayers who were trying to submit their 2016/17 tax return online. This was mainly due to the complexities around certain combinations of interest and dividends.
Whilst HMRC later managed to introduce a partial fix, many of those who were able to file online will not have had their tax liability calculated correctly from the information on the return and may not have appreciated that their tax had been incorrectly calculated, particularly if they didn't use an accountant or tax adviser.
In cases where the tax position has changed the individual will receive a new SA302 calculation. If any additional tax is due, the individual will have 28 days to pay before interest and late payment penalties apply.
The ATT points out that once an individual's return has been reworked in this way, any further amendments to the return must be submitted on paper and cannot be filed electronically. 
The ATT further states that HMRC has taken the decision not to send copies of the amended SA302 to the individual's agent. The individual will be advised to contact their agent if they have one.
HMRC has reportedly said that it is expecting that it will only be necessary to actually amend about half of the 30,000 returns that it has identified for review and that, on this basis, the amendments should take around a week to process.
Source: ATT News: from 19 November 2018 HMRC will be reviewing and reworking up to 30,000 self-assessment returns for 2016-17 filed online where their tax calculator might have incorrectly computed the individual's tax liability - dated 17 October 2018.
OTS review of business tax reliefs – online survey and call for evidence
(AF2, JO3)
In May, the Office of Tax Simplification (OTS) published a paper in which it considered how to simplify the tax system and the way it's administered for businesses owned by individuals and families.
The OTS came up with a list of business reliefs and incentives available in relation to key events in the lifecycle of a business and made an initial review of whether they achieve their objectives and whether they could operate more simply.
The OTS has now published an online survey and call for evidence to seek views on tax as it impacts on business. It wants:
"…to hear directly from businesses as well as professional advisers and representative bodies about which parts of the tax system are particularly complex and hard to get right, and to hear any suggestions for improvements."
This consultation closes on 7 December 2018 and the OTS expects to publish its report in the Spring of 2019.

Source: OTS business lifecycle review call for evidence and survey – dated 10 October 2018.
Self-assessment 2017/18 tax return deadline
(AF1, RO3)
HMRC issued a reminder, on 24 October, that there are only 100 days left to file a 2017/18 self-assessment tax return
HMRC's reminder includes some interesting statistics:
More than 11 million people completed a 2016/17 self-assessment tax return;
10.7 million people completed their 2016/17 return on time;
4,852,744 people filed their 2016/17 return online in January 2018 (44.8% of the total); and
758,707 waited until 31 January 2018, the deadline day, to file their return online.
According to the Financial Secretary to the Treasury, the Government received a record £32.7 billion in revenue from these 11 million taxpayers.
And Angela MacDonald, HMRC's Director General for Customer Services, added that a record 93% of people did their 2016/17 return online. 
For anyone not doing their self-assessment tax return online for 2017/18, the deadline for paper tax returns was 31 October 2018. 
The deadline for filing the 2017/18 tax return online and paying any tax owed is 31 January 2019.  Missing these deadlines can mean a £100 penalty as a minimum for late submission.
Although taxpayers can complete their self-assessment tax return from as early as 6 April, many choose to wait until after Christmas to fill it in. And just over three million taxpayers were yet to complete their 2016/17 returns with only one week to go to the deadline, last January. As someone once said, "The best part about procrastination is that you are never bored, because you have all kinds of things that you should be doing."
The Government is clearly keen for us procrastinators to get our returns in earlier this year. Angela MacDonald has pointed out that starting the process early and giving yourself time to gather all the information you need will help avoid the last minute, stressful rush to complete it on time.
Sources:
HMRC News Story: 100 days left to file your 2017 to 2018 tax return - dated 24 October 2018;

HMRC Press release: A third of tax returns are outstanding a week before deadline – dated 24 January 2018.
Welsh income tax rates – consultation
(AF1, RO3)
HMRC has published draft legislation, to introduce income tax rates for Welsh taxpayers with effect from 6 April 2019, for comment.
The Government has set an unusually short timescale for responding to this consultation - it closed at 11:45pm on 5 November 2018.

Welsh rates of income tax will be charged on the non-savings and non-dividend income of those defined as Welsh taxpayers. Savings income and dividend income arising to Welsh taxpayers will still be taxed at the appropriate UK rate.
Definition of a Welsh taxpayer
A Welsh taxpayer must firstly be UK resident for tax purposes – an individual who is not UK tax resident cannot be a Welsh taxpayer. The remaining parts of the definition are based on the location of an individual's sole or main place of residence. If they have one place of residence, and this is in Wales, they are a Welsh taxpayer. Individuals who have more than one place of residence in the UK will be a Welsh taxpayer if their main place of residence is in Wales for longer than in any other part of the UK.
For example, if an individual with a single place of residence moves house into or out of Wales part way through a tax year, whether they will be a Welsh taxpayer in that year will depend upon which house is their main place of residence for the longer period of time. 
Individuals who cannot identify a main place of residence will need to count the days they spend in Wales and elsewhere in the UK – if they spend more days in Wales than in any other constituent part of the UK, they will be a Welsh taxpayer.
An individual who meets the definition of a Welsh taxpayer will be a Welsh taxpayer for a whole tax year.  Special rules apply to Assembly members, MPs representing a constituency in Wales and MEPs representing Wales.
Welsh tax rates
The rate paid by Welsh taxpayers on non-savings and non-dividend income will be calculated by reducing the basic, higher and additional rates of income tax levied by the UK Government by 10 pence in the pound and adding new Welsh rates proposed by the Welsh Government and set by the National Assembly for Wales. 
For example:
If the UK basic, higher and additional rates of income tax were 20%, 40% and 45% respectively and the Welsh rates of income tax were 11%, 12% and 13%, then the rates applied to those defined as Welsh taxpayers for basic, higher and additional rates of income tax would be 21%, 42% and 48% respectively;
If the Welsh rates of income tax were 9%, 8% and 7%, respectively then the rates applied to those defined as Welsh taxpayers would be 19%, 38% and 42%;
Welsh rates of 10% for each band would mean no change from the UK rates.
The National Assembly for Wales will set three rates. Together these three rates will be referred to as the Welsh rates:
the Welsh basic rate;
the Welsh higher rate; and
the Welsh additional rate.
Welsh taxpayers in receipt of non-savings income charged at the UK rates will still be able to benefit from the current statutory approach and arrange their income set-off in such a way as to result in the greatest reduction to their tax liability.
And Welsh rates of income tax will continue to be covered by existing UK double taxation agreements.
However, the Government proposes that there should be some exceptions to the general rule that the Welsh rates of income tax will always apply to the non-savings income of a Welsh taxpayer. The Government says these exceptions are to avoid additional complexity for taxpayers, or where the costs of collection would become disproportionate to the revenue raised.
Exceptions and special situations
Gift Aid – As with Scottish taxpayers, Gift Aid for charities will continue to apply at the UK basic rate. Once the Welsh rates are introduced, Welsh taxpayers will be able to claim relief equal to the difference between the UK basic and the highest Welsh rate of tax that applies to them. 
Payroll giving – As tax relief for donations made to charity under the payroll giving scheme is given at source before an employee's PAYE tax is calculated, it is given at their marginal rate. Where the employee's marginal rate is derived from the Welsh rates of income tax then the relief will apply at that marginal rate.
Donations of shares or land - As all the tax relief has to be claimed through the self-assessment tax return, if an individual is a Welsh taxpayer they would receive relief at the Welsh rates. 
Pension schemes operating Relief at Source (RAS) - Once the Welsh rates of income tax are introduced pension schemes will claim relief at the Welsh basic rate for Welsh taxpayers who are members of their RAS scheme. This means that, if the Welsh and UK rates diverge, Welsh RAS scheme members will receive a different amount of tax relief from UK taxpayers. 
Contributions made to pension schemes operating RAS are treated as paid after basic rate tax has been deducted. 
Under RAS, the contribution is paid out of income net of tax and the pension scheme claims the basic rate tax element of the contribution from HMRC and adds it to the individual's pension plan. Higher and additional rate taxpayers can claim any further tax relief from HMRC through self-assessment.
As for Scottish taxpayers, HMRC will continue to work with pension providers on a solution that enables pension schemes to differentiate between Welsh and 'rest of the UK' taxpayers in their records and make RAS claims at both Welsh and UK basic rates.
HMRC will confirm the timetable for providing this solution to Welsh taxpayers.
Retirement Annuity Contract members – As these individuals are able to claim tax relief direct from HMRC, they will receive tax relief at their marginal rate and so Welsh taxpayers will receive relief on their pension contributions at Welsh tax rates. 
Tax charges for pension schemes - The Annual Allowance charge for Welsh taxpayers will be calculated at Welsh rates of income tax. However, no changes will be made to the rates of the special pension tax charges initially. HMRC will monitor the position in case any divergence of rates is significant or continues over a period of time, in which case it may be necessary to consider introducing a parallel set of rates for scheme members who are Welsh taxpayers.
Trusts and Estates – As with Scottish taxation, trusts will retain their current (UK or non-UK) residence status and be taxed at UK rates where appropriate. And personal representatives will also continue be taxed at UK rates. A body of trustees (on whom liability for tax due on trust income falls), is treated as a single 'person' for tax purposes and is not an individual. Neither is the personal representative of the deceased acting in an individual capacity.
However, trust or estate income arising to or received by an individual Welsh taxpayer would be chargeable to the Welsh rates, where appropriate.
For discretionary and accumulation trusts, income flowing through these trusts loses its character – ie. irrespective of whether the income arising to the trust was savings or non-savings income all the income would be treated as non-savings income in the hands of the beneficiaries. Income payments from discretionary trusts will be liable at the Welsh rates when paid to beneficiaries who are Welsh taxpayers. 
For detailed information on the proposals for taxing trust income please see HMRC's Technical Note.
Payments to foreign entertainers and sportspersons – As such persons are not resident in the UK for income tax purposes, the UK basic rate will continue to apply wherever the entertainer or sportsperson performs. These people are currently subject to a withholding tax at the UK basic rate.
Long-term UK residents who are not UK domiciled – The annual remittance basis tax charge will not be affected by the introduction of the Welsh rates of income tax. Payments of the charge due from Welsh taxpayers will continue to be paid direct to the UK Exchequer. 
The Non-resident Landlord Scheme (NRLS) - The UK rate will continue to apply to rents paid to landlords not resident in the UK. Unless certain conditions are met, rents paid to landlords not resident in the UK are made after a deduction of tax. 
Landlords Finance Cost Restriction - Welsh taxpayer's liability to the Welsh rates will need to be included in calculations where tax relief for income taxpayers who are residential landlords is restricted.
Construction Industry Scheme (CIS) - no change will be made to the rate of deduction for payments to subcontractors in Wales.
UK Life policies - The special 'policyholder' rate of corporation tax that is applied to life assurance companies and friendly societies on returns ultimately attributable to savers and investors is set at the same level as the UK basic rate of tax. Since these companies do not fall within the definition of a "Welsh taxpayer", this rate of corporation tax will not be affected by the Welsh rates.
As a deficiency relief tax reduction is determined using the amount of any deficiency to reduce the amount of income liable at the higher rate, the relevant legislation will be amended to include income liable at the Welsh higher rate, factoring in the possibility that the Welsh higher rate could be higher or lower than the UK higher rate.
Real estate investment trusts (REITs) and Property authorised investment funds (PAIFs) - REITs and PAIFs will continue to deduct at the UK basic rate from distributions.
As for Scottish tax, Welsh taxpayers will pay tax at the Welsh rates on non-savings income from PAIFs and REITs.
Transferable tax allowance for married couples and civil partners - legislation will be amended to ensure those liable to the Welsh basic rate continue to be eligible to the transferable tax allowance, and the allowance will be by reference to the Welsh basic rate.
Source: HMRC consultation 'Clarifying the scope of the Welsh rates of Income Tax – technical note and draft legislation – 23 October 2018.'
Probate fee increases return to the agenda
(AF1, JO2, RO3)
In February 2016, the Ministry of Justice (MoJ) published a consultation paper proposing to reform probate fees, replacing the current flat fee approach with a set of bands which went up to a £20,000 fee for estates valued at over £2m. The consultation provoked an outcry with 810 out of 831 respondents disagreeing with the proposed fee scale.
The Government nevertheless displayed the ultimate tin ear and announced in March 2017 that it would go ahead with the new scales from May of that year. The news prompted questions from the Parliamentary Joint Committee on Statutory Instruments about the legality of increases that were a de facto tax and could have required more than a mere statutory instrument to be put into effect. The Prime Minister then called her ill-fated election and with that the plans were abandoned for lack of Parliamentary time (not to mention electoral disapproval).
Now, a week after a Budget which made no mention of inheritance tax reform, the Parliamentary Under Secretary of State for Justice has issued a written statement on
increases to probate fees in England & Wales. The statement did not spell out the scale, which is to be found in a draft statutory instrument. The new and old proposed scales are detailed below:
| | | |
| --- | --- | --- |
| Value of estate | Old Proposal | New |
| Up £50,000 | Nil | Nil |
| £50,001 - £300,000 | £300 | £250 |
| £300,001 - £500,000 | £1,000 | £750 |
| £500,001 - £1,000,000 | £4,000 | £2,500 |
| £1,000,001 - £1,600,000 | £8,000 | £4,000 |
| £1,600,001 - £2,000,000 | £12,000 | £5,000 |
| Over £2,000,000 | £20,000 | £6,000 |

The new scale is set to come into force 21 days after the Statutory Instrument becomes law and is expected to generate an additional £145m for the MoJ in 2019/20, about half of what the earlier proposals would have produced. As the current probate fees (£215 for an individual, £155 for solicitors) currently cover the MoJ's costs, the argument about whether the increases constitute a tax could reappear.
The MoJ's explanatory memorandum emphasises the overall cost of the Court Service as a justification for the increases, implicitly accepting that its action is a revenue-raising measure.  
The ministerial statement has already provoked press criticism. In the current fractious political conditions, the Government may face challenges in pushing the increases through. The new banding offers the largest saving over the previous proposals to estates over £500,000, which could be a hard sell.
Source: Written statement to Parliament by the Under Secretary of State for Justice on 5 November 2018
Taxing gains made by Non-UK residents on UK immovable property – an update
(AF4, FA7, LP2, RO2)
The Government has now confirmed that from April 2019 non-UK residents will be subject to tax on disposals of all UK property. Currently non-UK residents are only liable to tax on disposals of UK residential property.
All non-UK resident persons' gains on direct disposals of UK land will be chargeable. The rate of tax will be the same as for UK residents (ie. the normal CGT rates will apply to individuals and the corporation tax rate will apply to companies).
Indirect disposals of UK land by non-UK residents will also be chargeable. This applies when a non-UK resident investor disposes of an interest in 'property rich' entities (such as companies, partnerships and property unit trusts) and, at the date of disposal, or at any point in the two years prior to that date, the non-UK resident holds, or has held, a 25% or greater interest in the entity.
A 'property rich' entity is one that derives 75% or more of its gross asset value from UK property. However, a trading exemption applies to avoid real-estate rich trades, such as retail and hotel chains and utility companies, falling within the scope of a property rich entity.
The Government will counter tax advantages where arrangements have been entered into to avoid, or benefit from, these rules.
In response to a number of concerns raised in relation to the impact on funds with UK real estate investments, the Government said, in July, that it was exploring, with relevant stakeholder groups, how best to produce a set of special rules that address both:
The impact on exempt investors in offshore funds, where the rules as proposed could cause them to be taxed at the level of subsidiary holdings; and
The potential for economic double taxation, due amongst other things to the indirect disposal rules, when disposals are made at a lower tier of a fund structure and the proceeds passed up to investors.
The Government has now said that the legislation originally published on 6 July will be updated to cover the new rules as they will apply to collective investment vehicles.
These funds, other than partnerships, will be treated for the purposes of capital gains as if they were companies and so chargeable to corporation tax.
An investment in such a fund be treated as if the interests of the investors were shares in a company, so that where the fund is UK property rich, a disposal of an interest in it by a non-UK resident investor will be chargeable to UK tax under these new provisions.
Other rules specific to funds are detailed in a Technical Note published on 7 November 2018, including the transparency and exemption elections.
Where a UK Real Estate Investment Trust is UK property rich, its gains on disposals of UK property rich entities will be exempted under the same mechanism as disposals of property under the existing legislation.
Source: Budget 29/10/18
INVESTMENT PLANNING
A good set of government borrowing figures
(AF4, FA7, LP2, RO2)
The Office for National Statistics' (ONS) original estimate for August borrowing was £6.8bn, £2.4bn up on 2017, £3.4bn above market expectations and the highest August number since 2016. For September the ONS revised that August number down by £1.1.bn and, for good measure, cut another £0.9bn from borrowing numbers for earlier in 2018/19. The revisions largely stem from increased estimates for income tax and tobacco duty receipts.
For September, borrowing came in at £4.1bn, £0.8bn less than in 2017 and the lowest September figure since 2007. The major contributor was a year-on-year fall of £0.6bn in local authority borrowing. PAYE income tax has grown at 5.8% over the first six months of 2018/19, more than double the Office for Budget Responsibility's (OBR) March full-year forecast while VAT receipts grew by 6.5 %, again well ahead of OBR full-year projections. In its defence the OBR says the faster growth "…may in part reflect stronger growth in employment and buoyant retail sales in the second and third quarters of 2018".
Viewed on a fiscal year-to-date basis – September equates to the halfway mark – the total borrowing so far amounts to £19.9bn, £10.7bn (35%) lower than in 2017/18. If – and it is still a major if – the second half of the year follows a similar pattern to 2017/18, the Chancellor could end 2018/19 with borrowing of around £26bn. That would be nearly £14bn below the latest (revised down again) estimate for the 2017/18 outturn and £11bn less than the OBR projected at the time of the Spring Statement. 
While this might look like useful wriggle room, the need to fund the Prime Minister's £20bn NHS pledge has, to put it mildly, complicated Mr Hammond's calculations.
The OBR acknowledges that its Budget Economic and Financial Outlook forecast "…will to a large extent be based on [September's] data". It will be interesting to see how much credence the OBR puts on the good news so far continuing.
Source:  ONS report on public sector finances, UK: September 2018
(AF4, FA7, LP2, RO2)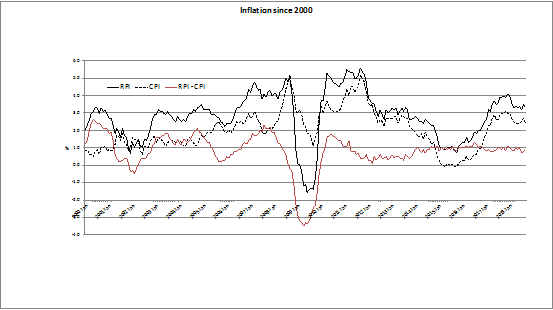 National Savings & Investments (NS&I) withdrew index-linked certificates for new investments just over seven years ago, but they have continued to be available for reinvestment of maturing certificates.
The certificates' terms have worsened several times since their September 2011 withdrawal date and since March 2016 have been RPI + 0.01% for both two and five year terms. That is still far superior to what the index-linked gilts market presently offers, which is around RPI – 2%.
It is therefore perhaps not surprising that NS&I has announced that from 1 May 2019 the basis for indexation will change from RPI to CPI for all new (reinvestment) certificates. NS&I says that the move "recognises the reduced use of RPI by successive governments and is in line with NS&I's need to balance the interests of its savers, the cost to the taxpayer, and the stability of the broader financial services sector".
The "cost to the taxpayer" is probably the main reason as the switch will save £610m over the next five years, according to NS&I. The current "wedge" between RPI and CPI is 0.9% (3.3% v 2.4%) and, since 2000, has averaged 0.8%. However, as the graph shows this figure is distorted by the 2008/09 period when the RPI sank to 3.5% below the CPI because of the sharp drop in mortgage interest rates (a component of the RPI, but not the CPI). The Office for Budgetary Responsibility has a long-term assumption of a 1% wedge.
Index-linked gilts remain based on the RPI and the government still uses the index elsewhere where to do so benefits the Treasury, eg student loan interest and rail fare rises. Interestingly, the prospectuses for over 95% of £432bn index-linked gilts in issue allow the Treasury to change the index if the RPI were abolished. Unfortunately, abolition would need a change in primary legislation, which requires the ONS to continue publishing the RPI, despite its flawed nature. The last index-linked bond does not mature until 2068.
Last week the permanent secretary to the Treasury told MPs that his department would 'soon' make an announcement about the RPI, which might indicate a revision of the current faulty calculation basis. Whether the government would compensate index-linked gilt owners for such a change is an open question.
NS&I's move has been on the horizon for a while, given the cost of retaining the flawed RPI as a link. However, the timing of the announcement, on the Friday of the weekend before a Monday Budget did look suspiciously like an attempt at burying bad news.
Source: NS&I confirm Index-linked Savings Certificates to move from RPI to CPI – statement issued 29 October 2018
(AF4, FA7, LP2, RO2)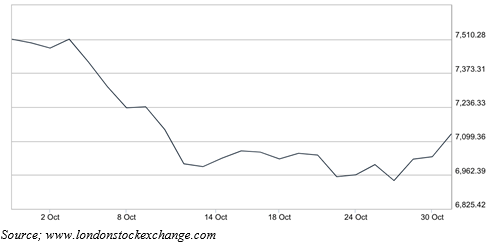 The graph above tells the story of October for the FTSE 100 Index. The major damage occurred in the second week of the month, when the Index fell by 4.4%.
A rally in the last few days clawed back some of the losses, but over the month the FTSE 100 Index was down 5.09%. That took it back to the level last seen in early April this year.
Looking further back, the 7,000 level, which the Index dropped through initially on 11 October, was first breached in the upward direction on 20 March 2015. Over the month the Index moved more than 1% in 8 of the 21 trading days.
Across the Atlantic things were more frenetic: 10 of the trading days saw moves greater than 1%, with two days when the S&P 500 Index dropped over 3%. On 29 October the Index recorded the second biggest intra-day range (over 103 points) since 1990. Over the month the S&P 500 Index declined by 6.94%, although it was still 1.4% above the level at which it started 2018.
So just how bad was October? Once again, we have reproduced a variant of our usually quarterly summary, to gain a perspective on a volatile month: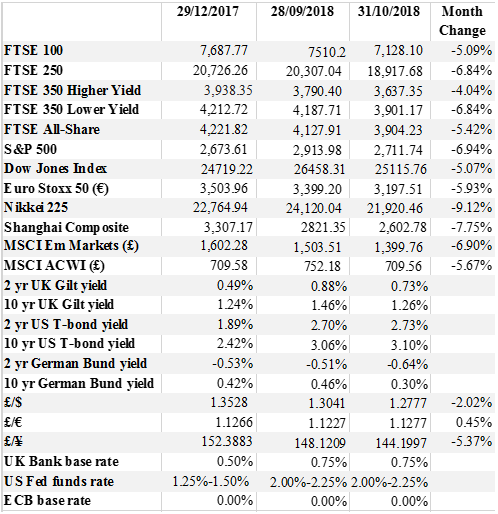 A few points to note from this table are:

The falls were widespread throughout developed and emerging markets. As the joke goes, the one thing that increases in a downturn is correlation…
The MSCI Emerging Markets Index, whose constituents have been suffering from rising US interest rates and USA trade war rumblings, was dragged down by China's poor market performance, which prompted government intervention.
As the end of 2017 indices indicate, equity markets, with the exception of the USA, are down for the year to date. It is only the USA performance which is supporting the global indices.
US Treasury Bond yields, which had been rising since the start of the year, turned down in the second half of the month. However, their earlier rises were seen by many as one of the main reasons for October's equity market falls.
Sources: FT, FTSE, MSCI, LSE, STOXX, Bank of England, Federal Reserve, European Central Bank
(AF4, FA7, LP2, RO2)
Last month's Budget contained a few items on NS&I buried amongst the many documents:
NS&I's Net Financing target – the net amount it needs to raise – has been revised up to £9bn ±£3bn for 2018/19, against an original £6bn ±£3bn. To the end of September, NS&I had raised £5.6bn.
A Net Financing target for 2019/20 was not announced for NS&I, although the Red Book did show an overall gross financing requirement of £132.7bn for the next fiscal year, £39.2bn up on 2018/19. That substantial increase is largely driven by gilt redemptions of £99.1bn in 2019/20.
The minimum investment for Premium Bonds will be cut from £100 to £25 from "the end of March 2019".
NS&I is targeting gifts of Premium Bonds to children – last August it simplified the way grandparents can invest for grandchildren. It has now said this gifting facility will be extended beyond parents and grandparents to anyone wanting to make a gift of Premium Bonds to someone under age 16. The date of this change will be announced "in due course".
The fact that NS&I is ahead of target on fund-raising so far this year suggests it is not going to make its rates more competitive – witness the recent announcement on the move to CPI for index-linked certificates.
Source: NS&I Press Release 29/10/2018
PENSIONS
(AF3, FA2, JO5, RO4, RO8)
In January of this year we looked at the impact of the 2017 Budget when combined with the increase in auto-enrolment contributions due from April 2018. The time has come to revisit the calculations, based on the 2018 Budget and the auto-enrolment (AE) contribution increase from 5% to 8% of band earnings next April.
The number-crunching is based on the assumption that band earnings will again be fixed between the lower and upper earnings limits, which must await DWP confirmation (and a statutory instrument). As before, we assume minimum employer contributions (2% in 2018/19, rising to 3% in 2019/20) for a non-Scottish employee and look at three income levels:
£27,000 a year, approximately equal to the Office for National Statistics (ONS) Average Weekly Earnings figure;
£50,000, equal to next tax year's higher rate threshold; and
£60,000, comfortably above the new higher rate threshold.
Employee earning £27,000 a year
| | | |
| --- | --- | --- |
|   | 2018/19 | 2019/20 |
| Basic rate | (£27,000 - £11,850) @ 20% =             £3,030.00 | (£27,000 - £12,500) @ 20% =             £2,900.00 |
| NICs 12% | (£27,000 - £8,424) @ 12% = £2,229.12 | (£27,000 - £8,632) @ 12% = £2,204.16 |
| AE (net of 20% relief) | (£27,000 - £6,032) @ 2.4% =  £503.23 | (£27,000 - £6,136) @ 4.0% =  £834.56 |
| Total deductions | £5,762.35 | £5,938.72 |
| Change in net pay |   | -£176.37  (-0.83%) |

Employee earning £50,000 a year
| | | |
| --- | --- | --- |
|   | 2018/19 | 2019/20 |
| Basic rate | (£50,000 - £11,850) @ 20% =             £6,900.00 | (£50,000 - £12,500) @ 20% =             £7,500.00 |
| Higher rate | (£50,000 – £46,350) @ 40% = £1,460.00 | NIL |
| NICs 12% | (£46,350 - £8,424) @ 12% = £4,551.12 | (£50,000 - £8,632) @ 12% = £4,964.16 |
| NICs 2% | (£50,000 – £46,350) @ 2% = £73.00 | NIL |
| AE (net of tax relief) | (£46,350 - £6,032) @ 1.8%  = £725.72 | (£50,000 - £6,136) @ 4.0%  = £1,754.56 |
| Total deductions | £13,709.84 | £14,218.72 |
| Change in net pay |   | - £508.88  (-1.40%) |
Employee earning £60,000 a year
| | | |
| --- | --- | --- |
|   | 2018/19 | 2019/20 |
| Basic rate | (£46,350 - £11,850) @ 20% =             £6,900.00 | (£50,000 - £12,500) @ 20% =             £7,500.00 |
| Higher rate | (£60,000 – £46,350) @ 40% = £5,460.00 | (£60,000 - £50,000) @ 40% =  £4,000.00 |
| NICs 12% | (£46,350 - £8,424) @ 12% = £4,551.12 | (£50,000 - £8,632) @ 12% = £4,964.16 |
| NICs 2% | (£60,000 – £46,350) @ 2% = £273.00 | (£60,000 - £50,000) @ 2% =  £200.00 |
| AE (net of 40% tax relief) | (£46,350 - £6,032) @ 1.8%  = £725.72 | (£50,000 - £6,132) @ 3.0%  = £1,315.92 |
| Total deductions | £17,909.84 | £17,980.08 |
| Change in net pay |   | - £70.24  (-0.17%) |
The individual earning £50,000 suffers the biggest loss in both cash and percentage of net earnings terms because:
Their gross contribution rate rises by 66%;
They lose higher rate tax relief on all their pension contributions because they cease (just) to be higher rate taxpayers;
They are caught by the full increase in the AE contribution upper limit of £3,650; and
They suffer the same £3,650 increase in the upper earnings limit for full rate (12%) National Insurance contributions (NICs).
Those further up the earnings scale do not suffer as much because of the benefit of retained higher rate relief on contributions.
(AF3, FA2, JO5, RO4, RO8)
Based on the Annual CPI to September 2018 of 2.4% the Lifetime Allowance for 2019-20 will be £1,055,000.
This figure was confirmed in the Budget 2018 documentation
(AF3, FA2, JO5, RO4, RO8)
In the case of Mrs Staveley deceased, Mrs Staveley owned a section 32 pension plan which, in October 2006, she transferred into an AXA personal pension plan.
Unfortunately, the transfer took place at a time when Mrs Staveley knew she was in serious ill health and she died two months later.
HMRC's view is that during a transfer process, the right to decide who receives death benefits comes back into the estate and that is what is being given away. In good health, the death benefits have no value, so there is nothing to give away in terms of value for inheritance tax (IHT) purposes. However, in serious ill health, there could be a transfer of value for IHT purposes, depending on the intent of the transfer and the member's awareness of their ill health.
In this case HMRC claimed IHT on the basis that there had been:
a transfer of value which reduced Mrs Staveley's taxable estate at the time of transfer - section 3(1) IHT Act 1984; and


there had been an omission to exercise a right with the intention of deliberately increasing the estate of another which led to a lifetime transfer of value immediately before death - section 3(3) IHT Act 1984.

This is on the basis that Mrs Staveley could have taken retirement benefits but chose not to. (Note that since Finance Act 2011, the omission to exercise a right rule is no longer relevant to registered pension plans.)
The beneficiaries under Mrs Staveley's Will were her two sons. They were also the nominated beneficiaries who received the death benefits under the AXA pension plan on her death.
The case was unusual in its facts because it was clear that Mrs Staveley's prime reason for making the transfer was to prevent her ex-husband directly or indirectly getting any benefit at all from her pension plans on her death. She understood that a surplus in the pension fund under her section 32 policy could potentially pass back to the company she had previously built up with her former husband, allowing him to benefit from it.
HMRC lost on the first issue at both the First-tier Tribunal (FTT) and the Upper-tier Tax Tribunal (UTT), and on the second issue at the UTT. However, all three Court of Appeal judges, Lord Justice Newey, Lady Arden of Heswall and Mr Justice Birss, have now decided in favour of HMRC on both issues.
The two issues:
1. Transfer of value
HMRCs general stance in these cases is that a pension transfer will not generally give rise to a transfer of value because the value of the gifted (death) benefits is negligible. But, if it is made at a time when the planholder is in serious ill health and knows that, and dies within two years, then a lifetime transfer of value can arise.
The estate claimed that no transfer of value should arise because there was "no intention to confer a gratuitous benefit" - section 10 IHT Act 1984.
Section 10 gives exemption for a transfer that was not intended to confer a gratuitous benefit. The argument here was that the transfer was made only to prevent Mrs Staveley's ex-husband from benefitting from her pension plan. This was indirectly possibly under the section 32 plan but not possible under the personal pension plan.
The First-tier Tribunal (FTT) and the Upper-tier Tax Tribunal (UTT) took different interpretations of the meaning of law on the section 10 exemption. Nevertheless, they both agreed that no transfer of value should arise, because Mrs Staveley had no intention to confer a gratuitous benefit when she made the transfer. Her sole intention in making the transfer was to avoid her husband benefitting from the pension proceeds on her death.
In summary the UTT said:
"Agreeing with the FTT, therefore, we find that it has been shown that the disposition by the transfer of funds to the AXA PPP was not intended, and was not made in a transaction intended to confer gratuitous benefit on any person, and that it was made in a transaction at arm's length between persons not connected with each other. The transfer was accordingly, by virtue of s 10 IHTA, not a transfer of value for the purpose of s 3 IHTA 1984."
Both the FTT and the UTT concluded that the transfer and the omission were unconnected, and not part of any scheme to confer benefit on Mrs Staveley's two sons, and so the transfer was not an associated operation with the omission.
Crucially, however, the Court of Appeal judges took a different view of the application of the associated operations rules to this case and decided that the "associated operations" provision entitled HMRC to succeed on Issue 1.
Lord Justice Newey argued, and Mr Justice Birss agreed, that the failure to take pension benefits and the transfer to the PPP was itself part of a scheme intended to confer gratuitous benefits. As such the section 10 IHT exemption couldn't apply. Here's the reasons given:
i) The FTT found as a fact that "conferring on her sons a greater benefit than otherwise was one of the factors in her decision not to access her pension fund" (paragraph 149 of the decision). That, moreover, was her intention at the time of the transfer to the PPP. The FTT said in paragraph 167 of its decision:
"As at 30 October 2006, when [Mrs Staveley] applied to transfer the s 32 policy to the PPP, her intention in respect of the omission, we must presume, would have been the same as at June 2006 and that intention was … in part to confer gratuitous benefit".
ii) Mrs Staveley's failure to take pension benefits must thus have been both an "operation" within the meaning of section 268 IHTA (since "operation" "includes an omission") and one "intended … to confer a gratuitous benefit";
iii) The failure to take pension benefits and the transfer to the PPP will, on the face of it, have been "operations which affect the same property" within the meaning of section 268(1);
iv) The fact that the transfer to the PPP was not intended of itself to confer a gratuitous benefit (because Mrs Staveley was not intending to improve her sons' position by it) cannot without more prevent it from having been a relevant "associated operation". There is, I think, no question of each individual operation and/or transaction in "associated operations" having to have been intended itself to confer a gratuitous benefit.
As Lord Jauncey indicated in Macpherson, an operation need not "necessarily per se confer a benefit" but may "form part of and contribute to a scheme which does confer such a benefit". It is good enough, therefore, that a scheme of which an operation forms part is intended to confer a gratuitous benefit. As the FTT noted, "the combination of operations must have been intended to confer a gratuitous benefit";
v) The FTT was, in my view, mistaken in considering that there was "no intent linking [the omission to take pension benefits and the transfer to the PPP]". It follows from the FTT's findings, as it seems to me, that the omission and transfer were both motivated by a desire on Mrs Staveley's part that her sons should have the death benefits that would be payable if she did not draw a pension in her lifetime.
During the currency of the section 32 policy, Mrs Staveley envisaged that her sons would receive such benefits via her will. When she withdrew the funds from the section 32 policy, she put in place a different mechanism. To ensure that the benefits would go to her sons, she stated in her application for the PPP that she wished death benefits to be paid to them.
While, therefore, Mrs Staveley did not see the transfer to the PPP as improving her sons' position and she made the transfer out of a desire to sever ties with Morayford [the company she had built up with her former husband], the only reasonable conclusion, as it seems to me, is that she also intended the PPP to be a means by which the death benefits could be passed to her sons;
vi) This conclusion is, I think, consistent with the views expressed by Lady Arden in paragraph 36 above. As she explains, it is implicit in its decision (especially at paragraphs 16 and 50) that the FTT (unsurprisingly) considered that Mrs Staveley intended her sons to benefit from the PPP;
vii) It cannot possibly matter that Mrs Staveley's death was not a "transaction" or an "operation" but rather the point at which the right to draw lifetime benefits was lost;
viii) In all the circumstances, the failure to take pension benefits and the transfer to the PPP are, to my mind, each properly to be seen as "form[ing] part of and contribut[ing] to a scheme" intended to confer gratuitous benefits."
Lady Arden, also decided for HMRC on Issue 1, both in relation to the question of whether a gratuitous benefit was conferred and in relation to the question of whether there was an associated operation forming an integral part of the transfer in the shape of the omission to draw the income under the PPP. However, her argument on whether a gratuitous benefit was conferred centred around:
the improvement in the rights which the sons enjoyed following the transfer to the PPP compared to those they had previously had as residuary beneficiaries under Mrs Staveley's Will;
and the burden of proof, taking the view that the FTT "did not … find that [Mrs Staveley] did not intend to give [her sons] any more than was in her Will."
2. Omission to exercise a right
This is the IHT on the residual fund available to the pension scheme member that is not deemed to be part of the transfer of value that takes place on the pension transfer.
On the question of an omission to exercise a right, although HMRC had previously won the case in front of the FTT, the UTT overturned this decision. 
For IHT to apply the omission must be deliberate and lead to an increase in the estate of another person – those persons being Mrs Staveley's sons in this case.
The UTT said:
"In our judgment, the proximate cause of the increase in the estates of the two sons was the exercise of the discretion of the Scheme Administrator. Their estates were increased "by" the exercise of that discretion, and not by the omission of Mrs Staveley to exercise her right to take lifetime benefits.
There would have been no increase in the value of the son's estates but for the omission to take those benefits, but the test is not a "but for" test and it was not the omission which had the effect of increasing the sons' estates; it was the exercise of the Scheme Administrator's discretion.
It follows, therefore, that the conditions of s 3(3) are not satisfied with respect to Mrs Staveley's omission, and that omission cannot be treated as a disposition or as a transfer of value within s 3(1)."
However, dismissing the UTT argument, all three judges agreed both that the value of Mrs Staveley's estate was diminished, and the sons' estates were increased, by the omission by Mrs Staveley to take the income benefits, following the transfer to the PPP and up to the last moment before her death. Further, the respondents no longer disputed that Mrs Staveley's omission to exercise pension rights was deliberate. So, HMRC succeeded on Issue 2 as well.
To a degree this part of the judgement is academic because provisions included in the Finance Act 2011 mean that the section 3(3) omission to exercise a right rule no longer applies to registered pension plans. It is only relevant to deaths that occur before 6 April 2011.
This case is of considerable importance in determining the future IHT treatment of pension scheme transfers, in that it appears that pension transfers made by people in seriously ill health could now be considered a chargeable lifetime transfer for IHT purposes, whatever the intent of the transfer.
There are a number of situations where pensions can be subject to IHT, notably: contributions, assignments of the death benefits and transfers between schemes.
If any of those occur when the death benefits have a value - usually when the member is in serious ill health - then there can be an IHT issue if the member is aware that they're in serious ill health, and their death occurs within two years. And bear in mind that the two-year rule is just an arbitrary cut-off. Deaths after more than two years can also be looked at.
Key points to take out of this Court of Appeal decision are:
Although Mrs Staveley's prime intention of transferring her pension rights was to prevent her ex-husband benefitting from the pension plan, this was not the sole intention. The subsidiary intention of benefitting her sons was sufficient to trigger a section 3(1) disposition.
Currently HMRC take the view that a transfer of value will normally only occur if the transferor died within two years and he/she was in serious ill health when he/she made the transfer. There are three implications to this:
If the individual dies within two years of the transfer, the transfer is notifiable on IHT 409. If such an individual was in serious ill health at the time, a transfer of value can arise under section 3(1). Based on the Court of Appeal judgement, it would seem that it will be impossible to make out a section 10 defence.
In calculating the transfer of value, the deceased member's pension rights before the transfer needs to be taken into account. For people who transfer at age 55 or over into a flexible pension plan, the value of these rights can be significant and could considerably reduce the transfer of value.
Indeed, for people who had a (provable) expectation of life of more than three years, the next transfer of value can be significantly reduced as a result of actuarial calculations.
It's vital that anyone involved in advising on pension planning with a client in serious ill health fully documents all the reasons for any action taken. It's likely the legal personal representatives may well need strong evidence should they find themselves having to argue with HMRC, if they try to contend an IHT charge is payable.
This document is believed to be accurate but is not intended as a basis of knowledge upon which advice can be given. Neither the author (personal or corporate), the CII group, local institute or Society, or any of the officers or employees of those organisations accept any responsibility for any loss occasioned to any person acting or refraining from action as a result of the data or opinions included in this material. Opinions expressed are those of the author or authors and not necessarily those of the CII group, local institutes, or Societies.