My PFS Technical news - 12/06/18
News
Personal Finance Society news update from 24th May to 6th June 2018.
Quick Links
Taxation and Trusts
Investment planning
Pensions
TAXATION AND TRUSTS
New fuel rates for company cars
(AF1, RO3)
HMRC has announced the new fuel rates for company cars applicable to all journeys from 1 June 2018 until further notice.
The rates per mile are based on fuel prices and adjusted miles per gallon figures.
For one month from the date of the change, employers may use either the previous or the latest rates. They may make or require supplementary payments, but are under no obligation to do either. Hybrid cars are treated as either petrol or diesel cars for this purpose.
Rates from 1 June 2018:
| | | | | |
| --- | --- | --- | --- | --- |
| Engine size | Petrol | LPG | Engine size | Diesel |
| 1,400 cc or less | 11p | 7p | 1,600 or less | 10p |
| 1,401cc to 2,000cc | 14p | 9p | 1,601cc to 2,000cc | 11p |
| Over 2,000cc | 22p | 14p | Over 2,000cc | 13p |
Previous rates from 1 March 2018:
| | | | | |
| --- | --- | --- | --- | --- |
| Engine size | Petrol | LPG | Engine size | Diesel |
| 1,400 cc or less | 11p | 7p | 1,600 or less | 9p |
| 1,401cc to 2,000cc | 14p | 8p | 1,601cc to 2,000cc | 11p |
| Over 2,000cc | 22p | 13p | Over 2,000cc | 13p |
For earlier rates please see our bulletin of 1 March 2018.
Source: HMRC Guidance: Advisory Fuel Rates – dated 21 May 2018.
Universal credit for the self-employed
(AF1, RO3)
According to the latest Office for National Statistics (ONS) figures around 4.8 million people are self-employed in the UK. This represents 15% of the workforce.

The Office for Budget Responsibility (OBR) expects around 700,000 self-employed claimants will be supported by Universal Credit once it is fully rolled out in 2022.

The main changes for the self-employed are:
the introduction of a Minimum Income Floor – an assumed level of income used to calculate Universal Credit entitlements;
a 'Start up Period' for newly self-employed claimants of one year, during which the Minimum Income Floor does not apply; and
an increased role for Jobcentre Plus in determining whether claimants are gainfully self-employed for Universal Credit purposes and supporting them during their first year in business. (A claimant is gainfully self-employed if self-employment is their main employment and if it is regular, organised and carried on in expectation of profit). Jobcentre Plus is introducing specially-trained self-employment specialist Work Coaches to better assess and support claimants.
Minimum Income Floor
The Minimum Income Floor (MIF) is intended to both incentivise business owners to increase their earnings and develop their business, and ensure Government doesn't 'subsidise unsustainable low-paid self-employment indefinitely'.

The level is based on what the DWP would expect an employed person in similar circumstances to earn. So, for most claimants, the MIF is set at the equivalent of 35 hours per week at National Living Wage (£7.83 per hour for people aged 25 or over, as of April 2018), ie. approximately £1,190 per month, minus a notional deduction for tax and National Insurance. Lower MIFs apply for people in some circumstances, eg claimants with young children.

Based on the current tax credit caseload, it is expected that 400,000 of the estimated 700,000 self-employed people that Universal Credit will support when fully rolled out will have average monthly earnings that are below the MIF and that this will deliver a saving to the DWP of over £1 billion a year compared to the legacy system.

The Commons Work and Pensions Select Committee has called for a number of improvements in its report on Universal Credit for the self-employed.

A more flexible approach to reporting income
Universal Credit awards are calculated monthly, mirroring how most people in employment are paid. However, as consistent monthly income is rare amongst the self-employed, the committee has called for the DWP to extend the flexibility already in place under Universal Credit (such as in the Surplus Earnings Rules), to allow reporting periods of up to one year for claimants who can demonstrate irregular payment patterns.

It suggests that new specialist self-employment Work Coaches in Jobcentre Plus should be tasked with determining eligibility on a case-by-case basis.

Currently, self-employed claimants are treated the same as employees when they are doing well, but differently when they are doing badly. Over a period of several months this can lead to a self-employed claimant and an employee with the same income ending up with significantly different Universal Credit entitlements.

This is because in bad months, a self-employed claimant's Universal Credit is calculated as though they have earned the MIF. They receive less Universal Credit as a result. This is in contrast with employees, whose Universal Credit award is based on what they have actually earned. However, in a good month, where the self-employed claimant's income exceeds the MIF, their Universal Credit is reduced or lost entirely. This is the same as for employees.

This means that self-employed people can miss out on important support not because their income is inadequate, but because it is volatile, which is a normal feature of self-employment.

The Committee also calls for Work Coaches to discuss with claimants at the outset of their claim the relationship between tax and Universal Credit, and encourage them to refer to specialist advice on tax if necessary. And it goes as far as suggesting an exploration of how data already submitted to DWP could be used in pre-populating the individual's tax self-assessment forms.

Extending the 'Start-up Period'
Self-employed claimants are exempt from the MIF in their first year of business. The Committee has called for this start-up period to be extended to three years.

In the Committee's view successful businesses often take longer than a year to bring in net earnings even close to the MIF, so a one year start-up period presents an insurmountable obstacle to getting a business off the ground and getting off benefits.
Average monthly earnings from self-employment by duration in self-employment. Data from 2011–2015: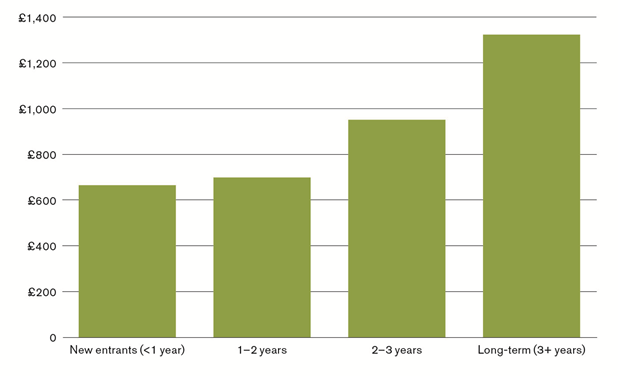 Source: RSA analysis of Understanding Society survey (waves 3–6)
The Committee suggests that any extension should be accompanied by a tapered introduction of the MIF beginning at the end of year one and rising to the full amount at the end of the extended start-up period.

It also suggests that any extension is discretionary, the decision being made by Work Coaches based on evidence of business progression, such as achieving expected increases in earnings each year. It remains to be seen whether this is feasible. Having to give discretionary decisions over extensions could prove to be too much of a burden for Work Coaches and a discretionary approach may create unnecessary uncertainty and confusion for claimants.

The Committee says the DWP must ensure it has enough Work Coaches with specialist self-employment expertise to carry out this role effectively. And that it should commit to providing access to specialist mentors with direct experience in a claimant's area of work for those assessed as having potentially viable businesses. It think that this will help give claimants the best possible chance of making a success of their business, of consistently exceeding the MIF, and of moving off benefits entirely.

Earlier analysis of how the self-employed respond to Universal Credit
The Committee also calls on the DWP to produce ongoing evaluations of the effect of the MIF and the start-up period on self-employed Universal Credit claimants, so that it can learn from any issues well ahead of its currently planned publication date for detailed analysis of Autumn 2019 at the earliest.

Pension contributions
One issue the Committee's report didn't tackle was pension contributions. The Low Incomes Tax Reform Group (LITRG) has been calling for the Government to re-define the MIF so as to allow for the deduction of self-employed pension contributions.

Currently, both employed and self-employed claimants can deduct certain pension contributions in arriving at the net income figure on which their Universal Credit is calculated. However, whilst there is no limit on the amount of pension contributions that can be deducted by employed claimants, for self-employed claimants if such contributions take their net income below the MIF level, they will be treated as if their income was equal to the MIF. This means the self-employed don't receive the same recognition for pension contributions as their employed counterparts.
Sources:
Parliamentary business: The Commons Work and Pensions Select Committee report on Universal Credit for the self-employed - dated 10 May 2018;
Office for National Statistics (ONS) article: Trends in self-employment in the UK – dated 7 February 2018;
LITRG Press release: Campaigners back MPs' recommendations for changes to universal credit for the self-employed – dated 10 May 2018;
The Office for Budget Responsibility (OBR): Welfare trends report – dated January 2018.
Failing to prevent criminal facilitation of tax evasion
(AF1, RO3)
HMRC has updated its guidance covering processes and procedures that a business can put in place to limit the risk of its representatives criminally facilitating tax evasion – the corporate offence of criminally facilitating tax evasion. The guidance is based around six principles:
risk assessment - the relevant body assesses the nature and extent of its exposure to the risk of those who act in the capacity of a person associated with it criminally facilitating tax evasion offences and the risk assessment is documented and kept under review;
proportionality of procedures - reasonable procedures will be proportionate to the risk the relevant body faces. This will depend on the nature, scale and complexity of the relevant body's activities, taking account of the level of control and supervision the organisation is able to exercise over a particular person acting on its behalf, and the proximity of the person to the relevant body;
top level commitment - the top-level management of a relevant body should be committed to preventing persons acting in the capacity of a person associated with it from engaging in criminal facilitation of tax evasion. They should foster a culture within the relevant body in which activity intended to facilitate tax evasion is never acceptable;
due diligence - the organisation applies due diligence procedures, taking an appropriate and risk-based approach, in respect of persons who perform or will perform services on behalf of the organisation, in order to mitigate identified risks;
communication and training - the organisation seeks to ensure that its prevention policies and procedures are communicated, embedded and understood throughout the organisation, through internal and external communication, including training. This is proportionate to the risk to which the organisation assesses that it is exposed; and
monitoring and review - the organisation monitors and reviews its preventative procedures and makes improvements where necessary.
The corporate offence of criminally facilitating tax evasion
There are two offences, the first applying to the facilitation of UK tax evasion, and the second applying to the facilitation of foreign tax evasion, both introduced on 30 September 2017 by the Criminal Finances Act 2017.

These offences didn't radically alter what is criminal. They focus on who is held accountable for such acts, by looking at the failure to prevent the crimes of those who act for or on behalf of a corporation, rather than trying to attribute criminal acts to that corporation.

Providers and other relevant bodies are not held to account for the crimes of their customers and they are not required to prevent their customers from committing tax evasion. Also, the legislation isn't designed to capture the misuse of legitimate products and services that are provided to customers in good faith, where the individual adviser and relevant body didn't know that its products were intended to be used for tax evasion purposes.

The Government accepts if a relevant body can demonstrate that it has put in place a system of reasonable procedures that identifies and mitigates its tax evasion facilitation risks, then prosecution is unlikely as it will be able to raise a defence.

There are three stages that apply to both the domestic and foreign tax evasion facilitation offences, plus additional requirements for the foreign offence:
Stage one: the criminal tax evasion by a taxpayer (either an individual or a legal entity) under existing law;
Stage two: the criminal facilitation of the tax evasion by an associated person of the relevant body acting in that capacity, ie. an employee, agent or other person who performs services for or on behalf of the relevant body;
Stage three: the relevant body failed to prevent its representative from committing the criminal facilitation act.
Where the relevant body has put in place reasonable prevention procedures to prevent its associated persons from committing tax evasion facilitation offences (stage two), or where it is unreasonable to expect such procedures, it will have a defence. The guidance provides suggestions of the types of processes and procedures that can be put in place to prevent associated persons from criminally facilitating tax evasion.

A relevant body can only be an incorporated body (eg a company) or a partnership. Only a relevant body can commit these new offences; they can't be committed by natural (as opposed to legal) persons. The offences are committed where the facilitation offences are committed by someone acting in the capacity of an associated person. The associated person can be an individual or an incorporated body.

It was already a crime to deliberately and dishonestly facilitate the commission of revenue fraud by another person, and for a person to be knowingly concerned in, or take steps with a view to, another person fraudulently evading tax. And it is also a crime to aid and abet another person in committing a revenue fraud. The fact that the crime is committed during the course of their work is no defence.

For the corporate offence to be committed there must be criminal facilitation of the taxpayer evasion by a person acting in the capacity of a person associated with the relevant body (stage two). The associated person must deliberately and dishonestly take action to facilitate the taxpayer-level evasion. If the associated person is only proved to have accidentally, ignorantly or even negligently facilitated the tax evasion offence then the new offence is not committed by the relevant body.

If stages one and two offences are committed then the relevant body will have committed the new corporate offence unless it can show it has put in place reasonable preventative procedures.
Example
As part of a large transaction an employee of a UK-based multinational bank knowingly referred a corporate client to an offshore accounting firm with the express intention of assisting the corporate client to set up a structure allowing the client to evade foreign income tax.

The bank, which had rigorous prevention procedures for money laundering and bribery procedures, undertook only a light-touch tax evasion risk assessment, nominally including the word 'tax' into existing procedures and processes, but not effectively implementing them or reviewing tax fraud risks.

The bank undertook no tax evasion-focused due diligence assessment of the accounting firm to which the client was referred.

In these circumstances, although the bank could attempt to mount a defence of having reasonable procedures in place on paper for tackling the facilitation of tax evasion, in reality it had relied on unaltered money laundering and bribery procedures.

Despite being in a high-risk sector, it had also failed to undertake a thorough risk assessment, or follow Government or sector-focused guidance on the types of processes and procedures needed to mitigate risks. It is therefore likely that the bank would be found to have committed the new offence and would be unable to put forward a successful reasonable procedures defence.
Reasonable prevention procedures for lower-risk small and medium-sized enterprises
The guidance suggests that small and medium-sized enterprises (SMEs) should first undertake a risk assessment of the products and services they offer, as well as internal systems and client data that might be used to facilitate tax evasion, including by sitting at the desk of employees and other associated persons, considering the motive, means and opportunity for facilitating tax evasion.

It also proposes considering some of the hallmarks of fraud when undertaking the risk assessment, for example:
Are there staff who refuse to take leave and do not allow anyone else to review their files, or are overtly defensive over client relationships?
Do existing processes ensure that for higher risk activity at least a sample of files are routinely reviewed by a second pair of eyes?
And it suggests considering tailoring existing processes and procedures accordingly to prevent and detect potential tax evasion facilitation, such as:
Having a commitment to preventing the involvement of those acting on the relevant body's behalf in the criminal facilitation of tax evasion, which might be demonstrated by issuing a prominent message from the board of directors (or the leadership team) against all forms of tax evasion;
Having terms in contracts (with employees and contractors) requiring them not to engage in facilitating tax evasion and to report concerns immediately;
Providing regular training for staff on preventing the facilitation of tax evasion, which may form part of wider financial crime detection and prevention training.
Having clear reporting procedures for whistle-blowing of suspected facilitation of tax evasion offences;
Ensure their pay and bonus policy / structure encourages reporting and discourages pursuing profit to the point of condoning tax evasion;
Having regular reviews of the effectiveness of prevention procedures and refining them where necessary;
Monitoring and enforcing compliance with prevention procedures; and
An overview of its strategy and timeframe to implement its preventative policies.
Penalties
The penalties for these offences include:
unlimited financial penalties; and
ancillary orders such as confiscation orders or serious crime prevention orders.
The guidance points out that of course the mere fact of a criminal conviction will have consequences for an organisation, for example, it may require disclosure to professional regulators both in the UK and overseas and prevent the body being awarded public contracts.

Self-reporting
Whilst self-reporting can't guarantee that a relevant body won't be prosecuted, the guidance states that, in order to encourage organisations to disclose wrongdoing,
"timely self-reporting will be viewed as an indicator that a relevant body has reasonable procedures in place."
More information about self-reporting can be found under 'tell HMRC about a company helping people to evade tax.'
Source: HMRC Guidance: Corporate offences for failing to prevent criminal facilitation of tax evasion – dated 16 September 2017/updated 18 May 2018.
IR35 reform for the private sector
(AF1, RO3)
We recently considered whether reported issues with HMRC's Check Employment Status for Tax (CEST) tool and setbacks HMRC has experienced in losing a number of recent appeals, might delay further IR35 reform.
However, HMRC is pressing ahead and has now published a new consultation on its aspiration to extend the off-payroll working rules to the private sector. 
IR 35 is aimed at identifying individuals who, in the view of HMRC, are avoiding paying tax and National Insurance by supplying their services to clients via a structure, such as their own personal service company, when the individual is acting like and is being treated like an employee of the end client.
Under the off-payroll working rules, public authorities / public sector bodies (PSBs) are responsible for deciding if IR35 applies to a person providing services through their own intermediary, such as a personal services company (PSC).
If the public authority decides that IR35 applies to a worker, the public authority, agency or other third party who is responsible for paying the worker's intermediary must deduct tax and Class 1 National Insurance contributions and pay and report them to HMRC.
According to an Office for Budget Responsibility (OBR) report in 2016 'Economic and fiscal outlook', the number of small companies with one or two directors increased from around 250,000 in 2000, to over 1 million in 2015.
HMRC estimates that around one third of people working through a company are not genuinely self-employed and are working like employees. It believes the cost of non-compliance in the private sector will increase from £700 million in 2017/2018 to £1.2 billion in 2022/2023.
HMRC gives the following examples as situations where IR35 does and doesn't apply:
IR35 applies

IR35 doesn't apply

-        The manufacturing firm need someone to maintain and update the new website.

-        They hire Jemima to work for three days a week, eight hours each day.

-        The firm provides Jemima with a laptop so she can work at their offices, or at home with their permission.

-        She reports to the head of the firm's IT department, and must follow their style guide and format to update the website.

-        The firm is responsible for providing and updating the software Jemima needs to do her work.

-        If Jemima has to work longer than her contracted hours, she will be paid overtime. Jemima will be able to work elsewhere on the days she is not working at the firm, with their agreement.

-        Alan is taken on by a manufacturing firm to design and build a new website for them.

-        Alan and the firm have agreed a price for the job and when he will deliver the new website.

-        Alan will mainly work at home, using his own equipment to complete the task.

-        Alan is free to work for other clients but faces a contractual penalty if he doesn't deliver the website on time, to the agreed standard.

-        This represents a significant financial risk to Alan if he fails to deliver the final product, as agreed.
The latest consultation
The Government is keen to provide assurances that it hasn't made any decisions about how to proceed with IR35 reform and it will consider the impacts on those businesses and individuals who would have to implement any change. However, it considers extension of the off-payroll working rules to the private sector to be the lead option which will effectively tackle non-compliance.
It has concluded, taking into account evidence from an independent review, that:
"the public sector reform has had the intended effect of improving compliance in the public sector, whilst recognising that public authorities and workers found some challenges in implementing the changes required."
And the Government refutes any claims that public authorities have been applying blanket decisions:
"Evidence shows that the vast majority of public authorities made assessments on a case-by-case basis. Where a public authority had not implemented the rules correctly, HMRC has worked closely with them to ensure they reach the correct decisions on employment status."
However, it concedes that in providing technical advice to public authorities applying the rules it has identified areas where it could make adjustments, such as looking at:
How the public sector reform could better fit the needs of businesses;
What, if any, changes could help make the administration as simple as possible;
Any evidence that there are parts of the private sector where the administration of any regime may need to vary, even though the basic principles, including those for determining status, remain the same;
Any evidence that parts of the private sector will not have, or be able to acquire, the administrative capacity, knowledge and resources to enable them to implement any changes in relation to off-payroll workers, and how any such difficulties might be mitigated;
What aspects of policy design might be adjusted if similar changes were brought in for the private sector.
It is also considering whether:
there should be a specific penalty if an agency fails to comply;
an obligation should be placed upon the fee-payer to adopt the client's conclusion and if there should be sanctions for failing to do so; and
what action should be taken if the worker or PSC is knowingly receiving income that has not had the right amount of tax and National Insurance deducted?
Encouraging or requiring businesses to secure their labour supply chains
The Government is considering whether businesses should be helping to ensure that their labour supply chains are complying with the off-payroll working rules in the private sector. HMRC's guidance 'Use of labour providers: advice on due diligence' already recommends checks to be undertaken on the labour supply chain to ensure that it is compliant with a variety of employment and, in some cases, tax laws.
It has asked for views on the impact of this option on affected businesses, agencies and individuals, bearing in mind administrative burdens, which could potentially be quite high as this option might mean, for example:
making sure the labour supply chain is commercially sustainable so it can meet statutory tax obligations and make a profit;
checking the history of the labour supply business if a previous business failed because it did not pay its tax debts and what changed to stop this happening again;
adding a clause in the contract requiring labour suppliers to show evidence of the PAYE returns filed and payments they have made to HMRC;
adding a clause in the contract requiring authorisation of further sub-contracting;
adding a clause in the contract preventing the use of offshore intermediaries where workers supplied by agencies are being treated as self-employed;
deciding if an agency is responsible for complying with employment intermediary reporting requirements, and ensuring that the agency has evidence of compliance.
In addition, the Government suggests that clients could be required to ask the PSC to provide a completed CEST determination and to check the outcome against the working practices of the individual carrying out the role in question, underpinned either by a penalty, or by denying the client a deduction for the costs of using labour from a supply chain that they have not checked.
Alternatively, the Government suggests the checks could be optional, but clients who have not performed them and are later found to have used a non-compliant labour supply chain could be named publicly, meaning that those using unsecured labour supply chains would be running a reputational risk.
Additional record keeping
Conscious of the time consuming aspect of the need for HMRC to gather a range of information from the various parties in the labour supply chain, often several months or sometimes years after the work has been performed and payment has been made, the Government has suggested instead requiring clients to gather and retain information for off-payroll engagements, where they make payments (directly or through an agency) to PSCs, such as contracts, shift rotas and line management reporting requirements relating to the engagement.
And it asks what penalties should fall on the client, or others in the labour supply chain, if they fail to comply with this requirement.
Next steps
This consultation runs until 10 August 2018, after which a summary of the responses will be published later this year. In the meantime, HMRC will be holding workshops with invited stakeholders during May to July 2018.
Alongside this consultation, the Government has also been considering the tests that define the boundary between those currently taxed as employees and those who are taxed on a self-employed basis in its response to the Matthew Taylor Review of Modern Working Practices and in three related consultations published in February.
Sources:
HMRC consultation: Off-payroll working in the private sector – dated 18 May 2018;
Office for Budget Responsibility (OBR) report 'Economic and fiscal outlook' – dated November 2016;
HMRC research and analysis: Off-payroll reform in the public sector – dated 18 May 2018;
HMRC guidance: Use of labour providers – dated 19 May 2017.
OTS publishes savings income: routes to simplification – tax and investments section  
(AF1, RO3)
On 25 May the Office of Tax Simplification (OTS) published a 50-page paper entitled "Savings income: routes to simplification". The topic is certainly a suitable case for treatment. As the OTS notes (without naming George Osborne), "Many of the [problem] issues have arisen because of a series of changes, each working well enough taken by itself but which together create significant complexity that is not easily resolved".
While the paper refers to "savings" in its title, confusingly it does not adopt the tax definition (ie. primarily interest), but looks across all investment income, including dividends and pension payments. The starting point for the paper is to note that "95% of people pay no tax on savings income", thanks to the starting rate for savings (SRS), personal savings allowance (PSA), dividend allowance (DA) and use of ISAs. However, in a statement repeated several times in the document, the OTS says that "the interactions between the rates and allowances is sufficiently complex at the margins that HMRC's self-assessment computer software has sometimes failed to get it right. It is proving to be very difficult to create an algorithm that calculates the tax correctly in all circumstances..."
The OTS floats a range of proposals for "further work", which suggests a more formal consultation may emerge in Mr Hammond's Autumn Budget, should the Government survive until then. Despite some of the press stories, what the OTS has put forward is a long way from becoming law - if it ever does.
In this bulletin we look at the tax and savings sections of the OTS paper:
The taxation of interest and interest-like payments, and the starting rate for savings (SRS) and personal savings allowance (PSA);
Dividend tax and the dividend allowance;
ISAs;
Life insurance investment bond withdrawals;
Much of the OTS review is focused on trying to overcome issues caused by the current combination of different tax rates, rate bands and allowances for interest and dividends, which is sufficiently complex that few taxpayers would be able to check their own calculation unaided.
Interest and dividends - streamlining the interaction of income tax rates and allowances
Suggestions include:
Specifying the order in which allowances can be deducted (as the order of income is at present), to avoid issues with software calculating the tax due incorrectly, or taxpayers not making the best choice about the allocation of their allowances. The current law is that the allocation of personal allowances (and reliefs available against general income) should be made in the way which will result in the greatest reduction in the liability to tax. It is this optimisation which has triggered the HMRC self-assessment errors.
Ending the current differential tax rates for dividend income (7.5%, 32.5% and 38.1%). The OTS suggests that if all taxable income was taxed at the same rates, it wouldn't matter how the personal allowance was used. It says making this change "would have the effect of increasing the amount of tax due from those who receive amounts of dividend income above the [£2,000] dividend allowance. It would also impact on the taxation of profit extracted as a salary or as a dividend, from family owned companies". Given the ongoing issues with NIC increases, IR35 and personal service companies, there is little doubt about the attraction of such an idea for the Treasury;
Simplifying the income tax calculation by making the PSA and the dividend allowance (DA) true allowances or exemptions rather than just a nil rate of tax, a simplifying measure which it accepts would reduce Exchequer income. Income falling within the allowance would not need to be reported and would not count towards the individual's total income;
Making savings interest completely exempt, either for basic rate taxpayers only, or for individuals with total income below a certain threshold, or for individuals over pension age. The OTS acknowledges that if an exemption were linked to the basic rate or an income threshold, this would also create a cliff edge. Equally, it would lessen any simplicity;
Reducing the complexity arising from having two separate allowances by amalgamating the £5,000 SRS (which benefits fewer than 300,000 people) with the PSA, resulting in a combined allowance of £6,000 for basic rate taxpayers, or £5,500 for higher rate taxpayers. This would involve removing the condition attached to the SRS, which means its availability depends on an individual's non-savings income. Currently, this 0% tax band is only fully available where earned income (eg salary, benefits in kind, pensions, etc.) does not exceed the personal allowance, and it reduces to the extent that earned income does exceed the personal allowance. So, for example, if earned income is £12,000, the 0% starting rate for savings income reduces from £5,000 to £4,850;
Considering whether trusts and personal representatives should be entitled to the PSA, as even modest estates will often receive interest on any cash deposit, meaning that income tax will need to be paid, with the accompanying administrative burdens on both the trustees/personal representatives and HMRC;
A targeted extension to the ISA regime to allow larger sums to be transferred in, where, for example, elderly people who had sold their family home to pay for long- term care could be encouraged to use their ISA allowances to protect themselves from the compliance burden of accounting for tax on the interest;
Improving guidance on the taxation of savings income, using learning from the Financial Capability Unit where relevant. The OTS has started a project to take a strategic look at the approach to taxpayer guidance, in collaboration with work HMRC is itself doing to overhaul its 290 manuals. The OTS suggests that this should be an area of priority for HMRC;
Introducing a personal tax roadmap (to incorporate any plans for the taxation of savings and / or the consolidation of savings income rates and allowances, and the stages needed to get there) to allow people to plan their financial futures with a better level of certainty. This is effectively the OTS asking the Treasury to set out a long- term tax strategy, rather than make the yearly tweaks that have created the current situation.
Increase flexibility on ISAs
The OTS believes that ISAs have now become too complicated, with a variety of traps for the unwary.
Whilst a drop in ISA investment may simply be a result of low interest rates combined with the introduction of the PSA, the OTS considers that there is scope for a wider full review of the current ISA landscape, to make the regime simpler and more accessible.

Suggestions include:
Allowing partial transfers of money invested in-year;
Removing the requirement that an investor may only take out one ISA of each type per year, subject to the overall annual limit; and
Reinstating the rule, scrapped in April, allowing transfers from Help to Buy to LISAs without affecting the annual LISA allowance.
On LISAs, the OTS rightly observes that take-up "has been slower than predicted", with only one provider offering a cash LISA. The OTS wants the 25% early withdrawal charge re-examined: it shares the FCA's view that the effect of the charge is poorly understood and has been a deterrent to firms entering the market.
It says it has information that major financial institutions have:
"decided it would be inappropriate to offer cash LISAs to unadvised retail investors, who may not be able to form an assessment of best value at the time of investment and will be penalised if they change their mind at a later stage. The charge for withdrawals (other than for defined purposes) is a significant design feature that adds to the challenge on giving advice."
The OTS suggests that along with a full review of the current ISA landscape, to simplify the regime, further consideration should be given to how best to ensure that the LISA rules work effectively for unadvised savers.
A recent parliamentary question, answered by John Glen, Economic Secretary to the Treasury, on 16 May 2018, provides some indication that the Government may review the LISA. In answer to a question around what estimate the Treasury
"had made of the number of people that would invest in a Lifetime ISA; how many people have invested in a Lifetime ISA; and if he will make an assessment of the potential merits of closing the Lifetime ISA to new entrants."
He answered that:
"The Lifetime ISA was introduced in 2017 to encourage younger people to get into the habit of saving for the long term. The Tax Information and Impact Note for the Lifetime LISA estimated over 200,000 accounts would be opened in the first year. Initial reports to HMRC for the 2017/18 tax year show approximately 170,000 accounts were opened. We expect the final figure for 2017/18 to change as a result of the receipt of late or amended returns from providers. The Government keeps all aspects of the tax system under review. Where appropriate, future changes may be made through the annual Budget process."
Review rules on partial encashments from life insurance investment bonds
Will this review result in wholesale changes to bond taxation, or even lead to the ending of the 5% allowance? It's unlikely.
The 5% allowance has had a number of close calls over the years, most recently following Lobler v HMRC in which the judge severely criticised the taxation regime on partial surrenders. HMRC suggested a range of alternative tax treatments, but eventually settled on a new process instead, due to the small number of policyholders who find themselves in the position of having a gain on part surrender which is 'wholly disproportionate'. Affected taxpayers may now apply to HMRC for adjustments to be made on a just and reasonable basis.
The OTS report states that HMRC has only received around 15 applications since the new process was introduced in 2017.  Nevertheless, the OTS considers it would have been preferable for the legislation not to result in disproportionate gains.
It suggests that an administrative option to simplify the taxation of partial withdrawals without substantially changing the tax calculation would be to mandate a 'vertical' calculation (the actual profit on each segment) in cases where the withdrawal exceeded the cumulative 5% allowances. Although it acknowledges that encashing segments in this way would cause a tax charge to arise in circumstances where 'horizontal' encashments (where only the excess above 5% is taxable) would not.
The OTS believes that this area of savings taxation warrants further review once the new system has bedded down.
Of course, you may recall that the OTS suggested similar simplifications in an earlier review, and eventually recommended, in 2011, that the 5% rule be retained, saying at the time:
"The relief is a substantial simplification for HMRC, individual investors and insurance companies, and any replacement is likely to be at least as complex."
The OTS has identified a number of areas where simplification or streamlining should be considered and says that it "considers it important not to make piecemeal changes, which risk adding further layers of complexity". On past performance, it looks unlikely its wish will be granted.
And as it acknowledges that some of its suggestions would have an exchequer cost that is currently unquantified, it will remain to be seen how much of this will be taken forward by Government.
Source: The Office of Tax Simplification Report: Savings income: routes to simplification – dated 25 May 2018.
Does the government intend to adhere to the OECD residency criteria post-Brexit? - question and answer from parliament
(AF1, RO3)
16 May 2018 - Taxation: Domicile: Written question – HL7957
Question by Viscount Waverley (Treasury)
Lords
To ask Her Majesty's Government whether they intend to continue to adhere to the OECD residency criteria for tax purposes post-Brexit.
24 May 2018
Answered by Lord Bates (Minister of State)
The UK will continue to adhere to the OECD's tax standards after Brexit. These include the provisions relating to residence in the OECD model treaty that the UK uses as the basis for bilateral double taxation agreements.
This means that the residence rules in most recent UK double taxation agreements which closely follow those in the Model Tax Convention of the Organisation for Economic Co-operation and Development (OECD) are expected to continue post-Brexit.
These rules comprise a series of tests to be applied successively until residence for the purposes of the agreement is allocated to one state or another. In other words, once a test is conclusive it is unnecessary to apply subsequent tests.
The tests usually appear in the order of:
permanent home
centre of vital interests
habitual abode
nationality.
Further details of this can be found in HMRC's guidance here.
(AF1, RO3)
HMRC has launched an online service to enable individuals to check their tax code and personal allowance.
This service also enables you to:
tell HMRC about changes affecting your tax code;
update employer or pension provider details;
see an estimate of how much tax you will pay; and
check and change the estimates of how much income you may receive from jobs, pensions or bank and building society savings interest.
HMRC has also published a new guide explaining how to tell HMRC about changes to your employer-paid medical insurance.
Given that the rules governing income tax are complex, this new service will no doubt be welcomed by many. 
HMRC loses a public sector IR35 case
(AF1, RO3)

We recently reported on HMRC's consultation on extending the IR35 off-payroll working rules to the private sector.
HMRC is pressing ahead with IR35 reform, despite experiencing some recent set-backs in its ambitions to tighten the grip of IR35, losing a number of appeals.
The contractor in Jensal Software Limited and HMRC effectively won his appeal based on a lack of control by the end client.
IR 35 is aimed at identifying individuals who, in the view of HMRC, are avoiding paying tax and National Insurance by supplying their services to clients via a structure, such as their own personal service company, when the individual is acting like and is being treated like an employee of the end client.

Under the off-payroll working rules, public authorities / public sector bodies (PSBs) are responsible for deciding if IR35 applies to a person providing services through their own intermediary, such as a personal services company (PSC).

If the public authority decides that IR35 applies to a worker, the public authority, agency or other third party who is responsible for paying the worker's intermediary must deduct tax and Class 1 National Insurance contributions and pay and report them to HMRC.

The Jensal Software Case

This case is unusual on a number of fronts.

Firstly, this is thought to be the only time HMRC has brought two IR35 cases against the same contractor. HMRC lost its first case against him too.

Secondly, as the end client in this case was the Department for Work and Pensions (DWP), this is the first public sector case since the new off-payroll working rules were introduced in 2017 and so HMRC was effectively up against another Government department.

In this case the judge, Jennifer Dean, rejected HMRC's arguments, alleging control by the DWP, deciding that the contractor was able to "work at any site he deemed necessary" and that any instructions he received were "limited" and check-ups on his work "minimal". She said that the contractor "utilised his skills to decide what was needed, how those needs could be met and the timescales in which the task could be completed."

HMRC argued that the recruitment process of the contractor "bears the hallmarks of recruiting temporary employees" and the contract between the DWP and Capita "bears the hallmarks of a temporary employee recruitment provider".

A framework agreement the DWP had in place with recruiter Capita Resourcing stated 'Interim Personnel assigned to the Authority shall be under the supervision and control of the Authority'. And in further support of HMRC's case, the framework agreement also said: 'the Authority shall be responsible for the operational direction, supervision and control of Interim Personnel assigned to the Authority under any Services Order.'

However, the judge described the framework agreement as generic, saying:
"The framework does not assist in determining the terms of the hypothetical contract in this case; it was clear from the evidence that no such operational direction or supervision existed and the ultimate responsibility held by the DWP was no more than would exist in the case of an independent contractor."
Based on this, the judge agreed with the contractor that he "was not subject to the degree of control which would be necessary to constitute a contract of employment", adding:
"I am satisfied that this [evidence from one of two DWP employees] did not amount to 'supervision' as such, but rather to ensure that Mr Wells [the contractor] understood the nature of the DWP's request and that all workers understood how the task was to be carried out."
Another unusual aspect of this case is that the two DWP employees referred to by the judge were actually appearing as witnesses for HMRC. It seems that their evidence might have helped sway the judge to find against HMRC!

HMRC also alleged that the contractor only sought the right to substitution, ie. the ability to supply a replacement contractor, because he knew it was a key indicator of being outside of IR35. The contractor argued that he was "unaware of (having never seen) the clause in the contract between Capita and the DWP which required a contractor to be vetted." He confirmed that he had a security pass for the DWP buildings which identified him as a contractor and that he had a DWP laptop and password protected profile, and hadn't considered how a substitute would have been paid or how he/she would have accessed his laptop. However, he argued that substitution was a viable option stating that "it existed in the contract and was entirely feasible." The judge agreed with the contractor, ruling that he could rely on the substitution clause.

And whilst HMRC was successful in arguing there was mutuality of obligation, in the judge's view it did not go beyond the "irreducible minimum" and so "the mutuality of obligation does not of itself demonstrate a contract of services". The DWP was not obliged to offer further contracts and there was a period between the short contracts when DWP offered no work.
This case demonstrates how difficult HMRC can find it to present a case against a contractor who is well versed in the IR35 rules, and may give hope to contractors that it is possible to win an appeal against IR35. However, HMRC's apparent lack of a proper argument in this case doesn't bode well for its proposed rollout of the off-payroll working rules to the private sector.

And whilst the Jensal case concerned the pre-2017 IR35 rules, when authorities could seek assurance from a worker engaged through their own personal service company that they were outside the scope of IR35, rather than on the new off-payroll working rules, it nevertheless highlights how the Government could effectively end up arguing with itself, and potentially face penalties, over public sector body IR35 decisions.
Source: First-tier Tribunal: Jensal Software Limited and HMRC – dated 16 May 2018.
Personal representative held personally liable for IHT
(AF1, RO3)
In the recent case of Harris v HMRC [2018] TC06448 the personal representative, who released a substantial amount of the estate's funds to the brother of the deceased and a beneficiary of the estate, was held liable for inheritance tax (IHT) payable on the estate.

The liability of personal representatives for inheritance tax under the Inheritance Tax Act (IHTA) 1984 is relevant to this case, namely.
Section 4 (IHTA 1984) provides that inheritance tax is charged on the death of an individual as if, immediately before death, they had made a transfer of value equal to the value of their estate immediately before death.
Section 200 (IHTA 1984) provides that the deceased's personal representatives (with limited exceptions) are liable for the inheritance tax arising on the deemed transfer on death.
Section 216 (IHTA 1984) requires the personal representatives to deliver an inheritance tax account and pay any inheritance tax due before the Court issues the grant of representation to them. Where the estate includes land, the inheritance tax due on that land can be paid in ten equal annual instalments and, when the land is sold, any unpaid instalments will then become immediately payable.
Turning to the specific facts of the case in question:
Mr Harris was the appointed personal representative of the late Helena Norma McDonald.

On 28 April 2013 he filed the inheritance tax account - form IHT400.

On 16 April 2014 HMRC opened an enquiry into the account and on 7 October 2015 issued a determination for £341,279 of IHT.
The determination was upheld on statutory review and Mr Harris appealed on the grounds of insufficient funds.
Mr Harris had released a substantial amount of the estate's assets to the brother of the deceased and a beneficiary of the estate on the understanding that the brother would settle the IHT but the brother returned home to Barbados without settling the IHT and Mr Harris was not able to contact him.

Mr Harris requested a statutory review of the determination, and the conclusions were communicated to Mr Harris in a letter dated 20 July 2016. Mr Harris decided to appeal against this review.
However, the First-tier Tribunal struck out the appeal as having no reasonable prospect of success.
The fact that Mr Harris had transferred the assets of the estate to a beneficiary on the basis that they would be responsible for payment of IHT and was ignorant of his obligations as a personal representative to pay the IHT was not a valid defence.
This case illustrates that personal representatives ought to be fully aware of their obligations when considering taking on this role. In particular, they should ensure they have sufficient funds to pay any IHT (and any other liabilities) before they make any distributions to beneficiaries.
Of course, from a planning perspective, had the deceased taken out a life policy written in trust then on her death the policy would have paid out thereby generating funds to meet the IHT liability.
INVESTMENT PLANNING
(AF1, AF2, AF3, AF4, ER1, FA2, FA4, FA5, FA7, JO2, JO3, JO5, LP2, RO2, RO3,RO4, RO5, RO7, RO8)
The CPI for April showed an annual rate of 2.4%, 0.1% down from the previous month. Across the month prices rose by 0.2%, 0.2% lower than between March 2017 and April 2017. The market consensus had been for an unchanged 2.5% annual rate, meaning that this was the third consecutive month in which the forecasters had overestimated. The CPI/RPI gap widened by 0.2% to 1.0%, with the RPI annual rate rising from 3.3% to 3.4%. Over the month, the RPI was up 0.5%.
The ONS's favoured CPIH index also fell by 0.1%, to 2.2%, the lowest since January 2017. The ONS notes the following significant factors across the month:
Transport: The timing of Easter in the middle of April 2017 contributed to air fares rising by 18.6% on the month whereas, this year, Easter fell at the beginning of April before the price collection period and there was no price rise. Instead, fares fell slightly, by 0.2%, between March and April. This benefit was partially offset by an upward effect from motor fuels, something that looks set to continue as oil nudges $80 a barrel.
Clothing and footwear: This category also supplied a downward effect, with prices rising by 0.4% between March and April 2018 compared with 1.1% between the same two months a year earlier. The effect came mainly from men's clothing.
Food and non-alcoholic drinks: This category produced a small downward effect from a range of food product prices dropping this year when compared with last year. The downward contribution from food was partially offset by an upward effect from mineral waters, soft drinks and juices, where prices rose by 2.8% between March and April this year compared with a rise of 0.3% a year ago - the result of the start of the "Sugar Tax".
Communications: There was a small upward effect from this category, where prices of telephone equipment and services rose by 0.4% this year compared with a fall of 1.0% a year ago. The contribution came almost entirely from bundled communication services comprising, for example, internet access, television and phone services.
In six of the twelve broad CPI categories, annual inflation increased, while four categories posted a decline. Alcoholic drinks and tobacco remains the highest category with the annual inflation rate back up to 4.0%.
Core CPI inflation (CPI excluding energy, food, alcohol and tobacco) fell 0.2% to 2.1%. Goods inflation rose by 0.2% to 2.6% after last month's surprisingly large drop, while services inflation fell by 0.4% to 2.1%.
Producer price inflation (PPI) numbers showed the input inflation was 0.9% above March's figure at 5.3%. Output price (aka factory gate price) inflation was flat at 2.7%.
Close up: Earlier this month the Bank of England chose not to raise rates, with Mark Carney suggesting there were plenty of other opportunities to do so. The fall in the CPI has narrowed those opportunities somewhat - markets are now pricing in only a one in three chance of an August rate rise.
(AF1, AF2, AF3, AF4, ER1, FA2, FA4, FA5, FA7, JO2, JO3, JO5, LP2, RO2, RO3,RO4, RO5, RO7, RO8)
FTSE Russell, the providers of the FTSE 100 and related UK indices, has just announced the results of its latest quarterly review. This is based on market values at the close on 29 May and will take effect from Monday 18 June.
As far as the FTSE 100 is concerned, there are two exits and two entries:
Going out…
Mediclinic International is by no means a household name, but it is a major South African based global private hospital group. It entered the FTSE 100 in March 2016 following a reverse takeover of Al Noor, an Emirates based hospital group. Difficulties in South Africa and regulatory changes in Switzerland resulted in a near £500m loss being reported on 24 May, which sealed the company's demotion from the Footsie.
G4S Its expulsion may come as a surprise – more because it had survived in the Footsie thus far. G4S is in the outsourcing business, a sector distinctly out of favour. Unlike Carillion it is not involved in construction – its focus is on security services – but it has exposure to a variety of UK and other government contracts.
Coming in…
Ocado. The company's entry into the Footsie is the most newsworthy change. Ocado is best known for its online grocery service, which is closely linked to Waitrose (the two have a 10 year branding and sourcing agreement running to September 2020). However, of late Ocado has also been successful in selling its retailing platform internationally, with the most recent and significant deal being with Kroger in the USA. This saw Kroger agree to buy 5% of Ocado and caught out some short-selling hedge funds. Until the Kroger deal, Ocado had been one of the UK's most-shorted stocks. It may now be the first Footsie entrant to have been promoted as the result of short-covering.
GVC Holdings, the Isle of Man based gaming group, recently took over Ladbrokes Coral. The purchase was paid for in a mix of cash and shares, with the resultant increased market capitalisation aiding elevation to the FTSE 100. News of a favourable US Supreme Court ruling on sports betting was also beneficial.
The dog that did not bark on this occasion was the expulsion of Marks & Spencer from the Footsie. It is worth remembering that the FTSE 100 rules only expel an existing constituent once its ranking has fallen below 110th. Marks' survival robbed many journalists of an "Ocado in, M&S out" story of the changing retail world, although that theme still exists lower down the FTSE index list: both Mothercare and Moss Bros were dropped from the FTSE All-Share index.
PENSION
(AF3, FA2, JO5, RO4, RO8)
HMRC has recently published Newsletter 99 which covers:
Pension Schemes Online service
APSS262 form
Event report – reportable events 22 and 23
Genuine errors
Relief at source for Scottish Income Tax
Look up residency status for relief at source
Of notable interest – Genuine Errors
HMRC give the following update on their Genuine Error Guidance.
"HMRC has been asked about our genuine errors guidance in the Pensions Tax Manual (PTM) at PTM146000. We've reviewed this guidance and want to give you clarification.
For taxation purposes, you can apply the genuine errors guidance to the actions of an independent financial advisor (IFA) or other agent where all of the following apply:
there's a clear authority for the IFA or agent to act on behalf of the member
there's a clear instruction from the member as to what form the transaction should take
as a result of a clerical error the form of the transaction is not what the member intended
the error is spotted and reported to the scheme immediately
had the error been made by the member the scheme administrator would have applied the genuine error guidance
If in these situations you've restored the position of the scheme member to the state it was before the error took place and then the transaction undertaken as originally intended, this would fall within the genuine errors guidance in the PTM.
You cannot apply the genuine errors guidance where:
the member has changed their mind
the error is more than clerical
the IFA or agent has given advice they now regret and wish to undo the transaction"
This is an area of much confusions so any clarity given is a great help.
Source: HMRC Newsletter – HMRC website
TPR quarterly compliance bulletin
(AF3, FA2, JO5, RO4, RO8)
In this bulletin TPR includes information about cases and the powers they have used. It is designed to help employers, their advisers, trustees and administrators understand the type of compliance and enforcement interventions they undertake.
Of particular interest are the case studies showing good outcomes for consumers including:
the threat of anti-avoidance powers secures £3m and full buyout guarantee for scheme
the first fine against a professional trustee for failing to maintain registrable information
how their powers are used against scammers
TPR's Executive Director of Frontline Regulation, Nicola Parish, said: "We are working to be a clearer, quicker and tougher regulator. Very often, being clear that we are fully prepared to use our powers gets employers and trustees to the table and means members are safeguarded more quickly. Several cases are resolved thanks to clear and robust negotiation by our case teams and the early engagement of companies and trustees."
The bulletin for January to March 2018 also details the use of TPR's powers to ensure employers meet their automatic enrolment pension duties.
TPR's Director of Automatic Enrolment, Darren Ryder, said: "Huge numbers of employers are starting their workplace pensions duties every month and the vast majority are successfully meeting their duties. However, where an employer fails to do the right thing for their staff, we will take action using the wide range of powers available to us."
Source: TPR quarterly compliance bulletin – TPR website
Upper tribunal rules in favour of TPR in anti-avoidance case against ITV
(AF3, FA2, JO5, RO4, RO8)
Box Clever scheme, has 2,800 members and a deficit of c.£115 million and the The Pensions Regulator used its Financial Support Directive power against ITV to require it to support the connected pension scheme.
The judgement, published on 18th May followed a two-week hearing in January of the substantive issues in the case – the first anti-avoidance case by TPR to be heard in full by the tribunal.
Mike Birch, TPR's Director of Case Management, said: "We are very pleased with this ruling which sends a clear message to companies linked with defined benefit pension schemes that we will not hesitate to use our anti-avoidance powers where we believe it is reasonable for them to provide financial support. We will pursue these cases for as long as necessary to protect pension savers and the Pension Protection Fund.
"This has been a long and complex case, where the targets have raised numerous legal challenges causing significant delays in an outcome being reached. We now hope that ITV will accept the Upper Tribunal's findings and seek to work with TPR to put in place appropriate financial support for the scheme and deliver a good outcome for members."
Source: ITV Box Clever – TPR website
TPR and TPO establish new information sharing agreement
(AF3, FA2, JO5, RO4, RO8)
The Pensions Ombudsman (TPO) and The Pensions Regulator (TPR) have agreed to share information with a view to mutually enhancing their knowledge and understanding of developing pension issues.
The Agreement sets out the principles for sharing of information about complaints and concerns to help both organisations deal with the issues. This should mean that there will be a more joined up approach.
The agreement came into force in March 2018.
Source: TPR/TPO Agreement – TPO website https://www.pensions-ombudsman.org.uk/2018/05/new-information-sharing-agreement-between-the-pensions-ombudsman-and-the-pensions-regulator/
This document is believed to be accurate but is not intended as a basis of knowledge upon which advice can be given. Neither the author (personal or corporate), the CII group, local institute or Society, or any of the officers or employees of those organisations accept any responsibility for any loss occasioned to any person acting or refraining from action as a result of the data or opinions included in this material. Opinions expressed are those of the author or authors and not necessarily those of the CII group, local institutes, or Societies.