Technical news update 11/12/2018
Technical Article
News update from 22 November to 5 December 2018.
Quick Links
Taxation and trusts
Investments planning
Pensions
TAXATION AND TRUSTS
(AF1, RO3)
The OTS has published the first part of its IHT review, covering mainly administrative aspects of the tax.
Back in February, when the OTS published a letter setting out the scope of its 'IHT General Simplification Review', it said its aim was to publish a report in autumn 2018 with "specific simplification recommendations for government to consider". At the time, this looked likely to feed into the Autumn 2018 Budget.
However, the OTS schedule went somewhat pear-shaped because:
The volume of responses received by the OTS prompted it to decide on two separate reports: one covering administration aspects; and the other technical tax issues (due in Spring 2019); and
The Chancellor redefined the Treasury's idea of Autumn Budget timing to October in the wake of Brexit battles (which have already forced the Government to make changes to its Budget proposals).
On Friday 23 November the OTS published its first report 'Overview of the tax and dealing with administration'. Across 82 pages the report:
Sets out basic data about the tax and its administration;
Examines the feedback received (including 3,000 survey responses, 500 personal emails from members of the public and 100 formal written responses); and
Makes proposals on improving the administration.
The data, included:
Each year, fewer than 25,000 estates in the UK are liable for inheritance tax. This is less than 5% of all deaths, although only 53% of the survey respondents got this figure correct – just over a quarter thought that the proportion of estates paying IHT was 20% or more;
Around half of all estates submit an IHT return, even though less than 1 in 10 of those returns ultimately yield any IHT;
HMRC puts the IHT 'tax gap' at around £600m, a relatively high percentage compared with other taxes;
One fascinating graph (see below) shows that the effective rate of IHT reaches 20% at £2m-3m of net estate and then virtually flatlines before dropping to 10% at £10m or more. The explanation the OTS gives is:
            - The inter-spouse exemption has the effect of halving the maximum tax rate of 40% as the first death of most married couples creates no IHT liability; and
            - As estate sizes increase, the proportion covered by reliefs also rises, reaching 75% at £10m. That generally means holdings of assets qualifying for business and/or agricultural relief.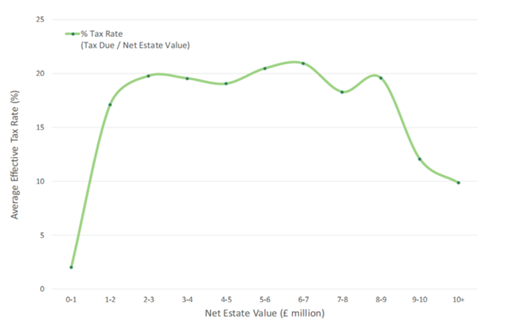 The OTS predictably heard many complaints about the administrative burden, including:
For many executors, the forms could not be submitted on line;
Too much detail was demanded when no tax was payable;
HMRC guidance was difficult to negotiate and at times conflicting:
The deadline of six months following the month of death for paying tax due was too short and inconsistent with the 12 months deadline for returning the IHT forms (which had to be completed to calculate the tax);
Paying tax before probate was granted created problems for some executors as borrowing was potentially expensive;
There was no standardised process for banks and other financial institutions to allow executors to access information or to release funds;
HMRC did not issue automated payment receipts; and
Form IHT 100, which deals with lifetime IHT payments, was basically not fit for purpose.
Unsurprisingly, the OTS's key recommendation (of eight) was that 'The government should implement a fully integrated digital system for Inheritance Tax, ideally including the ability to complete and submit a probate application'.
The idea of HMRC digitising a tax system will doubtless cause a few groans given the painful progress of Making Tax Digital. In fact, in 2014, HMRC started a project to
put the IHT forms online but, in April 2018, it announced that the project would be delayed. So far it has only digitised the short from (IHT 205), which covers excepted estates.
The OTS recognises that digitisation will be a long term task and its second recommendation is that in the interim 'HMRC should make changes to the current forms to reduce and simplify the administration of estates, including introducing a very short form for the simplest estates and updating the conditions that must be met to be able to complete a short Inheritance Tax form'.
Source: OTS IHT: Overview of the tax and dealing with administration 23/11/18
New fuel rates for company cars
(AF1, RO3)
HMRC has announced the new fuel rates for company cars applicable to all journeys from 1 December 2018 until further notice.
The rates per mile are based on fuel prices and adjusted miles per gallon figures.
For one month from the date of the change, employers may use either the previous or the latest rates. They may make or require supplementary payments, but are under no obligation to do either. Hybrid cars are treated as either petrol or diesel cars for this purpose.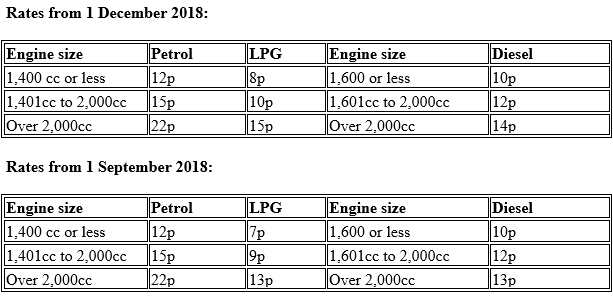 Advisory Electricity Rate
The Advisory Electricity Rate for fully electric cars is 4p per mile.
Electricity is not a fuel for car fuel benefit purposes.
Source: HMRC Guidance: Advisory Fuel Rates – dated 22 November 2018.
Capital gains tax/year end tax planning - is it time to realise capital gains?
(AF1, RO3)
Some may feel that they may have missed the investment boat on realising capital gains.  Stock markets have dropped recently and so is now a good time to sell?  Not as good perhaps as at the start of October, but for those who have held stock market-based investments for five or so years those investments could be showing plenty of gain.
The point here is that even though an encashment of shares or units may produce a taxable gain, the rates of CGT on investments are currently very low.  But they are unlikely to remain at this low level forever or even beyond the next general election.
The current top rate of income tax on investment income is 45% (38.1% on dividends) if you have income that takes you over £150,000.  For those who are higher rate taxpayers the marginal rates of tax are 40% (32.5% if dividends) unless they fall within the ever-widening personal allowance tapering band.
Capital gains tax (CGT) on the other hand is levied at a much lower rate.  After deducting any losses and the CGT annual exempt amount of £11,700 (£12,000 in 2019/20), gains are taxed at 10% to the extent that those gains fall below the top of the investor's basic rate band and 20% above that level. 
Special rules apply to capital gains on residential property (and carried interest) which are taxed at 18% and 28% as appropriate. So, these rates are considerably lower than the rates of income tax that apply on investment income but may not stay at that level.
This position was recently referred in the report by the Institute for Public Policy Research (a centre-left think tank)on 5 September 2018 in the following statement:
Indeed, there was a rumour that the Government would address this issue in their last Budget. They didn't but they might come back to it.  It is inevitable that a Labour administration, if elected, would consider changes in this area.
For those who don't like the thought of paying CGT at any rate, there are ways in which the sting can be taken out of the tax. For example, when selling investments:-
Use the annual CGT exemption. If not used, it cannot be carried forward.
Realise capital losses at the same time as you realise capital gains. But don't realise losses that reduce the net gain below the annual exempt amount.  On the other hand, you can restrict the utilisation of carried forward losses to a figure that produces a net capital gain equal to the annual exempt amount.
If you are married or in a civil partnership, use both annual exemptions. This will enable you to avoid tax on capital gains of up to £23,400 in this tax year (£24,000 in 2019/20). To do this, investments of sufficient value will need to be transferred unconditionally into the name of the spouse for him/her to encash – preferably after an appropriate period of time, say, 3 months.  Indeed, if gains are realised across two tax years, in total, up to £47,400 could be realised tax free by husband and wife.   If this form of tax planning is being considered in this tax year, early action should be considered.
Other planning opportunities may exist depending on the assets involved. For example, somebody who is considering selling a buy-to-let in the foreseeable future may, in suitable cases, wish to convert the property into furnished holiday lettings. This could, in the long term, mean that on a later sale of the property any capital gains will be taxed at 10% (up to £10 million) on the basis that entrepreneurs' relief will apply.  Obviously, this needs more in-depth planning with a tax professional.
Thought also needs to be given to the fact that, with effect from 6 April 2020, the CGT payable on a gain arising on the sale of residential property will need to be substantially paid within 30 days of the sale.
For those who do realise a taxable capital gain (ie. in excess of their annual exemption) and wish to defer the payment of the CGT, it may be worth considering an investment into an EIS/SEIS with an appropriate claim for deferral/reinvestment relief.  The risk implications of such an investment would need to be duly considered.
And, for those who want to crystallise the capital gain on shares or units but still wish to keep the underlying exposure to those investments, bed and pension/ISA strategies may appeal depending on the investor's financial position.  By continuing to hold these investments within the wrapper of an ISA or SIPP, future CGT concerns on the investment are removed.
Finally, don't forget that if you are thinking of realising a capital gain that will trigger a CGT charge, and your life expectancy is relatively short, if you don't need the cash now it may be best to wait.  If you die owning the investments, all of the taxable capital gains will die with you.
Rates of CGT are low and may not remain at this level for much longer. There may therefore be reasons to take gains now, but there are lots of factors to take into account.
(AF1, RO3)
This is an interesting "contextual" extract from the first part of the OTS report on the simplification of inheritance tax (IHT) – for more detail on the report please refer to the first article.
IHT: some facts
How many people pay IHT?
Each year, fewer than 25,000 estates in the UK are liable for IHT. This is less than 5% of all deaths.
The number of liable estates has increased every year since the 2009/10 tax year. This is partly because of the freezing of the nil rate band (NRB) and partly due to increasing estate values. Much of the increase in estate values is due to increased residential property values.


How many people fill out IHT forms?
In the UK, on average, around 570,000 people die each year. IHT forms were completed for 275,000 estates in the UK in the 2015/16 tax year, over ten times the number of estates on which any IHT was paid. This means that an IHT form was submitted for around half of all the deaths in that year. The forms need to be submitted because the value of the estate must be reported to HMRC, even where there is no tax liability.


How much does it raise?
IHT makes up less than 1% of the total tax raised by the Exchequer. Receipts totalled £5.2 billion in the 2017/18 tax year. To put this into context, this would cover just over one week's worth of the cost of providing UK pensions and welfare benefits that year.
IHT receipts have been steadily increasing. In the 2009/10 tax year receipts were £2.38 billion, and whilst the increase is forecast to continue, it is expected to slow as the residence NRB takes full effect.
The tax gap for IHT (the difference between the IHT that should be paid and the IHT actually paid) is estimated at around £600 million per year. This is relatively high, as a percentage of the total IHT due, compared with other taxes.
Source: OTS IHT: overview of the tax and dealing with administration 23/11/18
Capital gains tax & properties
(AF1, RO3)
The 2018 Budget included proposals to make important changes to the capital gains tax (CGT) treatment of properties that have been used by the owner as a private residence for part (but not all) of the period of ownership, and let out for the rest of the period.
This could have a substantial impact on "accidental landlords" – those people who are unable to sell a private residence when they move house, and so are forced to let the property out.
Currently, when such a property is sold, any capital gains will be apportioned between amounts that are taxable and those that are tax-free.
To ascertain the tax-free element, it is necessary to determine the principal private residence (PPR) relief. This equates to the period that the taxpayer has occupied the property as a private residence and is expressed as a percentage of the whole period of ownership. This percentage is then applied to the total gain to determine the tax-free element.
In this respect, the last 18 months of ownership ("the final period exemption") is treated as a period throughout which the property was occupied as the taxpayer's main residence, even if the investor was not so occupying the property because it was, for example, let out.
Example 
John bought a house in Milton Keynes on 1 December 2008 for £200,000. He lived in it until 1 June 2012 when he bought a new house that he moved into. He then let his Milton Keynes property. He sells the Milton Keynes property for £400,000, on 30 November 2018. 
The capital gain is £200,000. The tax-free element is based on the fact that he occupied the house as a private residence for three and a half years and is entitled to treat the last 18 months of ownership as a period of occupation as a private residence. Therefore five years (out of 10) is treated as the period of private residence. This means that 50% of the gain (£100,000) is tax-free.
Therefore, the taxable capital gain is £100,000. From this taxable gain can be deducted the letting allowance.
At present, people who rent out a property which was previously their main residence are eligible for lettings relief. This means accidental landlords, who owned a private residence but have since moved to a new residence and let the original property, are given a tax relief when they come to sell.
Lettings relief is only available where PPR relief can be claimed – in other words, where the property being sold has been the taxpayer's main residence at some point during their period of ownership. Lettings relief works on the same basis as PPR relief in that it is available in respect of the part of the gain attributable to the period of letting. However, it is restricted to the lower of the amount of PPR relief given and the sum of £40,000.
Continuing the example of John above, the fraction of John's gain attributable to the period of letting would be five years (ie. the remainder of the period of ownership not covered by PPR relief). 
To calculate the proportion of the gain attributable to the period of letting, it is therefore necessary to multiply the gain by the fraction 5/10. This provides a figure of £100,000.
Lettings relief is given at the lower of:
the gain attributable to the period of letting - £100,000;
the amount of private residence relief that is given - £100,000; and
£40,000.
In this case, John's letting relief would therefore be restricted to £40,000, leaving £60,000 potentially chargeable to CGT.
So, for example, in the case of John (above), who is a higher rate taxpayer, lettings relief can save him a further £11,200 (28% of £40,000) of CGT.
Lettings relief can increase to £80,000 (possibly £22,400 of CGT) for a married couple/civil partners.
The two proposed changes in the Budget are:
that the final period exemption will reduce from 18 months to nine months. There will be no changes to the 36 months final period exemption available to disabled people or those in a care home.
the lettings allowance will only apply if the taxpayer occupied the property as a residence whilst the property was let ie. the landlord and tenant share occupation.
Both of these changes are scheduled to apply from 6 April 2020 and are subject to prior consultation.
Conventional buy-to-let landlords will be little affected by these proposed changes, since both reliefs are only available when a person's primary residence is rented out.
However, the changes will hit those who have been unable to sell their homes and have decided to let their property instead. As sales have slowed across the country (particularly in the south) in recent years, more owners have chosen this option and it is these property owners who will suffer.
For those who have let, or are letting, a property that they previously occupied as a private residence and who are thinking about selling the property, it might be advisable to sell before 6 April 2020.  
The Budget was not totally lacking good news for landlord investors, however, as the personal allowance increase to £12,500 and the basic rate tax limit increase to £37,500 will mean that more people will only be basic rate taxpayers, as more income can fall below the basic rate tax threshold - £50,000 (where the full personal allowance is available).
So, for landlords who have income approaching this figure and are now basic rate taxpayers, they may well qualify for cheaper mortgage financing. This is because some lenders apply less stringent rates in their income calculation ratio (ICR) assessments for non-taxpayers and basic rate taxpayers.
However, the 50% reduction in the final period exemption may pose a problem for separating or divorcing couples whose former family home is being sold. One partner – and owner of the property – may have moved out at the beginning of the divorce process, which can take a lot longer than nine months. Having to pay CGT incurred on exceeding the nine months final period exemption time limit would therefore generate another expense for someone going through a divorce.
Source: Budget 2018 – 29 October 2018.
Social security benefit rates 2019/20
(AF1, AF3, FA2, JO5, RO3, RO4, RO8)
One of the side effects of the early Budget this year was that there was no mention of the coming year's state pension rates in the Chancellor's speech. Similarly, the DWP failed to publish its standard table of future benefit rates a few days after the Budget, as it normally does.
All that was put right on Friday 23 November when the proposed benefit rates and pension rates for 2019/2020 were set out in a written ministerial statement by the Minister for Family Support, Housing and Child Maintenance. Curiously this is not mentioned on the DWP website or included as an announcement, although it can be found by trawling through the DWP publications list.


The main numbers to note are:
The new State Pension (aka single tier) will rise by £4.25 a week (2.6%) to £168.60. That increase was driven by the July rise in the average earnings element of the triple lock (CPI inflation was 2.4% for the year to September and RPI inflation 3.3%).
The old State Pension (aka basic) will rise by £3.25 a week (also 2.6%) to £129.20, again on the triple lock principle.
Additional Pension, Graduated Pension and other pension increments will rise by 2.4%, in line with CPI.
The main working-age benefits, such as Employment Support Allowance, Jobseeker's Allowance, Income Support and most of Universal Credit remain frozen.
Source:  DWP press release 23/11/18
Principal private residence relief and properties purchased off-plan
The recent case of HMRC v Higgins [2018, UKUT 280] has highlighted some of the problems for those buying their residence off-plan.
These are not auspicious times for this particular relief. In addition to the recently announced restrictions on the scope of the principal private residence relief (PPR) coming into effect from 2020 we have recently had this rather disappointing Upper Tribunal decision.
The facts of this case were as follows: Mr Desmond Higgins purchased an apartment in London off-plan from a developer. He paid a reservation deposit in 2004 and entered into the formal contract for sale in October 2006. At that time construction had not started. The development was significantly delayed, and the building was only finished in January 2010, when Mr Higgins completed the purchase and moved in.
Two years after moving in Mr Higgins sold the apartment and moved out. He made a gain (before any relief) of approx. £640,000. He claimed PPR for the full period of his ownership, including the 39 months between 2006 and 2010 when he had bought the apartment but not moved in.
In the first instance HMRC decided that Mr Higgins was not entitled to PPR for the period before his occupation. This resulted in a £61,383 capital gains tax (CGT) liability calculated on a pro rata basis.
Mr Higgins successfully appealed against this decision to the First-tier Tax Tribunal (FTT) on the grounds that he was entitled to full relief as the property was his main residence throughout his period of ownership. He did not own another property during this time as, until moving into the flat, he had stayed with family, travelled, and stayed in another apartment he owned, none of which were a main residence. The FTT found that the period of ownership for CGT purposes did not start until Mr Higgins had a right to occupy the property: in other words, at completion, and so allowed the PPR in full.
HMRC appealed the FTT decision, and has now had that original ruling overturned at the Upper Tax Tribunal. They decided that the capital gain begins to accrue as soon as the contracts are exchanged. However, the PPR exemption only applies when the taxpayer is in residence.
Mr Higgins also tried to argue exemption under extra-statutory concession D49. This allows a delay in taking up residence to be treated as a period of deemed occupation. But the Upper Tribunal judges decided that D49 could not be used where the delay occurred between exchange of contracts and completion.
While the original decision from the FTT was generally seen as a sensible result, its overturning by the Upper Tribunal is unfortunate, albeit there is a certain logic to it. There is quite a substantial off-plan property market, especially in places like London, and delays between exchange of contracts and completion are not uncommon. Now, in addition to not being able to move into their home as soon as they would want to, off-plan buyers may be further penalised by a potential unexpected CGT charge when they later sell their property.
Source:  HMRC v Higgins [2018, UKUT 280]
The Lords ask for reversal to new 12-year assessment time limit
(AF1, RO3)

The House of Lords' has asked for new HMRC powers to review offshore tax matters going back 12 years, instead of the current 4 years, to be removed from the Finance Bill.
A letter to the Chancellor from the committee chairman of the succinctly named, Finance Bill Sub-Committee of the Economic Affairs Committee, Lord Forsyth, noted 'deep and consistent' opposition to the measure among witnesses interviewed by the committee in its review of the 2018 Finance Bill. Several said the new power's impact would not be limited to the wealthy, as claimed by HMRC, but would affect thousands of ordinary people as well, including elderly people on modest incomes.
Lord Forsyth's letter to Philip Hammond described the measure as unnecessary and undesirable, saying it would place unreasonably onerous and disproportionate record-keeping obligations on taxpayers. He asked for it to be either withdrawn entirely or replaced by another measure that was more proportionate and targeted.
The proposals to extend the time period over which HMRC can go back and assess tax on undeclared offshore income, gains and chargeable transfers to 12 years, received a somewhat less than favourable reaction when it was first consulted on in February. Nevertheless, HMRC said in July that it would go ahead with introducing this measure from 6 April 2019.
If introduced as is, (and that seems less likely after the Lords' intervention), it will increase the tax assessment time limit to 12 years for 'non-deliberate' offshore non-compliance, from the existing time limits of 4 years, or 6 years where the loss of tax is due to carelessness, after the end of the year of assessment (or date of the chargeable transfer) to which it relates.
Where the taxpayer has sought to 'deliberately' evade tax, the time limit will remain at 20 years.
The above proposals followed on from another assessment time limit extension related to offshore non-compliance introduced by the 'Requirement to Correct' (RTC) rules. The RTC rules extended the time limits for assessing income tax, capital gains tax and inheritance tax related to offshore non-compliance committed before 6 April 2017, so that for any tax that HMRC could have assessed on 6 April 2017, it will continue to be able to assess that tax until the later of 5 April 2021 and the date on which an assessment can be raised using the normal rules.
Source: Draft Finance Bill 2018: interim conclusions and recommendations, letter to Philip Hammond – dated 6 November 2018.
(AF1, RO3)
The Government has previously announced that the rules for income tax and employer NICs will be aligned, so that employer NICs will become payable on termination payments above £30,000. The introduction of this measure has been delayed yet again.
The Government has now issued an update confirming that it is delaying the introduction of employer-only National Insurance contributions (NICs) on termination payments above £30,000 to 6 April 2020.
This was also referred to as follows in the small print of this year's Autumn Budget.
'There are two remaining measures in the draft NICs Bill published on 5 December 2016: reforms to the NICs treatment of termination payments and income from sporting testimonials. The government still intends to legislate for these reforms, which will take effect from April 2020'.
Employer-only NICs on termination payments above £30,000 were originally set to apply from 6 April 2018. In last year's Autumn Budget, the Government postponed the start date to 6 April 2019. So, this is the second time that this measure has been delayed.
Source: HMRC Policy paper: Income Tax and National Insurance contributions: treatment of termination payments – dated 30 November 2018
The disguised remuneration loan charge: Lords urge Government re-think
(AF1, RO3)
The Economic Affairs Committee report on 'HMRC Powers: Treating Taxpayers Fairly' requests changes be made to the disguised remuneration loan charge.
Broadly, some disguised remuneration schemes involve using a loan, or other payment, which is unlikely to ever be repaid, to reward employees, directors or contractors, via a third party, such as a trust or other vehicle, instead of salary or other taxable income or benefits.
Loans made on or after 6 April 1999, and which remain outstanding at 5 April 2019, will attract a tax and National Insurance charge – a loan charge.

The amount subject to tax and National Insurance will be the outstanding loan amount on that date. Loan amounts repaid before that date will not be subject to the new loan charge, subject to certain anti-avoidance provisions which are designed to ensure that a genuine repayment has been made.

To avoid, or mitigate, the loan charge it was necessary to register an interest with HMRC and provide all required information by 30 September 2018.

The House of Lords' Economic Affairs Committee has now recommended that
"the loan charge legislation is amended to exclude from the charge loans made in years where taxpayers disclosed their participation in these schemes to HMRC or which would otherwise have been "closed"."
It has asked HMRC to "urgently review all loan charge cases where the only remaining consideration is the individual's ability to pay and establish a dedicated helpline to give those affected by the loan charge advice and support."
And it has urged HMRC to act on this well in advance of the loan charge coming into effect in April 2019.
The fact that the Lords have examined this and have identified a number of ways in which the charge will cause financial difficulty to some taxpayers, will be welcome news for many.
The Loan Charge Action Group, along with a good number of MPs, had raised concerns around the potential size of the loan charge and effects on the wellbeing of individuals where HMRC pursues employees and contractors for payment, rather than the employer, or the promoter of the scheme.


Source: Parliamentary business: Lords Select Committee: Taxpayers treated unfairly by HMRC, peers find – dated 4 December 2018.
INVESTMENT PLANNING
Government borrowing figures for October
(AF1, AF2, AF3, AF4, ER1, FA2, FA4, FA5, FA7, JO2, JO3, JO5, LP2,
RO2, RO3,RO4, RO5, RO7, RO8)
After a run of good Government borrowing figures, the October number disappoints.
The Chancellor's Houdini achievement in the Budget of income tax cuts and £27bn+ extra expenditure for the NHS by 2023/24 was largely down to a change of view by the Office for Budget Responsibility (OBR). In the OBR's Economic and Financial Outlook (EFO), that accompanied the Budget, it 'revised borrowing £11.9 billion lower for the full year (like for like), creating a more favourable starting point for the forecast'. This reduction reflected 'stronger tax revenues and lower spending on welfare and debt interest than expected'. There is thus some irony in the fact that the first set of monthly Government borrowing figures since the Budget should turn out to be much worse than expected.
The Office for National Statistics' (ONS) initial estimate for October borrowing was £8.8bn, £1.6bn up on 2017, £2.65bn above market expectations and the highest October number since 2015. 
The major contributor was a year-on-year jump in central Government spending of 7.7%, set against a corresponding rise in central Government revenue of 3.7% (October CPI was 2.4%). The OBR notes that the extra spending 'was broadly-based with rises in debt interest, net contributions to the EU and in other central Government current and capital spending'.
Viewed on a fiscal year-to-date basis – October is the seven-month mark – the total borrowing so far amounts to £26.7bn, £11.2bn (30%) lower than in 2017/18. The overall figure has been helped by a revision to the borrowing total for the first half of 2018/19, which cut the midway deficit from £19.9bn to £17.9bn. The deficit for last year (2017/18) was also revised again, but this time it crept up £0.2bn to £40.1bn.
If – and it is still a major if – the remaining five months of the year follow a similar pattern to 2017/18, the Chancellor could end 2018/19 with borrowing of around £28.2bn. That would be £2.7bn above the OBR's October EFO estimate for the 2018/19 outturn of £25.5bn. To hit the OBR number would require the Government to achieve a surplus over the final five months of the year, something which last occurred in 2000/01.
All eyes will once again be on the January self-assessment boosted results. This time around there are no dividend allowance distortions to bump up the figure.
One month's figures are just that and after such a good run in 2017/18, there was always likely to be a month that disappointed. However, they are a reminder of the words of the OBR's chief executive, Robert Chote, after Mr Osborne had benefited from a favourable OBR adjustment alongside his 2015 Autumn Statement: "What the sofa gives, the sofa can easily take away".  
Source: Office for National Statistics report 'Public sector finances, UK; October 2018' published 21 November 2018
(AF4, FA7, LP2, RO2)
Dividend payouts hit a third quarter high of £32.3bn in 2018, helped by strong payments from banks and miners.
The demise of Sterling after 2016's referendum result produced a one-off boost to dividends in 2017 that was expected to fade from the annual comparative figures this year. However, while Sterling is just about flat against the dollar and euro over the last 12 months, dividend growth has been better than forecast. The latest Q3 Dividend Monitor Report from Link Asset Services shows: 
UK dividend payments rose to a new record for the third quarter of £32.3bn, up an overall 4.1% over the previous year – a marked improvement on a 1.1% decline in Q2.
Special dividends virtually halved to £0.755bn – last year Compass Group made a £960m one-off payout.
Growth in underlying dividends (ie. excluding the one-off specials) was up 6.9% year-on-year, comfortably above 2.4% CPI inflation.
12 sectors raised dividends, while in 6 there was a fall, with one unchanged.
Financial companies remain the largest dividend payers, accounting for 23.0% of total payments. Their dividend growth was 11% up year-on-year, helped by increased payments from Barclays and Lloyds. The next highest payers were resource and commodity companies, which produced year-on-year dividend growth of 40%.
Payouts from the top 100 companies rose 3.7% year-on-year, held back by reduced special dividends (Compass, again). Ignoring specials, there was an increase of 7.1%. The more UK-focused mid 250 registered a 7.4% overall increase, while the underlying figure was 2.7%.
Concentration of dividend payments remains an issue. The top five companies account for 34% of all dividends (the same as a year ago), while the top 15 covered 62% (cf 64%). The biggest payer was HSBC, followed by Royal Dutch Shell, both of which paid unchanged dollar-denominated dividends.
Link Asset Services reckons that the Q3 Brexit-inspired weakness of the pound meant an exchange rate gain of £44m for dividends, whereas it had pencilled in a £93m loss.
The good news on dividends is a reminder that, while capital values have been volatile, the path of dividends is much smoother.
Source: Link Asset Service 'UK Dividend Monitor Q3 2018' published in November 2018
(AF4, FA7, LP2, RO2)
In the preceding article we comment that the latest Link Asset Services Quarterly Dividend Monitor suggests that solid dividend growth has continued into the third quarter of 2018. This set us thinking about the relative performance of dividends against capital values for the UK market.
One way to examine this is to plot the capital return, as measured by the FTSE All-Share Index against the regular dividend payments in a year, as measured using the yield on the FTSE All-Share Index at the end of the year. The comparison provides a different picture of the path of total dividend income from that calculated by Link Asset Services because Link covers all dividend payments (other than investment trusts) and includes special as well as regular payments. 
If we take the end of 2007 as the initial date, add in the CPI and rebase everything to 100, this is the resultant graph: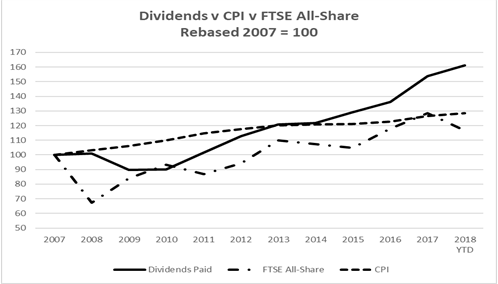 The dip in 2009 and flatlining in 2010 reflect the financial crisis, which prompted some large dividend cuts, notably from the banking sector.
The graph is a comfort for those equity income investors whose focus is on income, while capital values can and do fluctuate, the path of income is markedly smoother.
PENSIONS
IFS issue working paper on state pensions
(AF3, FA2, JO5, RO4, RO8)
The working paper looks at the history of state pension policy in the UK since the introduction of the State Pension in 1948. They then calculate simple summary measures of the generosity of the system over time and of the degree to which the system has created implicit taxes on, or subsidies to, work at older ages. 
The paper forms part of the National Bureau of Economic Research's International Social Security (ISS) Project. It is a working paper and so hasn't been fully reviewed at this point in time, as it may change.
Judicial Review - women's state pension age
(AF3, FA2, JO5, RO4, RO8)
On 30 November 2018 a campaign group called Backto60 won the right to a Judicial Review of the Government's handling of a rise in their state pension age from 60 to 65.
The group argue that women born in the 1950s have been disadvantaged by the increase of their state pension age from 60 to 65. In addition, they argue that they were not appropriately notified about the change.
The DWP has resisted calls to compensate for the change and dispute the call for the Judicial Review.
On 23 November, Djuna Thurley and Richard Keen published a House of Commons Briefing Paper, Number CBP-7405, on the same subject.
This document is extensive, running to 60 pages, but in the summary the document states:
The Government argues that the changes in the 2011 Act were debated at length and a decision made by Parliament, as part of which a concession was made to limit the impact on those most affected. It says it will "make no further changes to the pension age or pay financial redress in lieu of a pension."
This clearly shows the stance of the Government on this subject.
This is clearly an area of concern for many women reaching a state pension age that has moved without their knowledge. The issues are if the Government should have done more to make them aware of the change and if in fact the change was discriminatory in the first place. We will have to await the outcome of the Judicial Review to establish what will happen next.
Pensions dashboards: feasibility report and consultation published by DWP
(AF3, FA2, JO5, RO4, RO8)
On 3 December 2018 the DWP published "Pensions dashboards: feasibility report and consultation". This followed on from a round table discussion held on 27 November 2018 and a letter from Chair of the Work and Pension Select Committee Rt Hon Frank Field MP to the Pensions Minister urging him to commit now to legislation compelling firms to provide customer data for the Pensions Dashboard.
The pensions dashboard plans to be a service which provides a single point online where people can access all their pensions information. In order to ensure that all pension information is available the Government has stated that it is prepared to legislate to compel schemes to provide their data. They have also committed to take steps to provide State Pension information via dashboards.
The proposals don't restrict the number of dashboards, but a central non-commercial dashboard is proposed to be hosted by the Single Financial Guidance Body (SFGB) to offer an impartial service, in particular to those that may not be targeted by the commercial offerings. This is seen as the starting point for Pensions Dashboards with other commercial offerings to follow.
The Government is planning to help convene a delivery group consisting of experts from both the industry and Government. This group is proposed to be led and steered by the SFGB, with Government working with the regulators to ensure consumers are protected.
In addition to the dashboard the Government is proposing a single Pension Finder Service (PFS) and will compel schemes to provide their data to this service. The industry delivery group will also be responsible for the delivery of this service.
The report states that as a minimum, pensions dashboards can help to:
increase individual awareness and understanding of their pension information and estimated retirement income;
build a greater sense of individual control and ownership of pensions;
increase engagement, with more people taking advantage of the available advice and impartial guidance;
support the advice and guidance process by providing people with access to their pensions information at a time of their choosing;
reconnect individuals with lost pension pots, benefitting the individual and industry; and
enable more informed user choices in the decumulation phase (the point when a decision is made by a saver on how to access their savings) by making it easier to access the information on which to base these decisions.
As announced in the Autumn Budget the Government committed to funding for 2019/20 to help fulfil its facilitation role. However, the Government states that the cost of the governance structure should be met by the pensions industry and the industry should also fund:
the development and delivery costs of the dashboard infrastructure, such as the PFS and identity verification;
the development of a non-commercial, consumer-focused dashboard hosted by the SFGB; and
any new regulatory functions related to dashboards.
The dashboard, if produced well, should bring increased clarity to consumers. Many consumers lose track of historic pensions and don't understand what they might now be worth. However, this will be a lot of work for the pensions industry, especially for those who are less technologically advanced. In addition, those with closed books of business may not feel quite as compelled to get involved and so legislation may be needed.
This document is believed to be accurate but is not intended as a basis of knowledge upon which advice can be given. Neither the author (personal or corporate), the CII group, local institute or Society, or any of the officers or employees of those organisations accept any responsibility for any loss occasioned to any person acting or refraining from action as a result of the data or opinions included in this material. Opinions expressed are those of the author or authors and not necessarily those of the CII group, local institutes, or Societies.