My PFS Technical news 07/08/18
Personal Finance Society news update from 20th July to 2nd August 2018.
Quick Links
Taxation and Trusts
Investment planning
Pensions
TAXATION AND TRUSTS
Policy paper – Entrepreneurs' relief where a shareholding is 'diluted' to below 5%
(AF1, RO3)
Following an announcement at the Autumn Budget, HMRC has now issued a policy paper which allows individuals to obtain relief for gains even if their shareholding is 'diluted' below the 5% qualifying threshold for entrepreneurs' relief as a result of a new share issue.
The current law is included in Chapter 3 of Part 5 of the Taxation of Chargeable Gains Act (TCGA) 1992.
New legislation will be included in Finance Bill 2018/19 to introduce a new Chapter 3A into Part 5 of TCGA. This will allow individuals to make two elections provided the relevant conditions are met.
New section 169SC will allow an election where a company has issued shares for cash consideration for genuine commercial purposes, which has caused the individual's shareholding to fall below the 5% threshold required to meet the 'personal company' definition. So, in other words, the first election will treat the individual as having immediately disposed of and reacquired the holding of (or interest in) shares or securities to enable the individual to still be able to claim entrepreneurs' relief.
The second election (in new section 169SD) will be to defer the gain until an actual disposal of (or interests in) the shares or securities.
The legislation will then specify how deferred gains are treated as accruing on part disposals and in other specific circumstances.
The legislation will also specify rules in relation to making the above elections and claiming entrepreneurs' relief on the deferred gain.
This change will be welcomed by higher and additional rate taxpayers who are affected by this measure as the ability to benefit from entrepreneurs' relief will mean they pay tax at a lower rate on qualifying capital gains.
Source: Policy Paper: 'Entrepreneurs' relief where shareholding 'diluted' below the 5% threshold – published 6 July 2018.
(AF1, RO3)
In a recent case the High Court held, on the basis of witness evidence, that a married couple had made mutual wills, despite apparently express wording to the contrary in each will.
There are not many mutual wills and there is even less case law on the subject so when a case like this comes along it is bound to be interesting.
Married couples often execute wills which are identical in their provisions, frequently giving the estate to the surviving spouse or, if the spouse does not survive, to the children.  These are commonly referred to as "mirror wills".  However, not every mirror will is a "mutual will", indeed very few mirror wills are mutual wills.
In both types of will the terms of the will of one person will mirror the other person's will.  However, with an ordinary mirror will the survivor can make a new will after the death of the first to die without any constraints and without having to have regard to the will of the first to die. A mutual will, on the other hand, is a will which is also a mirror will but where the two testators enter into an agreement that they will not revoke their will without the consent of the other testator. The consequence of this is that if the first individual dies without having altered the mutual will, the surviving testator is not able to alter their own will. Indeed, if there is any later will made, it would be ineffective to the extent that its provisions are different from the mutual will.
The main reason why individuals make mutual wills is where both testators wish to ensure that specific intended beneficiaries benefit from their estate after the death of the second testator to die.  This is often what the testators will be adamant about despite the fact that the arrangement is totally inflexible after the first of them dies. It would be usual to have something in writing confirming that the will is intended to be mutual. Conversely, very often in a mirror will there will be a provision confirming that the will is not intended to be a mutual will. 
In the recent case of Legg and Others v Burton and Others [2017] EWHC 2088 (Ch) the Court found the wills to be mutual despite an apparent contrary wording in them. The judge also stated that mutual wills might not require a contract and that they could be based on proprietary estoppel. Estoppel is an equitable rule which applies in English law whereby a Court may prevent, or "estop", a person from going back on a promise they have made.  The result was therefore somewhat surprising and is perhaps a warning that a will may be considered to be mutual when this may not have actually been intended.
The facts of the case were as follows:-
Mr and Mrs Clark had each made mirror wills in July 2000, each giving their estate to the surviving spouse or, if the spouse did not survive, then to their two daughters in equal shares.  The wills were professionally drafted by a solicitor who attested the execution. Both wills included the following clause:
'My trustees shall pay my residuary estate to my spouse absolutely and beneficially and without any sort of trust or obligation'.
The wills also appointed the two daughters as executors and trustees. Mr Clark died in 2001 and his estate passed to his widow without the need for probate.  Between 2004 and her death in 2016 Mrs Clark had made 13 separate wills, the last one being in December 2014 which left only small legacies to her two daughters with the remainder going to other beneficiaries.  In that will Mrs Clark appointed one of her grandsons as the executor and he duly obtained probate. 
The daughters challenged the 2014 will asserting that the original will executed in 2000 was one of a pair of mutual wills which therefore could not have been revoked by the later wills. The grandson executor defended the case on the basis that the 2000 will expressly provided that the estate was passing to the surviving spouse absolutely and beneficially without any sort of trust or obligation; therefore it could not have been a mutual will. 
The two daughters claimed that the parents had made an agreement not to change their wills and this was explained to both of them as well as to the rest of the family at the time the wills were made. The Judge listened to the evidence from witnesses and clearly was more impressed by the evidence from the two daughters. He also examined the will carefully and concluded that the additional words about the assets passing to the surviving spouse absolutely and beneficially did not exclude the possibility of mutual wills, rather that this was a standard form of clause which is regularly found in wills of this kind. 
In conclusion, despite there being no direct evidence that an agreement for mutual wills was entered into, the Judge decided, based on the witness statements, that an agreement had been made and that a promise not to change the wills, given orally to the daughters, was binding.  The outcome of the case was that the two daughters inherited the entire estate and the beneficiaries named in the later will received nothing.
It may be of concern that even if wills do not expressly state that they are mutual wills, and there is an apparent provision that the survivor is to take absolutely and beneficially, this may not be enough to declare a will merely a mirror will.  If there is a dispute, the Court is entitled to take into account extrinsic evidence and the reliability or otherwise of any witnesses will be of paramount importance. 
When discussing wills with your clients, it is therefore important to explain that what is said about the will provisions may be just as important as what is written. 
Interestingly, the Judge quoted a suggestion from an earlier case that it is inherently improbable that in this day and age a testator should be prepared to give up the possibility of changing his or her will in the future whatever the change of circumstances.  It has to be said that, generally speaking, it would be unusual to recommend that clients should make mutual wills, given that changing circumstances in families these days are so wide ranging and frequent. Surely, when drafting any will flexibility is likely to be an important factor.  However, the Judge in the above case disagreed with this assertion, quoting an example of a testator who knows he is dying and therefore he will have little interest in preserving his freedom to change his will in the future but every interest in ensuring that his wishes are carried out even after the death of the beneficiaries of his own will.
In short, every testator's circumstances will be different and all will depend on their wishes.  Clearly it is important, though, that those making wills are aware of the consequences of their words, both written and spoken. 
Source: The judgment in Legg and Others v Burton and Others [2017] EWHC 2088 (Ch).
The latest Fiscal Sustainability report from the Office for Budget Responsibility (OBR) takes account of last month's pledge from the Government of an extra £20.5bn NHS spending by 2023. As there were no corresponding tax plans to work with, the OBR draws some unpleasant conclusions.
As a general rule, every other year the OBR publishes a Fiscal Sustainability Report (FSR). The rule was broken in 2016 because of the referendum result, meaning that the last FSR appeared 18 months ago.
The FSR begins where the six monthly Economic and Financial Outlook (EFO) medium-term assessment ends (2022/2023) and takes a long-term look at the UK's public finances. It takes as a starting point current stated Government policy. This hits three problems which the OBR highlights:
The Government has committed itself to higher NHS spending, but has yet to set out how this is to be funded (other than partly from a "Brexit Dividend"). The OBR has little faith in this source of extra income and ignores it in its calculations. The FSR projections begin once the promised ramp up in spending of 3.4% a year (culminating in the oft-quoted £20.5bn increase) has reached its conclusion.
Last year a decision to scrap the Dilnot care proposals planned/deferred for 2020 was made with a promise of replacement proposals "in due course". For now that means a saving is made in outlay, albeit with a likely increase in the future for which the OBR cannot allow in its projections.
The Government has said that it will review the continued operation of the triple-lock for the State Pension beyond this Parliament (2022, if it lasts that long…). This would potentially reduce projected long-term spending, but in the absence of any new policy the OBR has had to assume the triple lock remains in place.
The OBR number crunching based on current Government policies suggests:
Total spending (excluding payment of debt interest) will rise from 36.4% of GDP in 2022/2023 (the EFO end point) to 44.6% by 2067/2068. This increase of 8.2% of GDP is equivalent to £172.8 billion a year in today's terms.
There are three main drivers for the rise in expenditure:
Health spending rises from 7.6% of GDP in 2022/2023 (0.6% higher than the FSR 2017 figure because of the NHS pledge) to 13.8% in 2067/2068 as the population ages and non-demographic cost pressures mount. 
State Pension costs increase from 5.0% of GDP in 2022/2023 to 6.9% in 2067/2068 as the population ages and the triple lock raises average pensions relative to the UK economy's earnings. This is a little lower than in FSR 2017, mostly reflecting Government decisions that accelerate the pace of State Pension Age increases. As mentioned above, it is also a figure that could drop, probably after the next election.
Adult social care costs rise from 1.3% of GDP in 2022/2023 to 1.9% in 2067/2068, reflecting the ageing of the population. The projections are slightly lower than in FSR 2017 because of the removal of the Dilnot reforms with no defined replacement (see above).
On the other side of the projection, revenue is expected to remain "all but flat" as a share of GDP through to 2067/2068.
The bottom line of increasing expenditure and flatlining revenue is an increase in Government borrowing. The OBR says this will move from 0.3% of GDP in 2022/2023 (the latest estimate for 2017/2018 is 1.9%) to 8.6%.
Rising borrowing will lead to a growing total Government debt. At present this is 85.6% of GDP, projected to drop to 80.0% by 2022/2023, mainly because borrowing is not rising as fast as the GDP in the medium-term projections. However, the 2067/2068 total debt figure is 282.8%. As the OBR notes wryly, "Needless to say, in practice policy would need to change long before this date to prevent this outcome".
The OBR's work is best summarised by a single graph, shown below. We can look forward to an interesting Budget in November as the Treasury responds to the FSR beyond its initial remarks.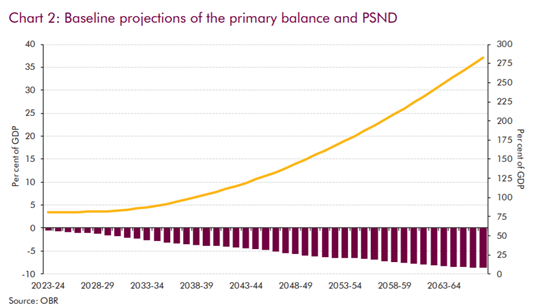 Sources:
Office for Budget Responsibility Fiscal Sustainability Reported dated July 2018

HM Treasury Report; Managing Fiscal Risks – government response to the 2017 Fiscal Risks Report dated July 2018
Offshore trustees holding non-reporting funds urged to respond to CIOT survey offshore trusts
(AF1, RO3)
The Chartered Institute of Taxation (CIOT) has issued a call for evidence to establish how many offshore trusts, established by non-domiciliaries prior to becoming deemed domiciled under the new 15 out of 20- year rule, hold non-reporting funds. Currently, gains made on such funds will not benefit from the promised trust 'protections' even if those gains remain within the trust. The call for evidence seeks to determine the extent of this problem with a view to influencing legislative change.
A series of changes to the regime for the taxation of non-domiciliaries were introduced in Finance (No.2) Act 2017 and Finance Act 2018. Under the new rules, foreign domiciled UK residents will be treated as domiciled in the UK for all tax purposes (and so will lose access to the remittance basis of taxation) after they have lived in the UK for 15 out of 20 tax years. However, foreign domiciled settlors who set up offshore trusts before becoming deemed domiciled under the new rule will benefit from special trust protections to ensure that they will not be taxed on trust income and gains retained in the trust unless (broadly) they add to the trust after acquiring deemed domiciled status.
However, the new legislation failed to make any amendment to Regulation 19 of the Offshore Funds (Tax) Regulations 2009 which means that offshore income gains realised on non-reporting funds held within otherwise protected trusts do not fall within the scope of the new protections. If retrospective changes are not made, long-term resident foreign domiciled settlors will therefore be taxed on such gains on an arising basis (i.e. even if such gains remain in the trust). This would appear to be contrary to the government's policy intention.
In order to provide HM Treasury and HMRC with evidence to support a persuasive argument to Ministers for the problem to be fixed and the necessary resources committed to doing so, evidence is required as to the scale of the problem. With this in mind, the CIOT is asking offshore trustees to complete a brief survey to indicate whether they have investment portfolios that hold non-reporting funds. The survey can be accessed here
The current technical defect in the legislation relating to offshore income gains has the potential to cause serious problems and the government is coming under increasing pressure to address this. It is hoped that the necessary changes will be made to the legislation in the near future.  However, there are no guarantees and all offshore trustees – both professional and otherwise – are therefore urged to complete the survey if they have not already done so.
Source: Non-dom reforms: protected trusts and non-reporting funds – a survey for completion by offshore trustees produced 15 June 2018 by the Technical Team at the Chartered Institute of Taxation.
SDLT time limit reduces to 14 days
(AF1, RO3)
The time limit for filing a Stamp Duty Land Tax (SDLT) return and paying any tax due will reduce from 30 days to 14 days from 1 March 2019.
At Autumn Statement 2015, the Government announced that the time limit for a SDLT return and paying any tax due would be reduced from 30 days to 14 days during the 2017/2018 tax year.

A consultation document 'Stamp duty land tax: changes to the filing and payment process' was published on 10 August 2016 and the Government's response document was published on 20 March 2017.
In its 2017 Spring Budget the Government announced that the changes would be delayed to give HMRC time to address the issues raised in the consultation. Autumn Budget 2017 announced that the changes would be implemented with effect from 1 March 2019.

HMRC has now published draft legislation for consultation.
The 14-day time limit for filing a SDLT return and paying the tax due will apply to land transactions with an effective date on or after 1 March 2019.
The Government estimates that this measure will affect approximately 20,000 businesses who operate conveyancing services, filing SDLT returns and making payments on behalf of their clients, plus around 500 individuals (and households) per year, who file their own SDLT returns without using an agent.
The current 30-day filing and payment time limit, where, for example, a transaction was previously notified but as a result of new information a further return is required, will continue to apply.
Interest on unpaid tax will run from the end of 14 days or 30 days, whichever time limit applies.

Note that the 14-day timespan includes non-working days, so this significantly shortens the time available, especially over bank holiday periods. Consequently, if detailed enquires are needed to establish the information required for the return the new 14-day time limit could prove difficult to meet. However, the Government suggests that any impact will be small, as it believes most returns are submitted within 14 days already.
Purchasers can apply to defer the payment of SDLT in cases where a sum payable for a property is contingent or uncertain, for example if an additional payment is contingent on the purchaser being successful in obtaining planning permission to develop the land within x number of years. The application will need to be made, and HMRC's approval of the application obtained, within 14 days of the effective date under the new legislation.

Generally, a transaction is notifiable where the chargeable consideration is £40,000 or more. And note that a return could still be required within the 14-day time limit even if the rate of SDLT payable is Nil, if the chargeable consideration is £40,000 or more.
As a reminder, the rates of SDLT applying to residential property in England and Northern Ireland are as follows:
On slice of value

Rate¶

£125,000 or less§

Nil

£125,001 to £250,000§

2%

£250,001 to £925,000§*

5%

£925,001 to £1,500,000*

10%

Over £1,500,000*

12%

 

*          15% for purchases over £500,000 by certain non-natural persons.

§          For first-time buyers of property up to £500,000 there is no SDLT on the first             £300,000.

¶          All rates increased by 3% for purchase of additional residential property if value is             £40,000 or more.
First-time buyers' relief (FTBR) applies to purchases of dwellings for £500,000 or less, provided the purchaser has never owned a property and intends to occupy the property as their only or main residence. Under the relief, such purchasers are not liable to SDLT on transactions valued at £300,000 or less. On transactions valued at more than £300,000 but less than £500,000, they are liable to pay 5% SDLT on the portion over £300,000.

FTBR applies to purchases in England and Northern Ireland.

Wales - It applied until Land Transactions Tax (LTT) replaced SDLT for transactions in Wales from 1 April 2018.

Scotland - In Scotland, Land and Buildings Transaction Tax (LBTT) replaced Stamp Duty Land Tax back in April 2015. The Scottish parliament introduced a similar reduction for first-time buyers, 'Land and Buildings Transaction Tax (LBTT) First Time Buyer relief' from 30 June this year.
Sources:
HMRC Policy paper: Changes to the Stamp Duty Land Tax filing and payment time limits – dated 6 July 2018;

HMRC internal manual: Stamp Duty Land Tax Manual- dated 27 April 2018.
Offshore trusts and non-domiciled settlors – the new rules
(AF1, JO2, RO3)
In this article we provide an overview of the complex new income and capital gains tax rules that apply to offshore trusts created by non-domiciled settlors and highlight some of the traps to watch out for.
Background
Trust income and gains can be attributed to settlors in certain circumstances under:
The Settlements Code (ITTOIA 2005, Pt 5, Ch 5)
The Transfer of Assets Abroad rules (ITA 2007, Pt 13, Ch 2)
The Taxation of Chargeable Gains Act (TCGA) 1992, s86
Where the rules apply, a UK domiciled settlor will be subject to tax on income and gains as they arise; while a non-UK domiciled settlor can choose to be taxed on the remittance basis.
The Transfer of Assets Abroad rules and TCGA 1992, s87 can also create tax liabilities for UK resident beneficiaries who receive capital payments or other benefits from offshore trusts (although non-UK domiciled beneficiaries who elect for the remittance basis will only be subject to tax if the payment or benefit is remitted to the UK).
The new deemed domicile rules that apply for income and CGT purposes mean that, without protections, UK resident settlors with a foreign domicile of origin lose access to the remittance basis of taxation, and will thus be treated in the same way as UK domiciled settlors, once they have been resident in the UK for 15 out of the preceding 20 tax years (i.e. subject to tax on trust gains and foreign income on an arising basis).
The 'protected settlement' rules introduced in Finance (No.2) Act 2017 and Finance Act 2018 address this and ensure that settlors with a foreign domicile of origin will be treated more favourably than UK domiciled settlors (or settlors who are classed as Formerly Domiciled Residents – see 'traps and anti-avoidance measures' below) in relation to offshore trusts they create prior to becoming deemed UK domiciled under the new 15-year rule.
The new trust protections
The protections apply to settlors with a foreign domicile of origin both before and after deemed domiciled status is acquired under the 15 out of 20 tax years rule; and regardless of whether the trust was created before or after 6 April 2017. The criteria are simply that:
The trust is a non-resident trust (i.e. with offshore trustees);
It was created prior to the settlor becoming deemed domiciled under the 15 out of 20 tax years rule;
No additions are made to the settlement, directly or indirectly, by the settlor (or by another trust either established by the settlor or of which the settlor is a beneficiary) after deemed domicile status has been acquired. What constitutes an addition for these purposes is widely defined and includes adding value to property held by the trustees; as well as a non-commercial loan made from the settlor to the trustees.
For as long as the trust meets the criteria for a 'protected settlement', 'protected foreign source income' will be allowed to roll up tax free, even if the trust is settlor-interested. UK source income of a settlor-interested offshore trust will continue to be attributed to the settlor in the usual way and taxed on the arising basis.
S86, TCGA 1992 is also disapplied so that trust gains (even if they arise in respect of disposals of UK assets) are not attributed to deemed domiciled settlors.
This makes non-resident trusts very attractive for non-domiciliaries – including those currently paying the remittance basis charge – as it means that most foreign income and gains can be rolled up in such trusts without the need to claim the remittance basis and pay the remittance basis charge.
When can tax charges arise?
UK resident, non-domiciled settlors will be subject to income tax by reference to benefits they receive from the trust that can be matched to foreign income. A UK resident settlor may also be taxed on income matched to benefits received by 'close family members' if the beneficiary is not themselves liable to tax (i.e. because he or she is either non-resident or a remittance basis user).
The term 'close family member' includes a spouse or civil partner, a cohabiting partner and the minor children of anyone in those categories.
Where the close family member is not themselves liable to tax on a benefit that they receive, the benefit is treated as received by the settlor. A non-domiciled, remittance basis-using settlor will therefore only be liable to tax on the benefit if it is remitted to the UK by the close family member at a time when he or she is a 'relevant person' in relation to the settlor.  The term 'relevant person' is defined more widely than 'close family member' and additionally includes minor grandchildren and the trustees of a settlement under which any other category of relevant person is a beneficiary. This means, for example, that if a distribution is made to a 16-year old child who does not remit the distribution to the UK until after attaining age 18, the settlor will not be taxable on the remittance (and nor will the child).
UK resident beneficiaries (including settlors who are beneficiaries) will continue to be taxed on trust gains to the extent that they can be matched with capital benefits they receive from the trust, with deemed domiciled settlors and beneficiaries taxed on benefits wherever paid (i.e. not on the remittance basis).
UK resident settlors will also be treated as having received capital payments made to close family members. However, one difference between this and the corresponding income tax rule is that, as far as capital gains tax is concerned, the gains are attributable to the UK resident settlor irrespective of whether or not the close family member would have otherwise been taxable on the benefit received.  For example, if a distribution which is matched against gains is made to a UK resident and domiciled spouse of the settlor, those gains will be attributed to the settlor even though the spouse would, in the absence of the close family member rule, have been taxed on the distribution.  If the settlor is a remittance basis-user, tax will only have to be paid if the distribution is received in the UK or if it is remitted to the UK.
Traps and anti-avoidance rules
The protections do not apply to formerly domiciled residents (broadly, settlors with a UK domicile of origin who have changed their legal domicile to a domicile of choice elsewhere but who have then returned to the UK); or to settlors who become UK domiciled under general/common law;
Life policy gains have never been taxed on the remittance basis and so, like UK source income, are immediately taxable on a UK resident settlor, regardless of domicile status;
Due to a defect in the legislation, offshore income gains that are made in respect of non-reporting funds owned by the trust, will currently be attributed to a non-UK domiciled settlor on an arising basis once they have acquired deemed domicile status. It is hoped that HMRC will amend the legislation shortly to correct this anomaly;
If the trustees receive overseas income which they use in the UK (for example to make a UK investment) and then subsequently confer a benefit outside the UK on a remittance basis-beneficiary, the remittance basis-beneficiary will have an immediate tax charge if the benefit is matched against the income which has been remitted to the UK by the trustees. This would be the case even though the benefit itself is received outside the UK and remains outside the UK. If, therefore, trustees think that they are likely to confer benefits on remittance basis-beneficiaries, overseas income received by them should not be used in the UK;
New "conduit" rules exist that ensure that if a distribution is made from the trust to somebody who is not taxable but that person then makes an onward gift to somebody resident in the UK, the ultimate recipient in the UK is treated as if they had received the distribution directly from the trustees.
The tax treatment of offshore trusts created by non-domiciled settlors is now an extremely complicated area. This article provides an overview of the rules but it is important to consider the precise facts in each case. Bespoke advice from a professional with expertise in this area will be essential.
Sources: Relevant legislation
Student loans, smoke and mirrors
(AF1, RO3)
Student loans are a slippery subject. The problem starts with that word "loan", which is near enough a half-truth. The latest estimates suggest that about 45% of outstanding student debt (original loan plus accumulated interest) will eventually be written off.
How the Treasury accounts for student loans and interest has been the subject of a paper from the Office for Budget Responsibility (OBR) and comments from the Office for National Statistics (ONS). Their work follows on from criticism by the Treasury Select Committee and a report from the House of Lords Economic Affairs Committee earlier in the year.
The major issue that all these worthy bodies highlight is the way in which the accounting method for the loans hides their true cost. To put it simply, Treasury accounts treat a new student loan as a 'pure' loan. The cost of providing student loans does not appear in the government's borrowing figures for the year – even though the government borrows to provide the finance – because they are treated as matched by government assets, ie. contractual debt repayable by students.
This treatment is in line with international guidance on the treatment of loans, but that guidance was never designed to cope with a loan where the chances of repayment were so variable. To exacerbate matters, as interest accrues on the student debt it is deemed to reduce annual government borrowing, although there will often be no cash reaching the government. It was an academic point in the early days of student loans but, as the graph below shows, loans have now become serious money – total outstanding debt was £105bn in March 2018, with fresh loans running at nearly £17bn a year.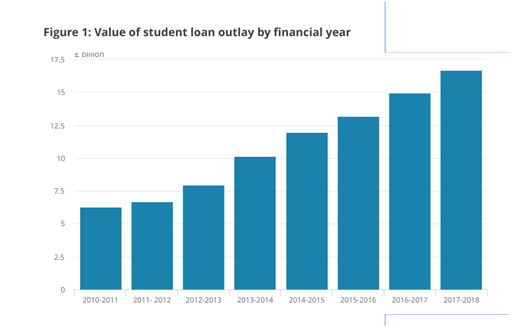 Source: ONS
The Treasury's accounting method means that the impact of the failure to repay gets kicked down the road until roughly 30 years after the student ends their course or on earlier death. At that point the shortfall suddenly becomes real spending and borrowing for the year rises accordingly. However, by then there will be a considerable amount of offset from the (notional) interest accruing on the pile of outstanding loans made over the previous 30 years.
To make matters even more bizarre, if the government sells the student debt before the 30 year point, the loss will never reach the annual borrowing figures. It will be classed as a "holding loss" and effectively disappear. As the OBR noted, this is an obvious incentive to sell loans before they reach their end point, even if at a sharp discount to their face value. For example, in December 2017 approximately £3.5bn (nominal value) of student loans were sold for £1.7bn.
Both the OBR and the ONS make various proposals to bring the treatment of loans closer to their economic reality. That means recognising that they will not be repaid in full and making that recognition when the loans are made (or interest accrued) rather than in the distant future.
For the Chancellor, a change to the treatment of student loans could mean that he has to rewrite all his borrowing targets and accept larger annual debt numbers. The aim of reaching a budget surplus by the mid-2020s can probably go out of the window. The reality is that nothing financial will have changed – the flows of cash will be the same – but the issue of unpaid debt will not be one left for the government of the 2030s and beyond.
Source:  Information from the Office for National Statistics and Office for Budget Responsibility
Making tax digital paves the way for new late payment penalties, and more businesses are invited to join the MTD pilot
(AF1, RO3)
The Making Tax Digital (MTD) concept was first announced in the March 2015 Budget as a transformation of the tax system which would see the end of the tax return.

MTD for business is a requirement to keep digital records and make regular quarterly reports of income and expenditure to HMRC, the intention being that transactions will be recorded, using accounting software, as near as possible to the time when those transactions occurred.

At the end of the accounting period taxpayers will need to send a final digital report to confirm their income and expenses for the year, and to claim allowances and reliefs.

From 1 April 2019 all VAT-registered businesses with a taxable turnover above the £85,000 VAT threshold are required to keep their VAT-business records digitally and send their VAT returns using MTD-compatible software. MTD won't be applied to businesses that have voluntarily registered for VAT. It will, however, be available on a voluntary basis for businesses with income below the VAT threshold.

The timetable for MTD for businesses currently remains as:
Consultation on MTD for corporation tax expected later in 2018;
Digital records required for VAT purposes from 1 April 2019;
Digital records and quarterly reporting required for other taxes, e.g. income tax and corporation tax, from April 2020 at the earliest.
MTD for businesses will not be mandatory until at least 2020, and then will only be enforced for businesses with income over the £85,000 VAT threshold. Note that a 'business' for this purpose includes landlords.

HMRC has recently issued new guidance, in the form of a stakeholder communication pack, highlighting that the pilot is now available on a voluntary basis for MTD for income tax. Businesses can sign up if they're a sole trader with income from one business and/or are landlords (except those with furnished holiday lettings).

If a business that signs up to MTD for income tax has no other income to report to HMRC they won't need to complete a separate self-assessment return for 2018/2019.

HMRC has advised that additional functionality will be made available in the coming months to allow software providers to update their products, so that where additional personal income needs to be reported, such as employment income, bank and building society interest, dividends and Gift Aid, businesses will be able to send all of their additional personal income using MTD. Additional functionality will also be released in the coming months to allow more businesses to join.
Please see MTD for income tax for more information, including how to get involved, and find out more to check which software products are already compatible with MTD for income tax.

Penalties and interest
If a business doesn't submit its MTD report on time it will be issued with a penalty point. A financial penalty will be incurred when the business collects a specified number of penalty points. This is covered in more detail below.

The Government has been consulting on its proposals for this new penalty point system for late returns, along with its proposals to harmonise the rules and rates for interest and late payments across the main taxes, income tax self-assessment, corporation tax and VAT.

Penalties and interest for late payment
The majority of respondents to the Government's consultation were broadly in favour of its late payment penalty proposals. Some expressed concern about the complexity, and regarding specific issues such as an initial penalty being applied 15 days after the payment due date. There were also queries about the interaction with 'Time to Pay' arrangements and the length of time taken to finalise these agreements with HMRC.

The Government has decided that, to be fair to the vast majority who pay on time, penalties should be calculated on debts remaining due after 15 days from the payment due date and has now issued draft legislation which broadly follows its original proposals.
An additional penalty will then be charged after 30 days from the proper due date until full payment is made. This charge would be calculated in a similar way to interest.

Late payment penalties will be charged in addition to late payment interest but there would be no second addition of the base rate used in the formula to calculate the second penalty charge.

Penalties will, however, be mitigated where payment, or a Time to Pay arrangement, is made up until 30 days after the due date. Where a successful Time to Pay agreement is made, the Government will take the date of contact with HMRC as the effective date for the purpose of late payment penalties.

This means that, where a payment or a Time to Pay agreement is made or treated as made within 15 days of the due date no penalty will be charged; between 16 and 30 days half a penalty will be charged; after 30 days a full penalty will be charged plus a further penalty which will then accrue daily until payment is made or a Time to Pay agreement is treated as made.

The Government will introduce a 'reasonable excuse' for corporation tax customers making quarterly payments to avoid a penalty where, between payment and the filing date, they can demonstrate that the payment made was based upon a reasonable estimate of the tax due for the year and any balance is paid as soon as possible once the true liability is known. (Quarterly corporation tax payments are due to be made in months seven, 10, 13 and 16 after the start of a 12-month accounting period. So, the majority, if not all, of the payments, will be made before the final profit figure for that accounting period will be known.)

The VAT interest rules will change and will be similar to those that currently apply for income tax self-assessment and corporation tax.
The new penalty point system for late submission
A new points-based penalty regime will be introduced in relation to regular submission obligations (for example, return filing obligations), which replaces existing penalties for the taxes in scope. Implementation will initially only be for income tax self-assessment and VAT. Whilst the excise, environmental, insurance and transport taxes are included within the scope of the legislation changes for these taxes will be implemented at a later date. For now this penalty point system won't apply to corporation tax.
Depending on the frequency of the return submission obligation, a defined number of penalty points will accrue to a threshold. Once this threshold has been reached, a fixed penalty will be charged to the taxpayer.
After this each late submission will attract a fixed penalty, until the taxpayer meets all of their submission obligations by the relevant deadline for a set period of time. Once this happens, and a taxpayer has provided any outstanding submissions for the preceding 24 months, the points total will reset to zero.
Points will generally have a lifetime of 24 months after which they expire so, if a taxpayer accrues points but does not reach the threshold, the points will expire after 24 months. Taxpayers will have a separate points total per submission obligation.
As the Government expects this measure will reduce the number of income tax self-assessment penalties issued, because a monetary penalty will not be charged from the start, it says it's likely that it will set the fixed penalty at a higher rate than current penalties. However, unlike the current penalty regime, there will be no escalation to daily or tax-geared penalties.

The draft legislation can be read here.
Next steps
Final decisions on all of the measures around interest harmonisation, sanctions for late payment and penalties for late submission will be made after a further period of consultation. The Government has said that once it has made any final decisions on the rates that will apply it will then legislate for these along with the dates for implementation. This perhaps leaves the Government some wriggle room, if needed, to further delay implementation. (It was just over a year ago that the Government announced MTD for business would be delayed until 2020, with the exception of VAT).
Currently the Government is saying that a staged implementation is expected, starting with VAT, from 1 April 2020, and that the new penalties will not apply to any tax or accounting periods starting before 1 April 2020.
Sources:
HMRC Consultation outcome: Making Tax Digital: interest harmonisation and sanctions for late payment – dated 6 July 2018;

HMRC Policy paper: Interest harmonisation and sanctions for late payment - dated 6 July 2018;

HMRC Policy paper: Late submission penalties – dated 6 July 2018;

HMRC Guidance: Making Tax Digital for Business - stakeholder communications pack - date 13 July 2018
UK property transaction statistics 
HMRC has recently updated its UK property transaction statistics.   Interestingly we have had another year where there has been a decrease in the number of property transactions. 
The latest figures show that the number of residential property transaction completions with a value of £40,000 or more in the UK were 1,220,060 in 2017 compared to 1,235,020 in 2016. Whilst there has not been a huge decrease it is still nonetheless interesting to see that the number of property transactions has gone down in the past couple of years. 
Source:  HMRC national statistics of 'Monthly property transactions completed in the UK with value of £40,000 or above' published 24 July 2018.  
The status of tax policy consultations – July 2018  
(AF1, AF2, JO3, RO3)
The Government has now released draft legislation for Finance Bill 2018/19. It has also published its July 2018 online tax consultation tracker - an update on the latest position regarding ongoing legislation changes. 
HMRC first reintroduced its online tax consultation tracker on 13 March 2018, following a commitment in a policy paper – 'The new Budget timetable and the tax policy making process' - to hold more early stage policy consultations and be more transparent about tax policy making, facilitating scrutiny of policy and legislation.  
HMRC reviews its powers to access information
(AF1, RO3)
HMRC has recently published a consultation document reviewing its powers to access information and documents from the following sources in cases of non-compliance:  
the taxpayer directly;
a third party about a known taxpayer; 
a third party about a taxpayer whose identity is not known; 
a third party about a taxpayer whose identity can be ascertained.
If information or documents reasonably required by HMRC to check a taxpayer's tax position are in the power or possession of the person whose tax position they are checking, an HMRC officer may issue a taxpayer notice.

If such information or documents are in the power or possession of a third party (ie. somebody other than the taxpayer), an HMRC officer may issue a third-party notice requiring the third party to provide the relevant information or documents to HMRC.  
 
The stated aim of the consultation is to ensure that HMRC's powers have remained effective and efficient in the ten years since they were enacted; and to look at areas where certain anomalies have arisen. The corresponding safeguards are also being considered to ensure they remain proportional and appropriate.
Interestingly, this consultation draws on some of its ideas by comparing information powers across the globe, ranging from Argentina, Australia, China, North Korea and South Africa to the USA.
 
The consultation suggests: 
removing the requirement to seek approval from the tribunal or the taxpayer before a third-party notice can be issued. The third party would, however, have a right of appeal against the notice on the grounds that it is too onerous. HMRC would be able to continue to seek approval to issue a notice where it believed, based on previous experience, that a particular third party was likely to seek to deliberately delay the provision of information or documents; 
a new notice specifically for banking information, as these make up the majority of third-party information requests, and a lack of clarity over whether banking information constitutes a statutory record can prevent information being provided.
 
Many countries comparable to the UK can require the production of third-party information within, for example, around one month by issuing an information notice to the bank. Such a notice does not have to be approved by a court and there is no right of appeal.
Banking information would be defined to include bank statements, information about transactions on the account and information held about the legal and beneficial ownership of the account (e.g. Know Your Customer information). This notice would be available for use in both domestic cases and those where information was requested by an overseas partner.
 
There would be no need to get tribunal approval for the issue of such a notice, and no right of appeal. However, this option would only be available to obtain banking information reasonably required to check a taxpayer's tax position. The issue of the notice would have to be approved by an authorised officer and HMRC would be required to notify the taxpayer of the issuing of the notice. If a notice is not complied with and penalties are levied, an appeal could be made against the penalties in the usual way. If HMRC considers that to notify the taxpayer might prejudice the assessment or collection of tax, it would, as now, ask the tribunal for permission not to notify the taxpayer;
overcoming a lack of clarity in the legislation that results in neither the tribunal nor HMRC actually being able to assess certain penalties where a person does not comply with a notice;
extending the scope of increased daily penalties to help HMRC deter long periods of non-compliance with an information notice. As with the existing daily penalties the tribunal's permission would be needed before such penalties could be charged;
 
putting an obligation on the third party not to inform the taxpayer about the notice where the tribunal has disapplied the requirement to send a summary to the taxpayer. Currently, the tribunal can give HMRC permission not to give the taxpayer a summary of the reasons explaining why it requires information and documents under a third-party notice and not to name the taxpayer in the notice or to send a copy of the third-party notice to the taxpayer. However, there is currently nothing to prevent a third party from notifying the taxpayer about the notice despite a tribunal having already decided such action might prejudice the assessment or collection of tax; and
 
extending HMRC's information powers to allow it to obtain information for debt collection purposes or where a company, usually created in contrived circumstances, has no tax liability. 
This consultation ends on 2 October 2018, after which point HMRC will publish a specific proposal for reform for further consultation. 
 Source: Consultation document entitled 'Amending HMRC's Civil Information Powers' published 10 July 2018.
The 30 September deadline approaches for the requirement to correct tax due on offshore assets
(AF1, RO3)
HMRC has published updated guidance ahead of the 30 September 2018 deadline for the requirement to correct tax due on offshore assets, to include information about how to make a disclosure, deadlines and penalty reductions once liable.
Taxpayers are required to correct any tax returns that fail to properly report offshore matters that would give rise to a UK tax liability by 30 September 2018 to avoid new penalties which will start at 200% of the tax liability. 
Although the new penalty can be reduced, based on the quality of the disclosure, co-operation and the seriousness of the taxpayer's behaviour, it can't go lower than 100% of the tax liability. And if the taxpayer has not come forward voluntarily the penalty will not be reduced below 150% of the tax involved. In the most serious cases HMRC can also add a further penalty of up to 10% of the value of the relevant asset and it will be able to 'name and shame' the taxpayer on the HMRC website.
An enhanced penalty, for cases where it can be shown that assets were moved to avoid having details reported to HMRC under international agreements on exchange of information, also applies to The Requirement to Correct (RTC) rules and will be equivalent to 50% of the failure to correct.
Any individuals or trustees with offshore interests who have a UK tax liability who haven't already reviewed their tax affairs to ensure that they are fully compliant, should now do so as a matter of urgency.
The RTC rules cover:
Income tax, capital gains tax and inheritance tax;
offshore matters (broadly income, gains or assets outside the UK) and offshore transfers (transfers of UK income, gains or assets out of the UK); and
non-compliance – whether deliberate, careless, or even an innocent mistake including incorrect returns, failure to submit returns and a failure to notify that a return should be issued.
Corrections must take place by 30 September 2018, but any disclosure should take place as soon as possible.
The taxpayer needs to make a correction if HMRC can raise an assessment to recover the relevant tax on 6 April 2017. The relevant years to be corrected and level of penalties will be based on behaviour – but broadly it will be the last four years (for non-careless behaviour), six years (for careless behaviour) and 20 years (for deliberate behaviour). 
Example
Chris checks his affairs and realises that he has undeclared income from an offshore investment portfolio, which is valued at £2m. Approximately £50,000 of taxable income has not been reported on his tax returns for each of the last nine years. His behaviour amounts to carelessness rather than deliberate, so this means that the normal time limit for making an assessment applies and HMRC was required to raise any assessment no later than six years from the end of the year of assessment in which the tax loss arose.
The table below sets out which years are in scope for Chris to make a correction by the 30 September 2018 deadline:
Tax year Final date for raising assessment Explanation
Tax year 

Final date for raising assessment 

Explanation 

2008/09 

5 April 2015

(6 years after 5 April 2009)

HMRC unable to assess on 6 April 2017, therefore outside the scope of the RTC

2009/10 

5 April 2016

(6 years after 5 April 2010)

2010/11 

5 April 2017

(6 years after 5 April 2011)

2011/12 

5 April 2018

(6 years after 5 April 2012)

HMRC able to assess on 6 April 2017, therefore within the scope of the RTC

2012/13 

5 April 2019

(6 years after 5 April 2013)

2013/14 

5 April 2020

(6 years after 5 April 2014)

2014/15 

5 April 2021

(6 years after 5 April 2015)

2015/16 

5 April 2022

(6 years after 5 April 2016)

2016/17 

5 April 2023

(6 years after 5 April 2017)

The effect of disclosure would be as follows: Disclosure pre- 30 September 2018
Tax - £120,000 plus interest;
Penalty – nil (voluntary and unprompted).
Disclosure post 30 September 2018 
Tax - £120,000 plus interest;
Penalty – minimum £120,000 up to a maximum of £240,000.
If the behaviour was deliberate post 30 September 2018 
Tax - £120,000 plus interest;
Penalty – minimum £120,000 up to a maximum of £240,000;
Additional tax-geared penalty of up to £200,000 (10% of asset value);
As advised in our bulletin of 14 November 2017, as the RTC is, in part, aimed at individuals and trustees who do not classify themselves as having evaded tax, but may have outdated or less than robust tax planning or structures in place, it is therefore important to consider, amongst other matters, the following:
older structures, lacking up-to-date tax advice;
bank accounts held outside the UK;
whether residence and domicile positions have been correctly reported;
benefits/payments/distributions received from offshore trusts;
payments made from offshore assets; and
any other offshore assets not/not accurately declared.
Swiss assets
Many people may think that if the one-off charge under the UK-Swiss agreement was applied to them, then there will be nothing further to correct. This could be a mistaken assumption. Amounts could still be exposed to UK tax; for example, most non-UK domiciled individuals could have opted out of the one-off charge for the past, and most discretionary structures were excluded, so it is important for people in these categories to be confident of their tax compliance. 
How to make disclosure under the RTC rule  
Regardless of the nature of the non-compliance, disclosure can be made by:
using HMRC's digital disclosure service as part of the Worldwide Disclosure Facility or any other service provided by HMRC as a means of correcting tax non-compliance;
telling an officer of HMRC in the course of an enquiry; or
any other method agreed with HMRC.
Note that anyone wishing to register for the Worldwide Disclosure Facility by telephone must do so by 4pm on 28 September 2018.
Depending on the nature of the non-compliance the following methods can also be used if non-compliance involves:
a failure to comply with an obligation to give notice of chargeability to income tax or capital gains tax can be corrected by giving the requisite notice to HMRC and also giving HMRC the information that enables or assists it to calculate the offshore tax due;
a failure to comply with an obligation to deliver to HMRC a return or certain other documents can be corrected by making or delivering the requisite return or document so that HMRC has the information that enables or assists it to calculate the offshore tax due;
where a return or other specified document has been delivered to HMRC that contains an inaccuracy (and the window for correction remains open) it can be corrected by amending the return or document or delivering a new return or document so that HMRC has the information that enables or assists it to calculate the offshore tax due.
However, whilst it's key to take action by the 30 September deadline, it appears from HMRC's guidance that provided the intention is properly notified by midnight on 30 September 2018 (via HMRC's Worldwide Disclosure Facility (WDF) by registering on HMRC's Digital Disclosure Service (DDS)) penalties will not apply for any failure to correct provided the disclosure process is completed fully and accurately within the 90-day time limit required by the WDF. 
HMRC says – anyone registering for the DDS on or before 30 September 2018 must supply all of the required information by 29 December 2018 at the latest, or in the limited number of cases where the HMRC acknowledgement letter is issued after 30 September, within the 90-day limit.
HMRC's guidance also lists other limited situations where the deadline can be extended provided the required action is taken by 30 September 2018. 
Source: HMRC Guidance: Requirement to Correct tax due on offshore assets – dated 11 July 2018.
Five things you should know about EIS and risk 
(AF4, FA7, LP2, RO2)
Mark Brownridge, CEO of the Enterprise Investment Scheme Association (EISA), has recently outlined his thoughts on the Enterprise Investment Scheme (EIS) and risk. 
The Treasury is keen to encourage investors to support enterprise in Britain. But, equally, it recognises that an investment in a start-up or SME business carries significant risk to the point where potentially an investor could lose all their initial capital. To compensate for this risk, the Treasury offers investors generous tax reliefs.  
HMRC recently amended rules that enabled investors to benefit from these tax reliefs while investing in low-risk, asset-backed schemes. These schemes were not without risk — if one investment failed it was possible that the returns from the others would not outweigh losses. But that ship has sailed.  
So, is what we are left with too risky to contemplate?  
Risk is something that always makes a sensible investor nervous. But with risk should come reward and our members can offer plenty of examples of exits that have delivered handsome rewards for investors. Don't forget risk builds trust, not vice versa!  
If you understand risks you can mitigate them and improve your chances of success. Below we have outlined the five key points you should consider when assessing risk in relation to EIS and SEIS investments. We hope this will encourage informed and helpful discussions between advisers, investors and fund managers so that investments in EIS are made in knowledge and confidence, but for more information please read the EISA guide which can be found here - https://www.eisa.org.uk/enterprise-investment-scheme-association-addresses-concerns-about-the-risk-exposure-when-investing-into-uk-smes/ 
Systemic risk - Systemic risk is the risk of the collapse of a whole market or sector (as in the financial crisis of 2008/9). Companies within EIS portfolios tend to have reduced systemic risk. The long-term nature of the investment and the fact that most are unlisted mean they are often less buffeted by the emotional highs and lows of markets.
 
Specific risk - Specific risk is the risk facing an individual company (like its technology being overtaken or failing to find a market). EIS-qualifying investments have heightened specific risk. Much of this guide will be focused on how to help mitigate these risks.
Liquidity - To enjoy the tax benefits associated with EIS you need to be invested for three years. It may take much longer than that for some of your investments to reach a successful exit. As most EIS companies are not listed, it will usually be impossible for you to liquidate your investments in the event of you needing cash rapidly. So before investing, you should consider carefully the likelihood of you needing the cash before the investments mature.
Eligibility - In most cases, before considering a company for investment, an investment manager will want evidence that the company is likely to be EIS-qualifying. An investee company may apply to HMRC for 'advance assurance', which is an indication that it appears to meet EIS-qualifying criteria, based on the information provided to HMRC.
Diversification - Predicting which companies will succeed and which will fail when making investment decisions is extremely difficult. Diversification is one of the best ways to reduce specific risk. An investment in an individual EIS company offers two outcomes — the company will either succeed or fail. You could make a good return if the company achieves a successful exit or lose everything, apart from loss relief and the initial income tax relief, if it fails 
Investing across a portfolio of EIS funds or companies allows you to spread your risk and improves your chance of good overall returns. Diversification can help to reduce risk and is particularly important when investing in higher-risk opportunities. But over-diversification can reduce your chance of a high overall return — the more companies you invest in, the more likely your return is to be close to the median as any super-performers will be averaged out by poor performers. 
Following EISA's constant dialogue with HM Treasury we have been informed that the European Commission has now approved the Autumn Budget 2017 changes to the EIS and VCT schemes without objection. The press release is here: 
http://ec.europa.eu/competition/elojade/isef/case_details.cfm?proc_code=3_SA_49923 [ec.europa.eu] 
A detailed decision letter will be published in due course. For now, the Treasury is proceeding with the process of laying commencement provisions. As with all parliamentary processes, the Treasury cannot be sure of an exact date when this will occur, but it should be soon. 
The disguised remuneration loan charge: the latest HMRC guidance 
(AF1, AF2, JO3, RO3)
Broadly, disguised remuneration schemes involve using a loan, or other payment, which is unlikely to ever be repaid, to reward employees, directors or contractors, via a third party, such as a trust or other vehicle, instead of salary or other taxable income or benefits. Legislation applies to tax transactions entered into on or after 9 December 2010.

Now, such loans made on or after 6 April 1999, and which remain outstanding at 5 April 2019, will attract a tax and National Insurance charge – a loan charge. The amount subject to tax and National Insurance will be the outstanding loan amount on that date. Loan amounts repaid before that date will not be subject to the new loan charge, subject to certain anti-avoidance provisions which are designed to ensure that a genuine repayment has been made.

To avoid, or mitigate, the loan charge, it's necessary to register an interest with HMRC and provide all required information by 30 September 2018. 

This settlement opportunity is open to employees, employers and self-employed contractors who have used disguised remuneration schemes. 
HMRC has now issued a Policy Paper reminding users of disguised remuneration schemes about the 30 September 2018 deadline. It has also issued new Guidance on settling their tax affairs. 
 
Unless they are already speaking to someone in HMRC about their use of a disguised remuneration scheme, or have a customer compliance manager, with whom they can register, they will need to register by emailing:
According to Mel Stride, Financial Secretary to the Treasury, the charge on disguised remuneration loans is estimated to raise £3.2 billion for the Exchequer by 2021, so some hefty bills are anticipated.

Flexible payment arrangements are available to anybody who 'has genuine difficulty paying what they owe'. By this, HMRC means that it will allow scheme users to spread their payments over five years if their taxable income in 2018/2019 is estimated to be less than £50,000, and as long as they are no longer in avoidance. 

Those with higher incomes and those who need to pay over a longer period can also request for extended payment periods, which HMRC will consider based on individual circumstances. 
 
HMRC has given a number to call if anyone is concerned that they have no realistic way of paying what they owe, which is 03000 534 226. 

Meanwhile, its guide 'Tax avoidance disguised remuneration' and the following 'Spotlights' also provide further information about what disguised remuneration schemes might look like and include fairly strong warnings not to engage with such schemes or indeed further schemes aimed at avoiding the Government's disguised remuneration loan charge: 
Concerns continue to be raised by MPs and the Loan Charge Action Group around the potential size of the loan charge and effects on the wellbeing of individuals where HMRC pursues employees and contractors for payment, rather than the employer, or the promoter of the scheme.

An 'early day motion', which calls on the Government to revise the legislation to avoid significant damage to independent contractors and freelancers in the UK, now has 79 signatures; and for the charge to apply only to disguised remuneration loans entered into after Finance Act 2017 received Royal Assent.  

Sources:  
HMRC Policy paper: HMRC issue briefing - disguised remuneration charge on loans – dated 18 July 2018; 

HMRC Guidance: Disguised remuneration: settling your tax affairs – dated 18 July 2018.
INVESTMENT PLANNING
Government borrowing data gives the Chancellor a little wriggle room
(AF4, FA7, LP2, RO2)
The government borrowing figures for June were released in late July, giving us a view of the UK's finances for the first quarter of 2018/2019. Although the £5.4bn borrowing for the month of June was £0.5bn above expectations, the overall picture for the first three months of the fiscal year is still better than many, including the Office for Budget Responsibility (OBR), had expected.
Over the first quarter, borrowing at £16.8bn was £5.4bn lower than for the same period last year and was at its lowest level at this point in the financial year since 2007. As the OBR says "... this is more than the improvement that is needed to meet our March forecast for [borrowing] in 2018/19 as a whole". Government receipts are "a little below" the OBR's forecast, meaning that it is weaker spending - down 0.9% on last year - that has driven the figures.
In the three months since April 2018, PAYE income tax and NICs receipts have grown by 3.5% (against an OBR forecast of 2.9% and 2.5% earnings growth) and growth in VAT receipts was 5.6% versus an OBR 4.0% forecast. However, the stalling residential property market is pulling in the opposite direction: property transaction taxes fell by 8.6%, whereas the OBR had projected a rise of 1.4%. If that gap is maintained, it will cost the government about £1.4bn in lost revenue, a reminder of how dependent the Treasury has become on the property market.
At £1,792.3bn, public sector net debt (PSND - total government debt) fell by 1.0% of GDP in June 2018 from a year earlier. However, the fall is not as simple as it seems. The OBR notes:
The reclassification of English housing associations to the private sector from last November reduced PSND by £65.5bn or 3.2% of GDP;
The Bank of England's August 2016 monetary policy measures in response to the Brexit vote have raised PSND by £56bn or 2.7% of GDP;
The recent sale of £2.5 billion of RBS shares reduced PSND by 0.1 per cent of GDP. This sale, plus the £5.2bn sale of Bradford & Bingley mortgage loans the previous month, are part of a £16.6bn of financial asset sales the OBR factored into its March forecast for PSND;
The June reclassification of Welsh housing associations to the private sector took £2.7bn off PSND (0.1% of GDP); and
The government was holding £21bn more of liquid assets than a year ago, and these net off against PSND.
While the figures look good, as the OBR wisely notes, "...it is still too early in the financial year to draw meaningful conclusions about the public finances for the year as a whole".  Mr Hammond must hope the good news continues into Autumn.
Source:  Statistical bulletin entitled 'Public sector finances, UK: June 2018 published by the ONS
PENSIONS
Work and pensions committee publish report on collective defined contribution pensions
(AF3, FA2, JO5, RO4, RO8)
Work and Pensions Select Committee has published it findings "Collective defined contribution pensions" the Committee's 16th Report of Session 2018–19.
The report sets out the arguments for and against the introduction of CDC schemes as well as the background and proposed legislative changes required.
In the conclusion the WPC state "Through the pooling of risk, CDC offers scheme members the potential for better pensions than from standard defined contribution saving. It may be particularly appealing to people who desire a regular and reliable income in retirement. For employers keen to offer their workers decent pensions but reluctant to take on large potential liabilities, CDC is an attractive alternative to defined benefit schemes. CDC would therefore be a good choice for some employers and some savers that addresses limitations in their current options. To offer more good choices is entirely consistent with pension freedoms.
While the Government has rightly emphasised, and succeeded in, ensuring more people save for retirement, that focus should not preclude enabling new models of pension provision. The job of selling the benefits of retirement saving is made easier if the saver has a desirable pension to look forward to."
They go on to state that "We recommend the Government use its existing powers under section 32 of the Pensions Act 2011 to amend the statutory definition of money purchase benefits to incorporate collective benefits. This would have the added benefit of reassuring employers that they will not subsequently be held liable for funding scheme deficits. We further recommend the Government consult on technical regulations addressing each of the areas identified."
The areas identified for consultation include:
the appropriate methodology for calculating cash-equivalent transfer values for CDC scheme members in the accumulation stage;
whether CDC scheme members should be allowed to transfer out in the decumulation stage and, if so, what methodology should be used to calculate transfer values to balance individual rights against collective longevity pooling benefits; and
whether transfers out of CDC should be subject to a financial advice requirement above a certain threshold.
The report goes into significant detail and includes all the minutes and written evidence provided.
HMRC annual allowance calculator
(AF3, FA2, JO5, RO4, RO8)
HMRC have relaunched the Annual Allowance calculator.
The calculator includes the facility to include the money purchase annual allowance, the tapered annual allowance and carry forward.
This document is believed to be accurate but is not intended as a basis of knowledge upon which advice can be given. Neither the author (personal or corporate), the CII group, local institute or Society, or any of the officers or employees of those organisations accept any responsibility for any loss occasioned to any person acting or refraining from action as a result of the data or opinions included in this material. Opinions expressed are those of the author or authors and not necessarily those of the CII group, local institutes, or Societies.