Funeral cover - which insurers give more?
News Article
Who provides funeral cover and in what product?

The passing of a loved one is an emotional and stressful event. At a time where a family will understandably want to grieve, the last thing they want to think about is how they are going to cover the associated costs, such as the funeral. In this week's insight, we look at which providers help take away the immediate financial burden, by offering a funeral benefit to contribute towards such expenses.
To some peoples surprise, funerals can be a lot more expensive than originally expected. A recent study from The Money Advice Service shows that in 2018 the cost for a simple burial within the UK cost between £3,000 - £7,000, with some funerals costing in excess of £10,000.
In recent times the Protection Distributors Group (PDG) have carried out vital work with insurers to ensure that all life policies includes funeral cover. This is designed to make an immediate payment to the family of the life assured (in advance of the claim being settled) to help cover essential costs as a result of their loved one's death. A number of providers however, have taken this a step further by offering similar benefits through other products within their proposition such as income protection and children's critical illness.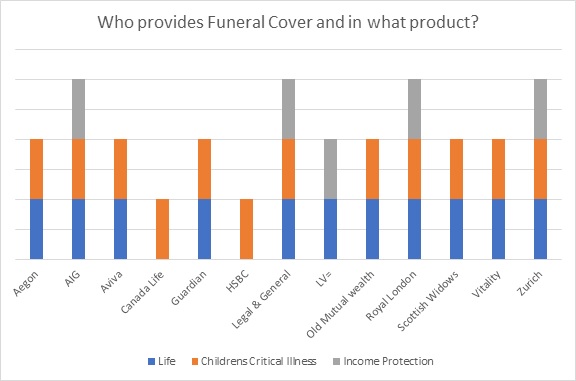 *Zurich only offer e children's funeral benefit on their Zurich Select product, not their Zurich Core product.
For all life insurance providers, you will have advanced payment options while your claim is going through the probate period, allowing you early access to an amount of money to cover funeral and other immediate expenses. Providers vary with the amount the family are able to access, with some providers such as AIG, Aviva, Guardian and Zurich placing no defined limit on how much can be paid in advance of the claim being settled (albeit they may only release an amount equal to what is required to meet immediate needs).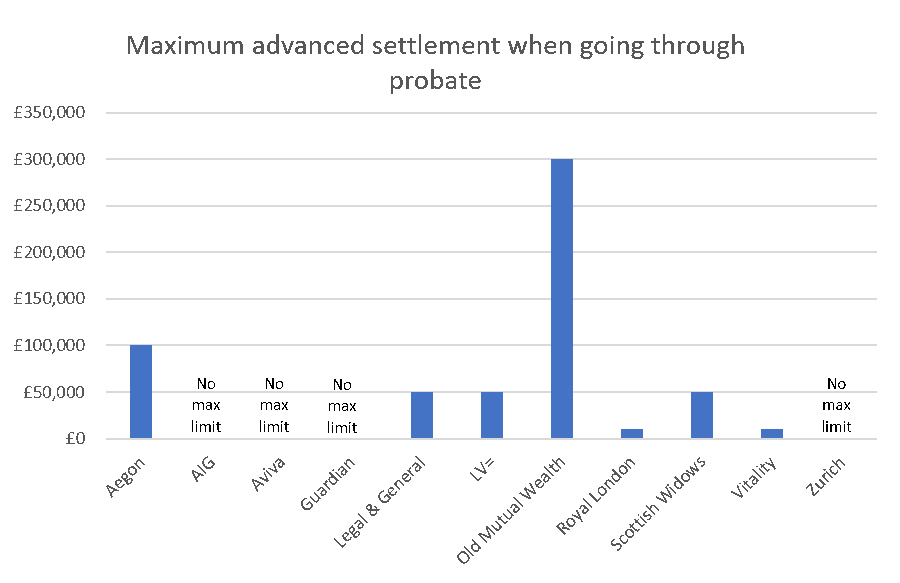 Similar to life insurance, funeral cover is now being offered within the child element of critical illness policies. In the tragic event of a child of the life assured passing away, the life assured will receive a benefit to go towards funeral costs. However, providers do have exclusions on where they may not pay-out:
If the child's condition was present at birth the claim would not be paid
The claim wouldn't be paid if the cause of death was present before the policy was put in place
The claim wouldn't be paid if a critical illness claim for the child has already been paid
In the event that a child does qualify for a funeral cover benefit the amount insurers pay varies: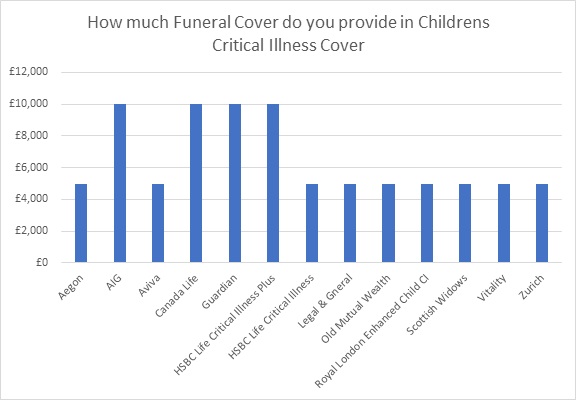 Although a death benefit has not been traditionally offered within Income Protection, in recent times a number of insurers have added a similar feature to funeral cover to their plans. Whilst life policies and children's funeral cover within Critical Illness insurers will pay a set amount regardless of when death occurs, within Income Protection some insurers will pay varying amounts dependent on when the clients dies within the policy term, or the premium level.
How much Funeral Cover do you provide in Income Protection

AIG

£10,000

Legal & General

If you die during the term of the policy, Legal & General will pay out an amount equal to your annual premium or 12 times the monthly premium (not the monthly benefit) being paid at the time of your death.

LV=

LV= will pay £5,000 if you die within four years of the policy start date or £10,000 if you die four or more years after the policy start date.

Royal London

If you die during the term of the policy, Royal London will pay out an amount equal to your annual premium or 12 times the monthly premium (not the monthly benefit) being paid at the time of your death.

Zurich Select

£10,000
Whilst it may not be something a client wants to consider, understanding that their death will place immediate financial burden on their family is important. Given that acceptance of claims can often take time, being able to support a client's family in covering those immediate costs can help ensure that no further stress is placed on them at a most dire time. The Protection Distributors Group should really be commended for the work they have put in to ensure that providers offer such assistance, as should the insurers that have implemented funeral cover.
Overall AIG, Legal & General, Royal London and Zurich look to provide the best funeral cover benefits across the market, with all four companies offering it across all three products. AIG is the main stand out, by having no limit during the probate period, £10,000 for children's critical illness and a fixed figure of £10,000 for income protection.
To sign up to the Protection Guru mailing list you can register your details HERE
This document is believed to be accurate but is not intended as a basis of knowledge upon which advice can be given. Neither the author (personal or corporate), the CII group, local institute or Society, or any of the officers or employees of those organisations accept any responsibility for any loss occasioned to any person acting or refraining from action as a result of the data or opinions included in this material. Opinions expressed are those of the author or authors and not necessarily those of the CII group, local institutes, or Societies.