Children's conversion options
News article
Adam Higgs, Robert Quartey
Who helps the younger generation obtain life & critical illness cover?
Throughout the last year we have seen a massive shake up in the protection industry as most insurers to a greater or lesser extent have made changes to their propositions. The critical illness market looks markedly different to this time last year and we have seen a number of new innovations which are always welcome. One such innovation is the addition of child conversion options, but what are these and when can they be utilised?
To date only two insurers offer a child conversion option within their critical illness plans. Old Mutual Wealth with their First Time Cover and Zurich with their Children's Conversion Benefit. In simple terms the option enables a qualifying child of the life assured to take out a life and critical illness plan without being medically underwritten. It is a great initiative as it enables advisers to start discussing the protection needs of clients' children and discuss with the child the benefits of such cover in order to get them familiar at an early age.
As always however, there are some differences in how this is offered between the two insurers.
In terms of when the option can be taken advantage of Old Mutual have a far more limited time frame as this is only offered in the 6 months post their 22nd birthday when the children's cover ends. Zurich on the other hand offer a far wider period to effect the option of any time between the child's 16th and 22nd birthday.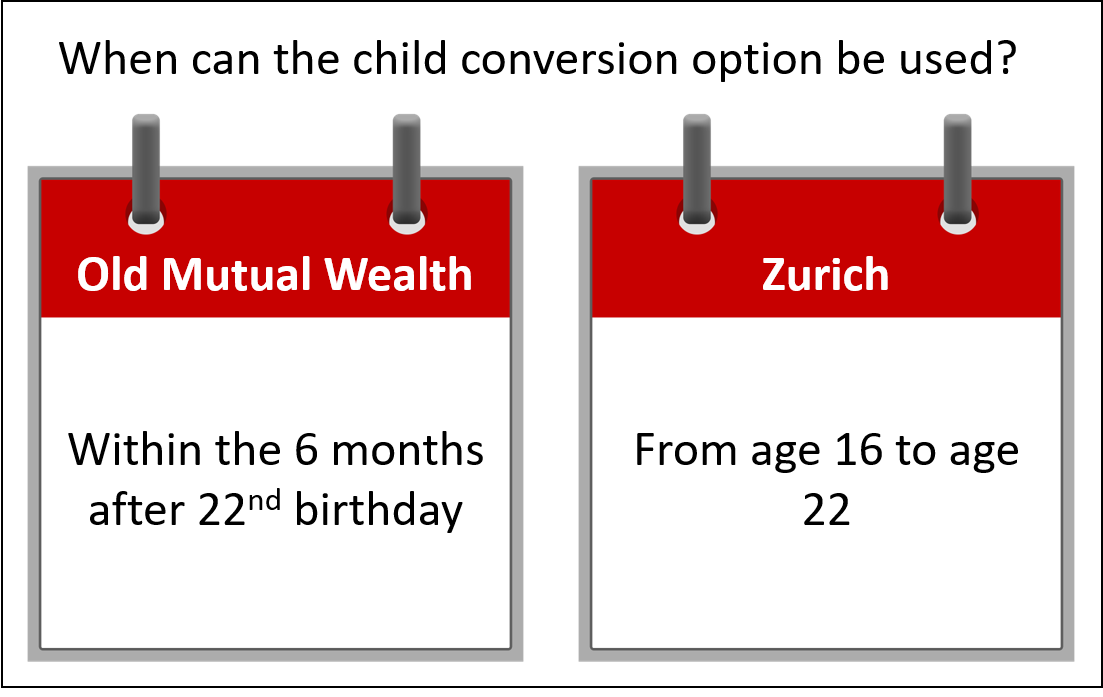 Both companies restrict the amount of cover that can be taken but not the term of the plan. Old Mutual Wealth offer children the lesser of 50% of the parent(s) sum assured to a maximum of £25,000. If however, both parents are covered under the plan or the parents have two separate critical illness policies the maximum monetary amount that can be covered increases to £50,000. For Zurich the maximum cover remains at the lesser of £25,000 and 50% of the parent's sum assured regardless of whether both parents are covered or not.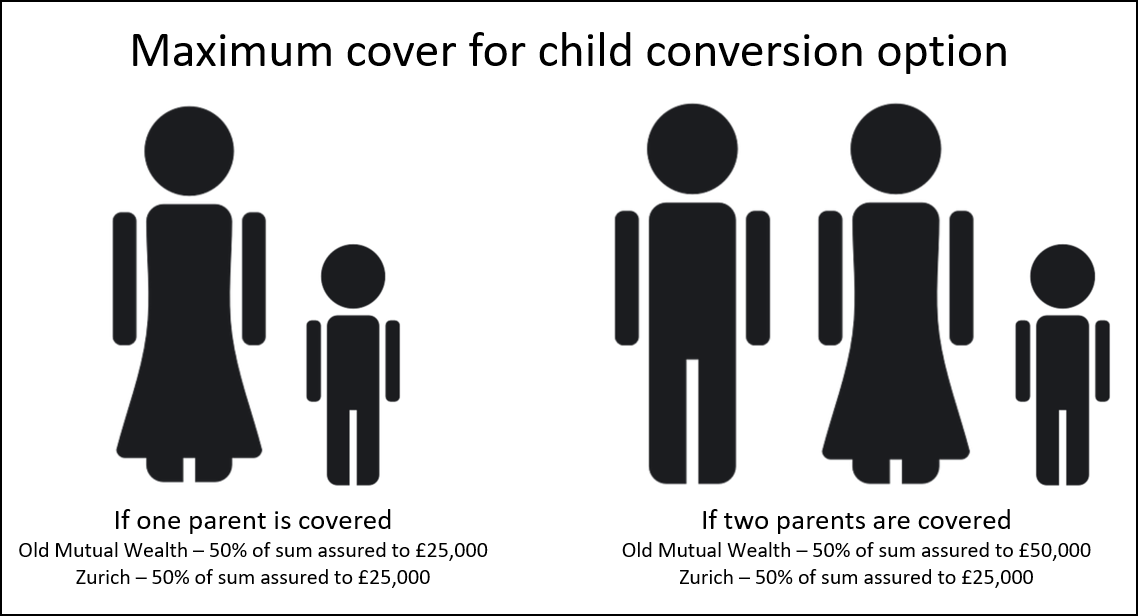 Given that cover is being provided to the child without medical underwriting, it is understandable that there are some exclusions and cases where cover cannot be offered. Old Mutual Wealth seem to have less exclusions than Zurich, however it is encouraging that the list of caveats is not long and overall seems reasonable.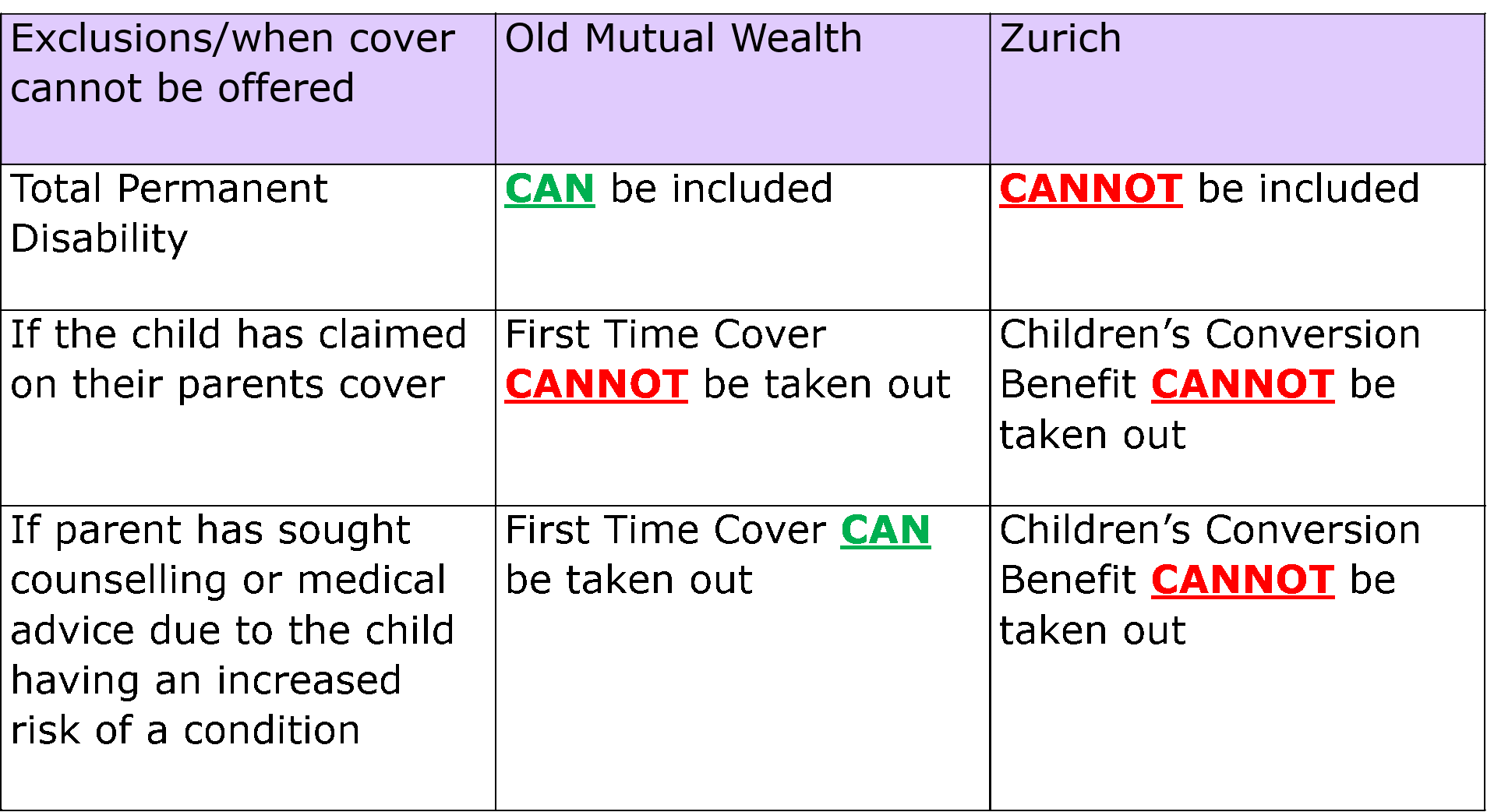 Intergenerational wealth is a key issue for advisers and has received a lot of press in recent months. A recent study by Sanlam found that 80% of the 200 advisers polled believe that the intergenerational transfer of wealth is the greatest opportunity for the advice sector.  The problem for many advisers, however is how they engage with the children of their clients in order to ensure that when they do receive their inheritance they do not go elsewhere to obtain advice.
Child conversion options, provide exactly that opportunity. They allow advisers to not only discuss with the parents the protection needs of their children but to also to engage directly with the children at an early age. This can help advisers build a relationship with the children of their clients, help them with in other areas of financial planning and ultimately start to build the client bank of tomorrow.
Overall both Old Mutual Wealth and Zurich are strong. Whilst Old Mutual have a far smaller period when the child can take cover they offer higher sums assured if both parents are covered and less restrictions. Zurich offer a far greater period when cover can be taken out and whilst they offer more restrictions they are fair.
To sign up to the F&TRC mailing list you can register your details here. 

This document is believed to be accurate but is not intended as a basis of knowledge upon which advice can be given. Neither the author (personal or corporate), the CII group, local institute or Society, or any of the officers or employees of those organisations accept any responsibility for any loss occasioned to any person acting or refraining from action as a result of the data or opinions included in this material. Opinions expressed are those of the author or authors and not necessarily those of the CII group, local institutes, or Societies.