John White biography
Co-opted Attendee
John White ACII, DipPFS
Chartered Insurance Practitioner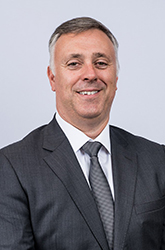 In December 2016 John became CEO of Sanlam Wealth in the UK, where he leads and manages both the Financial Planning and Discretionary Fund Management business.
John has spent 35 years in financial services he worked for 17 years in professional services firms where he was a Partner and Head of Financial Management at Robson Rhodes, Bentley Jennison, RSM Tenon and Baker Tilly. Before joining Sanlam John was Chief Operating Officer of Arthur J Gallagher Employee Benefits & Wealth Management and was Head of the Wealth Management division providing personal financial advice.
John's career has always been in the front line of advising clients either directly or indirectly managing the teams that provide the advice and planning to the consumer. He has led experienced teams of advisors and planners through the changes of the recent years with a strategic direction to ensure clients are well served. John has been involved in several acquisitions and sales of financial services businesses over the last 20 years understanding the value of what makes a good professional quality advisory business.
In the years heading financial services businesses he has introduced trainee adviser career programs to help develop new talent in the same model used by national accountancy firms for future partners. He believes that this experience and insight is helping to help shape the future continued direction in developing our profession.