Wellbeing in the workplace
Blog
Different ways for firms and individuals to seek and supply mental health resources.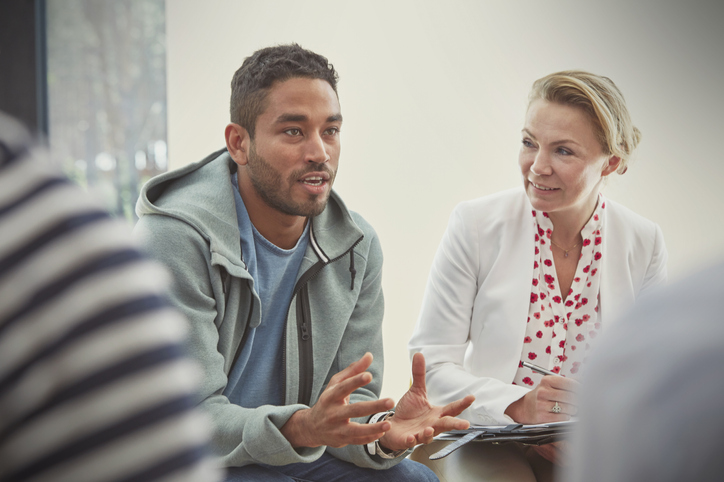 Attitudes towards mental health have seen a noticeable improvement over the past few years. Those affected by mental health issues, such as depression and anxiety, have been able to talk about their symptoms more openly, not just with their GP but with their employer too.
According to the Association of British Insurers (ABI), "one in four of us in the UK will be affected by a mental health problem in any given year, and of these, around four million will also struggle with their financial wellbeing".
Factors such as work-life balance, bullying, harassment, performance measures and personal issues can all contribute to stress. While it is encouraging that people feel safe enough to disclose details about their mental health at work, what happens next?
Mental health first aiders
More firms are now training their own staff to become 'mental health first-aiders'. These are the go-to people if other employees want to discuss their mental health. Each person should be equipped with the resources to help refer employees where they can seek help if they want or require it. Some people may prefer not to go to HR about their mental health and prefer a less formal offer of support.
Flexible working
Not everyone will feel comfortable discussing their personal issues at work. Those who are seeking professional counselling or treatment may be required to attend regular lengthy appointments. Most of us will have to attend a doctor's appointment during work hours at some point. Those accessing mental health resources in a similar way should also be accommodated equally. Many firms have a 'work from home policy' which would help those who need to attend appointments that might not be convenient or lack discretion if they are in the office. Flexible working arrangements are another alternative where an employee may be able to arrive later or leave early to attend an appointment on relevant days.
Employee assistance programmes
Some firms are able to offer counselling or other therapies through group private medical insurance. In the unfortunate event of an employee requiring an extended absence from work, some firms even offer group income protection that can cover employees so that they won't face financial hardship (and additional stress).
Charity initiatives
There are all sorts of benefits to partnering with a mental health charity. First of all it can help create better awareness amongst employees on how to recognise their own mental health, as well as how to be more accommodating to others who are affected. Some charities can help firms create their own internal policies on how to help employees. Plus fundraising activities can also create a fun atmosphere while educating others about relevant issues.
Everyone deals with things differently. Therefore it is important that there are options available to those struggling with their mental health that reflect this. As well as being able to talk about mental health issues, employees also need to feel that not only can they speak in a safe environment, but that constructive steps can be made towards a positive outcome. Whether you are asking for help or offering it, progressive and flexible resources should be easily available.
Useful links:
This document is believed to be accurate but is not intended as a basis of knowledge upon which advice can be given. Neither the author (personal or corporate), the CII group, local institute or Society, or any of the officers or employees of those organisations accept any responsibility for any loss occasioned to any person acting or refraining from action as a result of the data or opinions included in this material. Opinions expressed are those of the author or authors and not necessarily those of the CII group, local institutes, or Societies.