Technical news update 09/04/2019
Technical article
Update from 21 March 2019 to 3 April 2019.
Quick Links
Taxation and trusts
Investment planning
Pensions
TAXATION AND TRUSTS
Sale of a business by a professional person
(AF2, JO3) 
The decision in the First-tier Tribunal (FTT) case of Richard Villar v HMRC [2019] UKFTT 0117 (TC) has recently been published. It considered the tax implications of a sale of goodwill by a professional person and is very helpful in clarifying the law in this area. 
Mr. Villar had a successful medical practice and sold the business as a going concern to Spire Healthcare Diagnostics Limited for £1 million. On his tax return Mr. Villar reported the sale as giving rise to a capital gain, entitled to benefit from entrepreneurs' relief, and paid capital gains tax (CGT) of around £80,000 on the gain. 
However, HMRC argued that it wasn't a sale of a business, and that Mr. Villar had effectively attempted to avoid income tax on an advance payment from Spire for his future professional services. 
The sale of a business usually gives rise to a capital receipt chargeable to CGT, which is then potentially relievable by entrepreneurs' relief. However, HMRC said that the payment from Spire was mainly attributable to goodwill that could not be transferred to Spire because the goodwill was personal to Mr. Villar, and so Mr. Villar did not have a business to sell. 
HMRC tried to apply section 773 ITA 2007, which brings into a charge to income tax a capital sum, which is received to exploit the earning capacity of an individual in an occupation, where one of the main objects of the arrangement is the avoidance of income tax. 
On this point, HMRC argued that if Mr. Villar had continued to receive the profits of his practice, those profits would have been chargeable to income tax whereas, having sold the practice, he received £1 million which was chargeable to CGT and eligible for entrepreneurs' relief, which resulted in him avoiding all of the income tax, so section 773 should apply. 
Instead of a CGT bill of around £80,000, HMRC charged Mr. Villar income tax, plus penalties and interest, adding up to a bill of more than £800,000. 
However, Mr. Villar had sold his patient list, his brand name and his domain. His particular method of carrying on the business resulted in a book of customers which provided repeat business. The name 'Richard Villar' was capable of attracting customers notwithstanding the fact that not all medical services were provided by Mr. Villar himself. He no longer managed the practice after the disposal and was not a director. 
That the practice did constitute a business capable of sale was demonstrated by the valuation which was carried out independently when Mr. Villar began to contemplate retirement. The fact that the business had to date been so dependent on Mr. Villar and his name and reputation, and the risk that represented to a purchaser, were taken into account by the valuer and, to reflect these factors, the valuer applied a conservative multiplier of two in calculating the value of the business on the earnings basis. 
Following the sale, only the purchaser was entitled to use the name 'Richard Villar' in connection with the business. It did so, changing its name from Spire after completion. And Mr. Villar, in accordance with the agreement, did not carry on a business under that name. 
Both parties agreed that the sale of a business is a capital transaction. The dispute was as to whether the arrangements Mr. Villar entered into with Spire amounted to the sale of a business. 
Taking all of those points into account, the Tribunal did not take long to conclude that, as a matter of fact, the sale by Mr. Villar was a sale of his business and that the amount received was capital, subject to CGT. 
On the income tax point, the Tribunal found that there was no fixed intention or obligation for Mr. Villar to continue to work for Spire, and said that on that basis it was difficult to conclude that the purchaser was exploiting Mr. Villar's earning capacity. However, if there were (and it is fairly common for a vendor to work for the purchaser for a period after a sale to help with a smooth handover), the next question would be whether one of the main objects of the arrangements was the avoidance or reduction of any liability to income tax. In reality (and in fact) Spire were exploiting the practice (and the goodwill) that Mr. Villar had sold to them. And the Tribunal found that there was no intention or desire to avoid or reduce income tax. Indeed, they saw no evidence that income tax was a matter which had been considered at all. The Tribunal therefore decided that section 773 did not apply. 
This case is important because it clarifies the tax position on the disposal of the goodwill of a professional practice which has often been the subject of controversy in the past. The judge in this case made a point of saying what counts as a sale of goodwill and what counts as a payment for advance services. Reportedly, HMRC has said it will not appeal, so this should be a helpful decision – even though decisions of the FTT have no precedent. 
Sources:
A new devolved taxes policy framework for Scotland
(AF1, AF2, JO3. RO3) 
The first two fully devolved taxes, Land and Buildings Transaction Tax and Scottish Landfill Tax, have been operational for almost four years now in Scotland. The devolution of two further taxes - Aggregates Levy and Air Departure Tax – is also on the horizon. The Scottish Government wants to draw on its experiences since 2015 and think about how it can do things differently, both in terms of its policies and how it engages with people, communities and businesses. 
The consultation, which is limited to the fully devolved taxes, asks for views on:
The Scottish Government's proposed approach to tax consultations, in particular consulting on issues collectively rather than on an individual basis; 
The proposed policy and legislative cycle and how frequently the cycle should occur - annually or every two years; 
Whether the existing documents that are published, and the Scottish Government's approach to drafting them, is a sufficient means of clarifying the intention and impacts of a policy; and 
The Scottish Government's approach where changes need to be made without advance consultation. For example, to tackle tax avoidance, to correct an anomaly or to respond quickly to changes in the economy. 
Other than the Scottish Budget, currently there is no formal process or structure in place to guide the consideration, analysis and implementation of legislative change for the devolved taxes. 
A Devolved Taxes Policy Framework will be developed, through this consultation and a series of planned events, to govern how changes to the fully devolved taxes will be proposed, consulted on, assessed and evaluated. The Devolved Taxes Policy Framework will set out a policy and legislative cycle through which changes to devolved taxes legislation will follow. 
Next steps
The Scottish Government will be holding three events to run alongside the consultation. The sessions will provide stakeholders with the opportunity to find out more information on the consultation from officials, participate in group discussions and provide feedback in advance of official responses to the consultation. 
Responses to this consultation are required by 6 June 2019. Following the closing date, all responses will be analysed and considered along with any other available evidence. Responses will be published where permission has been given to do so. An analysis report will also be made available in late Summer. An announcement on the new process will then be made as part of the 2020/21 Scottish Budget in late 2019. 
Background 
As already said this consultation is limited to the fully devolved taxes. Other taxation powers available to the Scottish Government include: 
Scottish Income Tax - the power to set the rates and band thresholds that apply to all non-savings non-dividend income tax paid by Scottish taxpayers. While the Scottish Parliament has the power to set the Scottish Income Tax rates and bands, HMRC continues to be responsible for its collection and management. As such, Scottish Income Tax remains part of the existing UK income tax system and is not a fully devolved tax. 
Assigned VAT Revenues – from 2020/21 receipts from the first 10p of the standard rate of VAT and the first 2.5p of the reduced rate of VAT in Scotland will be assigned to the Scottish Government. However, the power to set the VAT rates and determine the tax base will remain reserved to the UK Government so VAT is not a fully devolved tax. 
Local Government Taxes - the Scottish Government is responsible for the policy and legislative framework for Council Tax and non-domestic rates. However, individual local authorities administer and collect them. The 2019/20 Scottish Budget delivered additional powers to local authorities to introduce taxes on workplace car parking spaces and tourism. Once developed, it will then be for each local authority to decide whether to introduce these powers. 
Source: Scottish Government consultation paper: Devolved taxes - policy framework consultation – dated 14 March 2019.
The latest UK property transaction statistics from HMRC are now available
(AF1, AF2, JO3. RO3)
The latest property transaction statistics show an increase in the number of transactions completed in the UK compared to last year. 
HMRC issues monthly estimates of the number of residential and non-residential property transactions in the UK and its constituent countries with a value of more than £40,000. 
The figures are based on HMRC's Stamp Duty Land Tax (SDLT) database, which records the information submitted by property purchasers on the SDLT Return. The latest figures are now available and information relating to these can be found here. 
The figures show that after the 2008 credit crunch there had been a steady increase in property transactions since 2009/10. We then saw a significant increase in both 2014/15 and 2015/16 but this was then followed by a 'dip' in 2016/17 – the same year as that in which  the additional 3% SDLT surcharge was introduced.  Interestingly, the total number of property transactions for 2017/18 has risen compared to 2016/17 which is a promising outlook for the UK property market. 
Source:  Monthly property transaction completed in the UK with value of £40,000 or above – National Statistics published 21 March 2019
Proposed changes to the FCA responsible lending rules and guidance
(ER1, LP2, RO7) 
The FCA is proposing changes to its rules, with the intention of reducing regulatory barriers to consumers, who are up-to-date with payments and not looking to borrow more, switching to a more affordable mortgage. 
The Mortgage Market Study found that some consumers cannot switch to a more affordable mortgage despite being up-to-date with their mortgage payments. This includes so called 'mortgage prisoners'.
To reduce the barriers these consumers face now, or could face in future, the FCA is proposing to amend its responsible lending rules and guidance so that mortgage lenders can choose to undertake a modified affordability assessment where the consumer:
has a current mortgage;
is up-to-date with their mortgage payments;
does not want to borrow more, other than to finance any relevant product fee or arrangement fee for that mortgage; and
is looking to switch to a new mortgage deal on their current property.
Under the modified assessment, mortgage lenders must not enter into a new regulated mortgage contract with an eligible consumer unless they can demonstrate that the new mortgage is more affordable than their present one.
The FCA is also proposing that:
Inactive lenders and administrators acting for unregulated entities will be required to review their customer books to identify eligible consumers and write to them highlighting this rule change and directing them to relevant sources of information.
Mortgage lenders which make use of the modified affordability assessment will be required to disclose to consumers the basis on which their affordability has been assessed and provide some additional disclosures about potential risks.
Mortgage lenders will be required to flag which mortgages have been sold using the modified affordability assessment when submitting Product Sales Data (PSD) reports to the FCA. 
You can read the full consultation document here. Comments need to be sent to the FCA by 26 June 2019, after which the FCA will consider feedback received and publish rules in a Policy Statement in Q4 2019. 
Source:  CP19/14: Mortgage customers: proposed changes to responsible lending rules and guidance – dated 26 March 2019.
Proposed change to probate fees
(AF1, RO3)
As most readers will be aware, the government is proposing to change the current probate fee structure from a flat rate fee to one based on the value of the estate.
In order to obtain probate, the person(s) administering the estate, otherwise known as the executors/personal representatives, have to initially submit an inheritance tax account and pay any inheritance tax liability to HMRC. This inheritance tax is normally payable six months from the end of the month in which death occurred.
Once HMRC can confirm that the inheritance tax account has been received and processed, a grant of probate can be obtained from the relevant probate registry.
HMRC has released a news story to confirm that while the process for introducing the new fee structure is ongoing, probate registries will accept applications for probate before the account has been processed by HMRC. The application must include a note to confirm that the appropriate inheritance tax forms will follow in due course. 
Source:  HMRC News story: Proposed change to probate fees - While the changes are being considered there is a temporary process in place for applying for probate – dated 27 March 2019.
Delayed introduction of probate fees
(AF1, RO3) 
It has been reported in the press that the controversial new probate fees payable to execute the will of a deceased person in England and Wales, which were expected to come in on April 1 2019, have been delayed indefinitely because Parliament has been so consumed by Brexit. 
The increases, branded by critics as a stealth tax, will see the costs of probate rise from the current flat charge of £215 to a minimum of £250. Under the new six-band structure, fees rise to a maximum of £6,000 (at an estate of £2m), depending on the size of the estate being administered. 
According to the Financial Times, tax experts said they had received emails from the Ministry of Justice last week saying the motion had 'not yet been scheduled'. 'This means that the new probate fees regime will not be introduced on April 1,' the email said. The Ministry of Justice said the motion to pass the increases would be tabled as soon as 'parliamentary time allows'. 
As reported in the preceding article, HMRC has put in place a temporary process when applying for probate while the probate fee changes are being considered. 
However, note that (at the time of writing) there is no suggestion from HMRC of any change to the government's plans to introduce these new probate fee charges. 
Source: Financial Times article: Probate fees increases delayed by Brexit – dated 28 March 2019.
INVESTMENT PLANNING 
(AF4, FA7, LP2, RO2)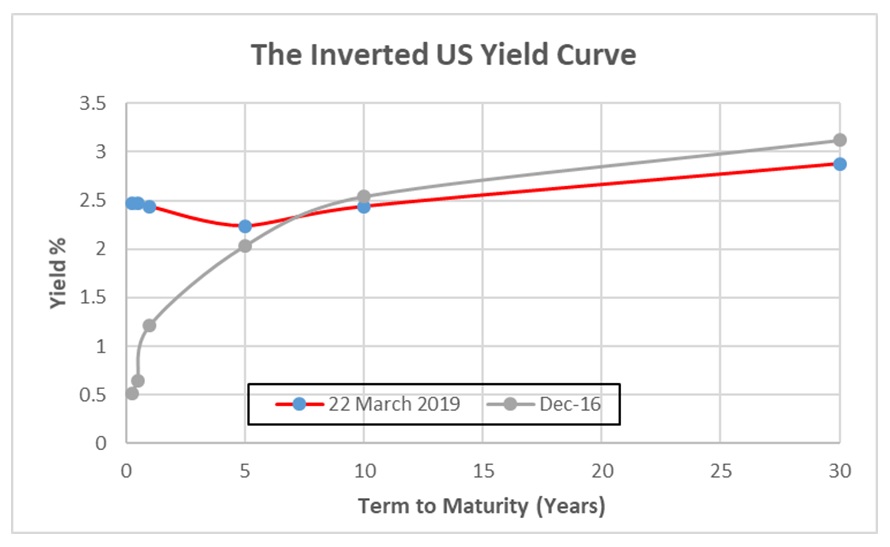 The US yield curve reached what many see as a crucial inflection point on 22 March. 
In December we commented on the flattening of the US yield curve and warned of the potential risks seen if and when the yield curve inverted, ie. when rates for longer terms were lower than short term rates. 
The graph above shows a 'normal' yield curve (the grey line), dating back to the end of 2016 and the curve on Friday 22 March 2019 (the red line). The inversion is not complete – there is no mirror image of the 2016 curve. However, the 10-year Treasury bond yield is now 2.44%. against a three-month rate of 2.474% (and a two-year rate of 2.333%). It is the first time since August 2007 that three-month bonds have offered a higher yield than their 10-year counterparts. 
Does that mean a 2007/08 type crisis is around the corner? On Friday 22 March Wall Street took fright, with the S&P 500 dropping 1.9%, a move that was mirrored in the Asian markets on Monday morning. In Germany the yield on 10-year Government bonds has fallen below zero again for the first time in two and a half years. UK 10-year bonds are now yielding just 1.02%, although some of the UK yield movement is down to the vagaries of Brexit. 
Historically an inverted yield curve has been seen as a warning of a recession on the horizon. Recent economic data has certainly pointed to a slowdown in global growth. Germany narrowly avoided a recession in the second half of 2018, while Italy did not, recording two successive quarters of negative growth totaling -0.3%. Recent OECD global growth forecasts have been nudged downward and all the main central banks have indicated that the chances of an interest rate increase have faded in the short term. 
As we said last December, the yield curve is not saying that there will be a recession tomorrow. The clouds are gathering, but they may blow over if good news appears, such as a China-USA trade deal. 
Source: Yieldcurve.com, federal reserve
The February inflation numbers
(AF4, FA7, LP2, RO2) 
The CPI for February showed an annual rate of 1.9%, a 0.1% rise, whereas the market consensus had been for an unchanged figure. Across January to February prices rose 0.5%, the same as between January 2018 and February 2018 (rounding brings the annual rate up 0.1%). The CPI/RPI gap narrowed by 0.1% to 0.6%, with the RPI annual rate unchanged at 2.5%. Over the month, the RPI was up 0.7%. 
The Office for National Statistics (ONS)'s favoured CPIH index was unchanged for the month at 1.8%. The ONS notes the following significant factors across the month: 
Downward 
Clothing and footwear The largest downward contribution came from this sector. Prices rose as usual in February following the January sales period, but they rose by less in 2019 than between the same two months in 2018. The effect came from a range of products but most noticeably from footwear, particularly women's footwear. 
Transport There was also a small downward effect from Transport, where again prices rose between January and February this year but by less than in 2018. The ONS says the effect came from an accumulation of very small contributions from categories such as motor fuels, road passenger transport and sea transport.
Upward 
Recreational and cultural goods and services The largest upward contribution came from this sector, where prices rose between January and February 2019 compared with a smaller rise between the same two months in 2018. Within this group, the largest upward effect came from games, toys and hobbies (particularly computer games), partially offset by a downward effect from cultural services (principally theatre and live music admissions). 
The ONS once again offered the reminder that price movements for computer games, theatre and live music can often be relatively large depending on the composition of bestseller charts and the bands that are touring at the time of price collection. 
Food and non-alcoholic beverages This sector produced a small upward contribution, with prices rising by more between January and February this year than between the same two months a year ago. The main upward contributions came from bread and cereals, where prices rose by more than in 2018, and vegetables, where prices rose this year but fell a year ago. Within the CPI, this sector now has an annual inflation rate of 1.1% against 3.0% a year ago. 
Alcohol and tobacco The 'sin' sector added a final small upward contribution, particularly tobacco, where prices rose by more between January and February 2019 than between the same two months a year ago. 
In three of the twelve broad CPI categories, annual inflation decreased, while six categories posted an increase. Alcoholic beverages and tobacco remain as the highest category with the annual inflation rate jumping 0.9% to 5.1%.  
Core CPI inflation (CPI excluding energy, food, alcohol and tobacco) fell 0.1% to 1.8%, having been unmoved last month. Goods inflation, at 1.3%, was flat, as was services inflation, at 2.5%. 
Producer Price Inflation was 2.2% on an annual basis, also up 0.1% on the output (factory gate) measure. Input prices rises reversed the recent downward trend and grew 3.7% year-on-year, up 1.1% on January. The main driver here – as ever - was oil prices.  
As the ONS notes, the Bank of England was given privileged access to this data for the Monetary Policy Committee meeting this week. The numbers are unlikely to have had any effect on the Bank, which is not going to touch interest rates until it (and the rest of the UK) has some clarity on Brexit.    
Source: ONS 20/03/19 
A much better quarter for investors
(AF4, FA7, LP2, RO2) 
'The value of investments can go down as well as up' is a familiar caveat which proved all too true in the final quarter of 2018, as volatility returned to the world's equity markets. For the first quarter of 2019, it was almost a question of the opposite, as demonstrated by the graph below of the FTSE 100's performance over the last six months: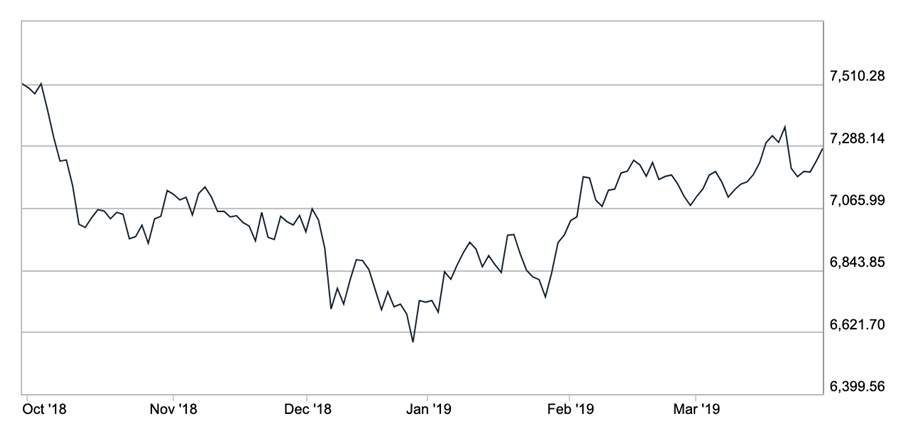 While the FTSE 100 did not regain the 7,510 level of the end of September 2018, it did claw back much of the losses racked up in the final quarter. It was a similar story elsewhere, with the notable exception of Japan, where the recovery was more modest, and China, which wiped out all of the Q4 losses. 
Looking more broadly, the three month returns to 29 March are shown below: 
| | | | |
| --- | --- | --- | --- |
|   | 31/12/2018 | 29/03/2019 | Change in Q1 |
| FTSE 100 | 6728.13 | 7279.19 | 8.19% |
| FTSE 250 | 17502.05 | 19117.49 | 9.23% |
| FTSE 350 Higher Yield | 3391.45 | 3654.14 | 7.75% |
| FTSE 350 Lower Yield | 3709.33 | 4045.78 | 9.07% |
| FTSE All-Share | 3675.06 | 3978.28 | 8.25% |
| S&P 500 | 2506.85 | 2834.4 | 13.07% |
| Euro Stoxx 50 (€) | 3001.42 | 3351.71 | 11.67% |
| Nikkei 225 | 20014.77 | 21205.81 | 5.95% |
| Shanghai Composite | 2493.9 | 3090.76 | 23.93% |
| MSCI Em Markets (£) | 1418.635 | 1519.335 | 7.10% |
| UK Bank base rate | 0.75% | 0.75% |   |
| US Fed funds rate | 2.25%-2.50% | 2.25%-2.50% |   |
| ECB base rate | 0.00% | 0.00% |   |
| 2 yr UK Gilt yield | 0.75% | 0.66% |   |
| 10 yr UK Gilt yield | 1.14% | 0.97% |   |
| 2 yr US T-bond yield | 2.56% | 2.30% |   |
| 10 yr US T-bond yield | 2.76% | 2.39% |   |
| 2 yr German Bund Yield | -0.66% | -0.60% |   |
| 10 yr German Bund Yield | 0.18% | -0.17% |   |
| £/$ | 1.2736 | 1.3031 | 2.32% |
| £/€ | 1.1141 | 1.1605 | 4.16% |
| £/¥ | 139.7323 | 144.2281 | 3.22% |
 A few points to note from this table are: 
The UK recovery was broadly based, as the movements for the main indices show. The yield on the FTSE All-Share Index ended the quarter at 4.22%, making the UK still look relatively cheap. The corollary is that dividend cover is now 1.45, down from 1.91 at the end of last year. That suggests scope for future dividend growth may be limited unless the economic growth improves from the 0.2% recorded for the final quarter of last year. 
The US market performed strongly, helped by the Federal Reserve reversing its 2018 mantra of continued increases in interest rates. The consensus is now that there will be no more rate rises this year and thoughts are turning towards a rate cut. This interest rate view switch helped the S&P 500 record its best quarter since Q2 2009 and its best Q1 since 1998. 
Despite clouds over German economic performance – a recession was narrowly missed in the second half of 2018 – the Eurozone markets performed well. Again, there was central bank assistance, with the ECB signalling no rate rises in 2019 and issuing a new round of special financing. 
Emerging markets joined the recovery, although their performances were by no means consistent. China rallied strongly, which some commentators have put down to the influence of front-running to changes to the MSCI Emerging Market Index due throughout this year. At the opposite end of the scale, Turkey saw losses as its economy suffered and local elections loomed. 
Bond yields reacted to the more dovish stance of the central banks. As we have commented earlier in this bulletin, the US yield curve continued its move towards inversion, which can be seen in the table above by the 0.26% fall in 2-year Treasury bond yields against a 0.37% drop in the corresponding 10-year yield. Germany once more has a negative yield on its 10-year bond and, despite the Brexit pantomime, the 10 year gilt now yields less than 1%, the lowest since September 2017, although still well above the 0.5% reached in the wake of the Referendum. 
The next quarter could be interesting, as the falling bond market yields are seen by many as indicators of a slowing global economy, which in theory is bad news for equities.  
Sources: FT, FTSE, MSCI, LSE, STOXX, Bank of England, Federal Reserve, European Central Bank
Guaranteed Growth and Income Bonds: changes to terms
(AF4, FA7, LP2, RO2) 
National Savings & Investments (NS&I) has announced changes to its 1-year and 3-year Guaranteed Growth Bonds (GGBs) and Guaranteed Income Bonds (GIBs), effective for investments made from 1 May 2019.
At present, these Bonds offer instant access, subject to a 90-day interest penalty and a minimum remaining balance of £500. As the rates on these Bonds are so low – the highest is 1.95% for the 3-year GGB – this option was cheap at less than a 0.5% cost. In theory, it meant that if rates increased (historically, it can happen), it could be worth cashing in, accepting the small penalty and then immediately reinvesting. 
NS&I has announced it will issue a new series of GGBs and GIBs that replace the 90-day escape route with: 
A 30-day cooling off period; and 
No access thereafter until maturity (other than on death).
Existing Bonds are unaffected, but any maturity reinvestment after 30 April will be under the new terms. 
NS&I justify the move by saying it is "making this change to align with most similar products". That is a fair statement of fact, as fixed rate bonds from banks and building societies generally have no pre-maturity access. However, given its public profile, NS&I playing hardball with a bond investor needing their cash early could make for some awkward headlines. 
NS&I's fundraising remit for the coming year is unchanged at £11bn, a figure it looks likely to achieve in 2018/19 (at Q3 it had reached £8.9bn). That target is modest enough to allow NS&I to be about 0.5% below the market leaders on both the 1-year and 3-year bonds.
PENSIONS
Pensions schemes newsletter 108 – March 2019
(AF3, FA2, JO5, RO4, RO8) 
HMRC have published the February edition of the Pension Schemes Newsletter. 
Areas of particular interest: 
Guaranteed Minimum Pension (GMP)  
A working group is being formed to consider the pension tax issues arising as result of GMP equalisation. The group, which will be chaired by HMRC and include selected industry representatives, will work alongside other industry groups who are looking to address the wider issues arising from the equalisation of GMP. The first meeting of the group will take place in April 2019. Further updates and information will follow in future pension schemes newsletters. 
Annual allowance calculator  
The Annual allowance calculator is being updated to deal with 2019/20.   
HMRC are adding in the 2019 to 2020 tax year so that any members of defined contribution schemes who make their total contributions early in the tax year can work out their annual allowance tax charge. Other members can use the annual allowance calculator after the end of the tax year when they know what their total pension savings will be. 
If members use the calculator before they know their 2019 to 2020 total pension savings, the calculator will produce a default result for that year. The calculator will also produce a default result if members have not selected the 2019 to 2020 tax year. Members should disregard this default result, but they can take the results for 2018 to 2019 and earlier years from the table in the calculator. 
DWP publish response to consultation on collective defined contribution pensions
(AF3, FA2, JO5, RO4, RO8) 
The DWP have published their consultation response Delivering Collective Defined Contribution Pension Schemes. 
In the response the Government confirmed the definition of collective defined contribution (CDC) pension schemes as follows. 
In a CDC scheme, financial contributions are invested in a collective fund. At retirement, individual members receive a regular pension income from the fund. This income will be based on the value of their contributions to the fund but is not guaranteed and will be subject to fluctuations in value depending on the fund's performance. Broadly, a member's pension would be calculated as follows: 
estimating how much money is needed to meet the benefits already credited to each member;

adding up the values for each member to determine the total assets available to meet the credited benefits to all members.

If the assets available do not equal the benefits already credited in respect of all members, make corresponding adjustments to (i) the current payment of benefits to each pensioner member and (ii) the benefits credited to active and deferred member, so that the total value of benefits already credited is equal to the total value of the scheme's assets.

The Government explains that the benefits to members of this type of scheme are: 
Members should receive some cushioning against volatility;

Members would not have to make their own investment decisions.

Both of these are due to the collective nature of the investment funds and the way in which they are managed. 
What next 
The Government's immediate priority is getting the Royal Mail scheme bedded in as a first test of CDC provision. They plan to then structure legislation to allow them to move promptly to other forms of CDC benefit provision.

Once the Royal Mail scheme is in operation, the Government plan to begin working with interested parties to develop a legislative framework for some of the other models suggested, particularly decumulation-only vehicles and DC Master Trusts. 
Dear CEO letter issued with regards to accepting DB transfers
(AF3, FA2, JO5, RO4, RO8) 
The FCA have issued a Dear CEO letter to providers of DC pension schemes to remind them of their responsibilities with regards to accepting transfers from DB schemes. 
The letter covers areas including:
Product design and target market

The information you give to distributors

FCA Permissions procedures

Management Information (MI)

Remuneration structures

Governance and risk management

Documentation and tools
Comment 
Although most of the document is either just common sense or a reminder of current responsibilities some concern has been raised by providers that the letter implies the need for receiving scheme providers to check the suitability of advice. This stance would be a new responsibility and most pure pension providers wouldn't have the appropriate qualifications to make that level of determination. 
DWP publish pensioners' income series data
(AF3, FA2, JO5, RO4, RO8) 
The DWP have published Pensioners' incomes series: An analysis of trends in Pensioner Incomes: 1994/95 to 2017/18. This report examines how much income pensioners get each week, and where they get that income from. It looks at how their incomes have changed over time, and variations in income between different types of pensioners. 
Headlines

Average pensioner incomes stable between 2009/10 and 2017/18
The average income of all pensioners in 2017/18 was £304 per week which has remained stable since 2009/10 when it was £307 per week.
In 2017/18, the average income for pensioner couples was £454 per week. This was more than twice that of single pensioners, who had an average income of £213 per week.
More than one fifth of pensioner couples' income was from earnings
In 2017/18, benefit income was the largest component of total gross income for both pensioner couples and single pensioners. This was 59 per cent for single pensioners, while for pensioner couples it was 35 per cent.
Income from occupational pensions was 29 per cent of total gross income for pensioner couples and 25 per cent for single pensioners.
Income from earnings made up seven per cent of total income for single pensioners. For pensioner couples, 22 per cent of total income was from earnings. Twenty-four per cent of pensioner couples contained one adult below State Pension Age. For some of these couples, the adult below State Pension age contributed to the earnings income.
Single men had a higher income than single women
Single male pensioners had higher average incomes than single female pensioners in 2017/18. Single men had an average weekly income of £233 and single women had an average income of £206.
The average weekly incomes of both single men and single women were higher in 2017/18 than 2007/08, when they were £210 and £189 respectively.
Percentage of pensioners receiving income from personal pensions increased
Over the 20-year period 1997/98 to 2017/18, there was an increase of five percentage points in the percentage of pensioners receiving income from private pensions – from 62 per cent to 67 per cent.
This document is believed to be accurate but is not intended as a basis of knowledge upon which advice can be given. Neither the author (personal or corporate), the CII group, local institute or Society, or any of the officers or employees of those organisations accept any responsibility for any loss occasioned to any person acting or refraining from action as a result of the data or opinions included in this material. Opinions expressed are those of the author or authors and not necessarily those of the CII group, local institutes, or Societies.