How significant are the interest rate options that providers offer on mortgage protection?
News Article
Protecting a mortgage against death or critical illness.

Getting a mortgage can be one of the most stressful things a person will have to face in their financial lives. When it comes to protecting that mortgage against death or critical illness it is vital that a plan is put in place that will fully cover the outstanding liability and is future proofed against possible interest rate rises. Many mortgage borrowers have only ever known low interest rates; however, it is dangerous to assume mortgage rates will remain as low as they have been for the last decade. Mortgage rates peaked at 15.4% in the early 90s and were even higher, 17%, early in the previous decade. This week we look at the different interest rate options insurers offer within their mortgage protection plans and who offers the most flexibility.
An advice firm might choose to have a level of interest rate that they feel comfortable will not be exceeded and quote for cover to that level. Conversely advisers might want to consider what would be the maximum level of interest a client could afford and write the plan for a few percent above that. For example, if a client is taking a mortgage at 3%, if rates went beyond twice that they would probably struggle with significant interest rate shock, so insuring at say three percent above that might allow for sufficient cover. If payments increased by more than a 150% the borrower would probably be looking for alternative options, such as selling the property.
When getting quotes via a protection portal, advisers can usually select the interest rate they wish to insure up to, if however, an insurer does not offer that option the systems will usually default to a standard rate or the closest that insurer will offer.
Where life protection is implemented to cover the client's liability it is important that the interest rate during the term of the plan can mirror the interest rate of the mortgage. If the rate is higher the client could potentially be overpaying, if the rate is lower the client is at risk at not being fully covered on their mortgage in the event of a claim.
All providers that offer Mortgage Protection offer a range of interest rate options that can be selected in line with the client's mortgage requirements.
Starting from 5% and reaching a maximum of 20% for any provider, the table below confirms the interest rate options that are available: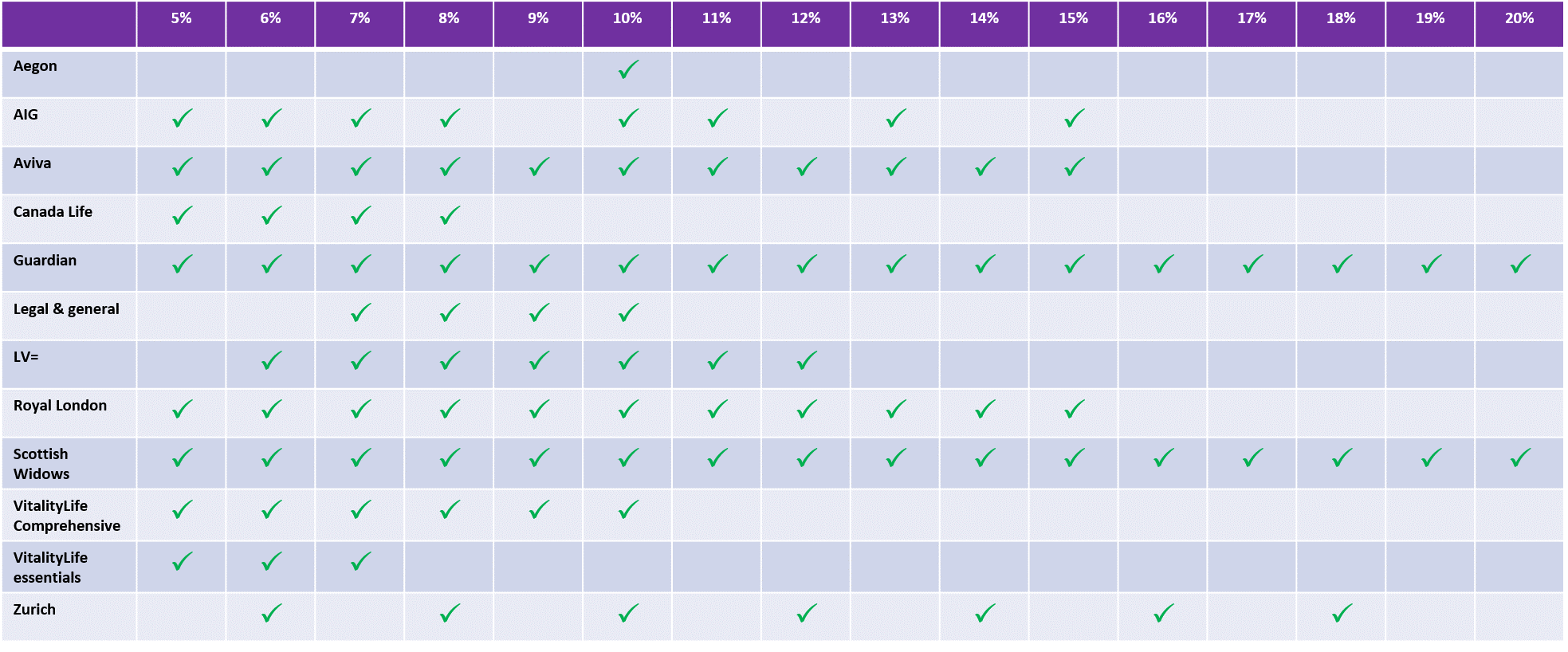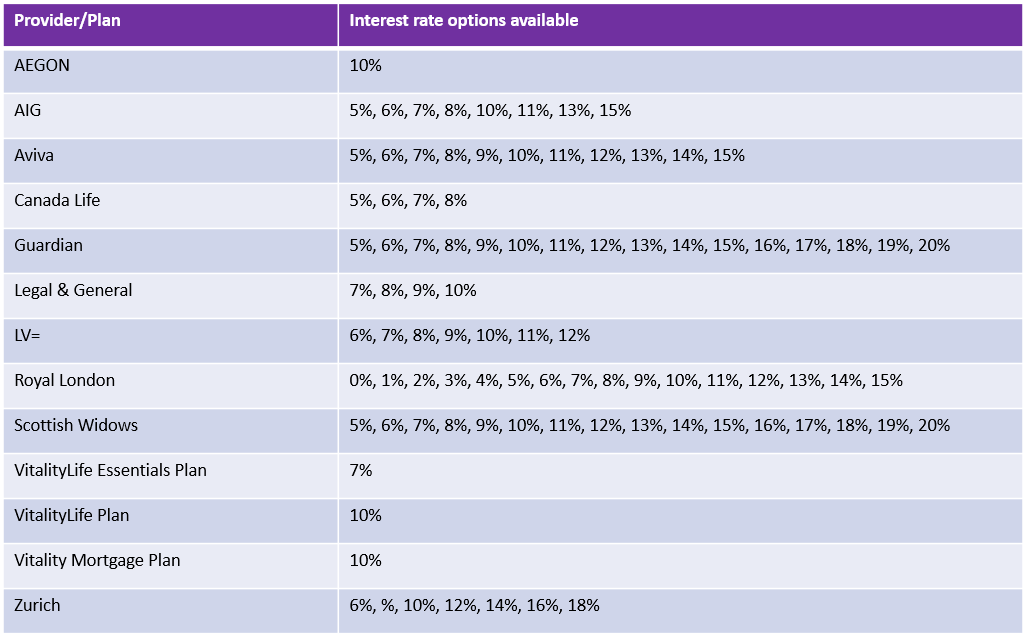 The greater range of interest rate options available from a provider means that there is more potential for a firm to be able to recommend a plan in line with their assessment of where interest rates might go in the future.
Royal London and Guardian look to take their offerings further by providing a 'Mortgage Guarantee'. Guardian has automatically included this with their decreasing cover while Royal London offers it as an additional feature within in their Personal Menu Plan.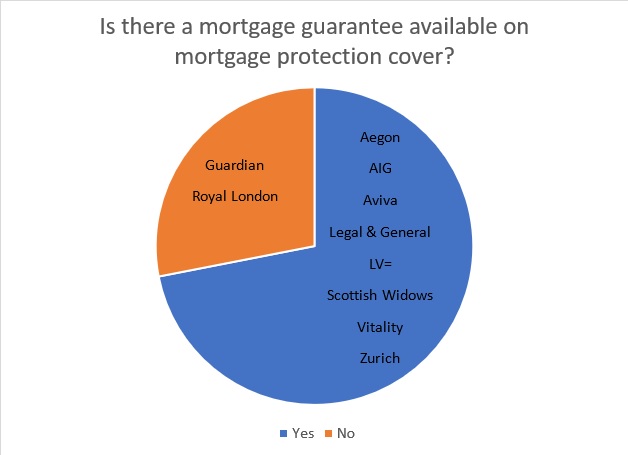 The Mortgage Guarantee is a unique feature which is acts as a safety net within a Decreasing Mortgage Protection plan. It guarantees to pay out the value of the mortgage outstanding at the time of the claim, as long as the amount and term is the same as when the policy started and it isn't in arrears at the time of claim. For Royal London this is dependent on the mortgage interest rate being no greater than 15%, whilst for Guardian it must be below 20%.
Naturally, it is best practice to ensure that the interest rate attached to the decreasing cover mirrors the protection policy from the start and throughout the term. However, if for any reason the mortgage liability is greater than the cover in place due to high interest rates (at time of claim), then this can be a great lifeline for the client and remove a potentially very stressful issue if it ever arose.
Overall, Guardian and Royal London stand out from the other providers, as they are the only two providers who offer the Mortgage Guarantee feature, which acts as a safety net for clients.  While Scottish Widows should also be recognised as being the only provider alongside Guardian who offer the full range of interest rate options starting from 5% all the way up to 20%.
To sign up to the Protection Guru mailing list you can register your details HERE
This document is believed to be accurate but is not intended as a basis of knowledge upon which advice can be given. Neither the author (personal or corporate), the CII group, local institute or Society, or any of the officers or employees of those organisations accept any responsibility for any loss occasioned to any person acting or refraining from action as a result of the data or opinions included in this material. Opinions expressed are those of the author or authors and not necessarily those of the CII group, local institutes, or Societies.